Your Love Doesn't Bother Anyone, Your Hate Does
By Yusimi Rodriguez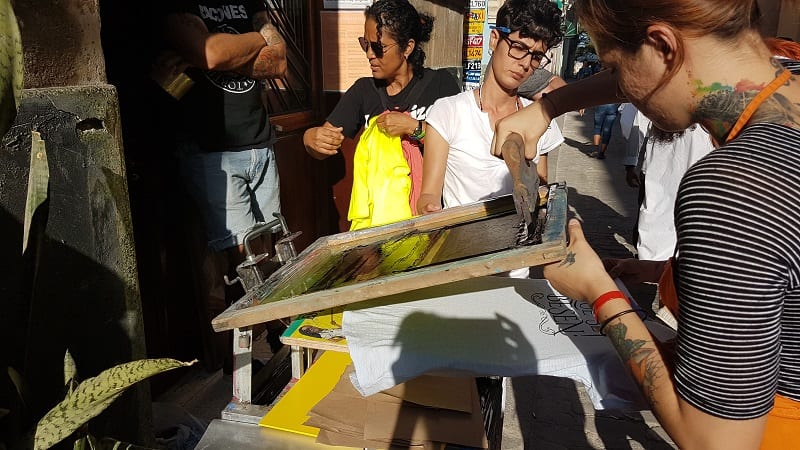 HAVANA TIMES – In less than a month, the 99% Cubano Design Store alongside the Afro-Cuban Alliance, Acepto and El 68 va campaigns, as well as other projects and Facebook pages, have come together to hold another "Dame tu Pulover" (Give me your T-shirt) event in support of same-sex marriage.
Or rather, as lawyer, activist, promoter of the Acepto (I accept) Campaign and employee at the Clandestina store, Lidia Romero explains: "It isn't just to support same-sex marriage, but all family models in Cuba and all over the world."
"Dame tu Pulover" is an activity that Clandestina normally does with local community groups, always using their own equipment and ink, designs and printing technique. The first event for the above-mentioned issue took place on Saturday February 16th, at La Bombilla Verde Bar in Vedado.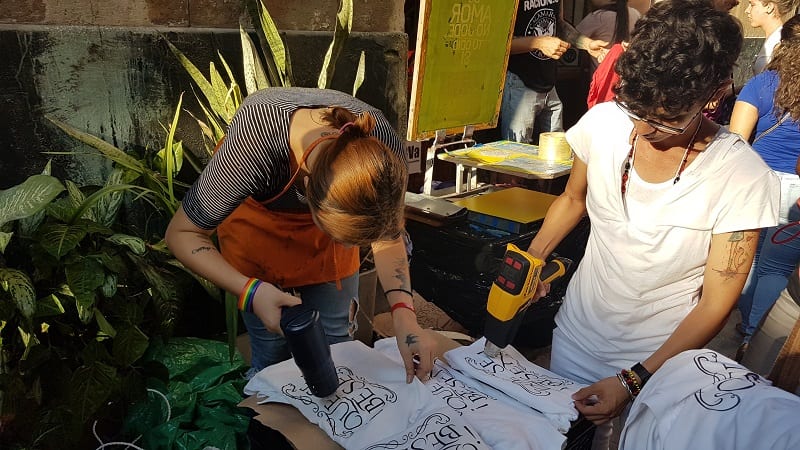 This time, it is being held at La Marca Tattoo Studio, located in Old Havana. A large number of participants are expected to come so they won't be using the studio's interior space but will do it outside instead.
However, ten minutes just before 4 PM (when the activity was scheduled to begin), there was hardly anyone yet so I took advantage to write down the names of some of the projects, organizations and Facebook groups that are supporting this "Dame tu Pulover" event.
This included Facebook page "Por mis derechos Cuba LGBTIQT+" and the Gorvet Design Project. When Article 68 appeared in the draft Constitution, defining marriage as the union between two people and scandal broke out, Orlando Cruz Torres felt the need to encourage a debate about his community's rights. So, he created "Por mis derechos" (For my rights) off of his own Facebook account.
"We mostly use memes, graphics, pictures of people of the same-sex showing each other affection," this young 28-year-old engineer explains, who isn't ashamed of calling himself gay.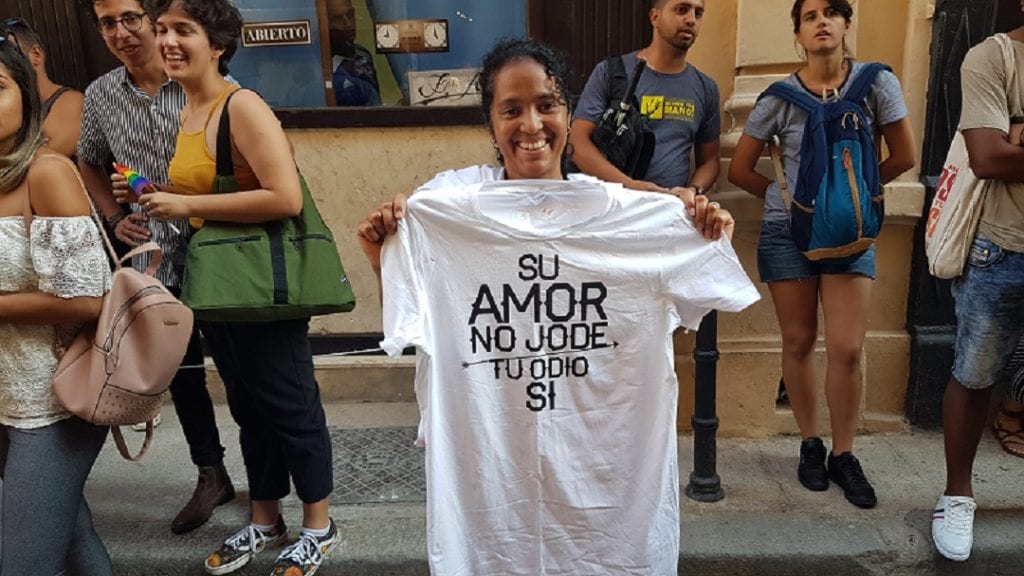 While Juan Carlos Morales, a 30-year-old electrical engineer and man behind the Gorvet Project, has created some designs about love, whether that's between two people of different sexes or the same sex, and he has uploaded them on his Facebook page. He also shares content published by "Por mis derechos". He is currently working with Orlando on an advert based on interviews.
In the middle of our conversation, I ask him if he is gay, assuming that he would say yes and then he surprised me. "I'm 100% heterosexual." But, far from being offended, he laughed at my surprise. Why had this young heterosexual man decided to support same-sex marriage and the rights of the LGBTI community?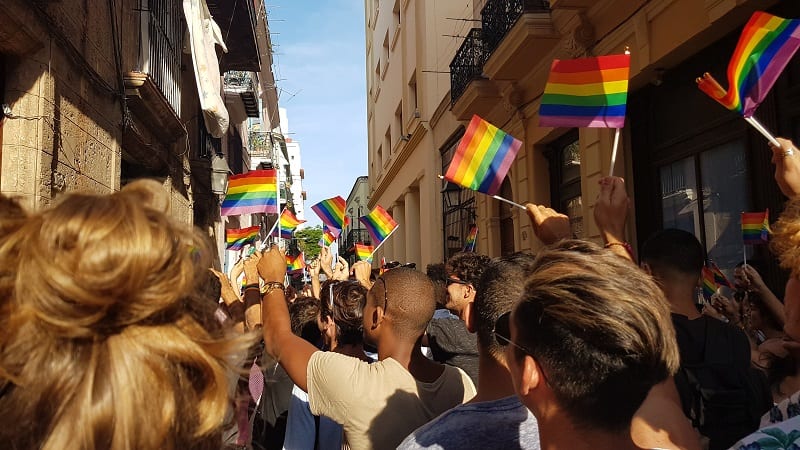 "It was something personal that brought me here. I had a friend on my pre-university course, who had a girlfriend like all of us did when we were given a scholarship. Then, we started university and he started distancing himself from our friendship group. We imagined why. It upset me although I thought he preferred it that way because of how I used to think back then. I had gay neighbors and I got on really well with them. But, I was always on one side and they were on the other, in spite of me not having anything against homosexuals.
One day, I ran into this friend and he was with another guy. I realized that he was uncomfortable. I hugged him and told him 'you're still my friend above everything else.' Lots of things happened at our pre-university, and we were friends throughout."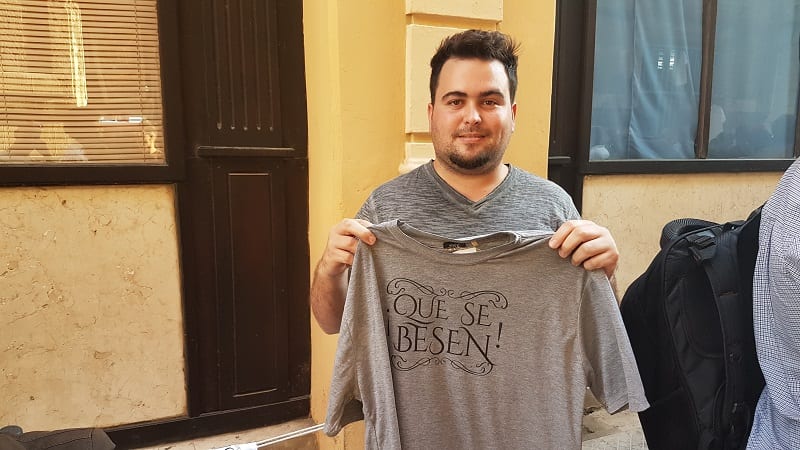 When he graduated, he had a party and he invited me. I was running late and I called him. He asked me, 'Bro, aren't you coming?' I told him I was, but that I was a little held up. When I got there, I saw his face light up because I was there.
I've also realized that when people go to the doctor, they don't care whether they are gay or heterosexual, they just want their problem fixed. It should be like that all the time. A person's sexual orientation shouldn't have to matter. My friend is now a doctor and a very good one too."
While Juan Carlos was telling me his story, the stretch of Obrapia street, where La Marca is, had filled with people bringing t-shirts, undershirts or bags, so the designs created by Roberto Ramos Mori, of La Marca. Today, there are two slogans: "Let them kiss" and "Your love doesn't bother anyone, your hate does".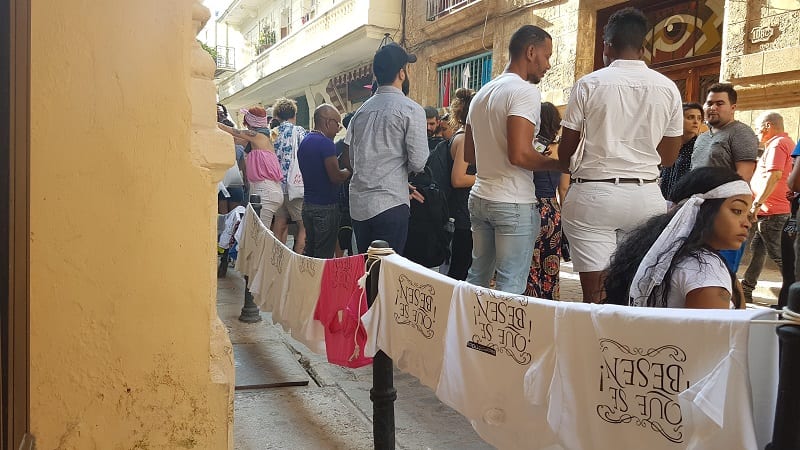 Everyone will choose their phrase and a color, black or white, according to the color of their item of clothing. This time, given the number of people that came and to avoid confusion or pieces getting lost, people were given a number when they handed their item in, which they will need to present when they pick it up.
This will take a while, although the printing only actually takes a couple of minutes per item. Then, they need to be hung up to dry on an improvised washing line and after a while, dried by hand. Meanwhile, people socialize, some hand out stickers and leaflets.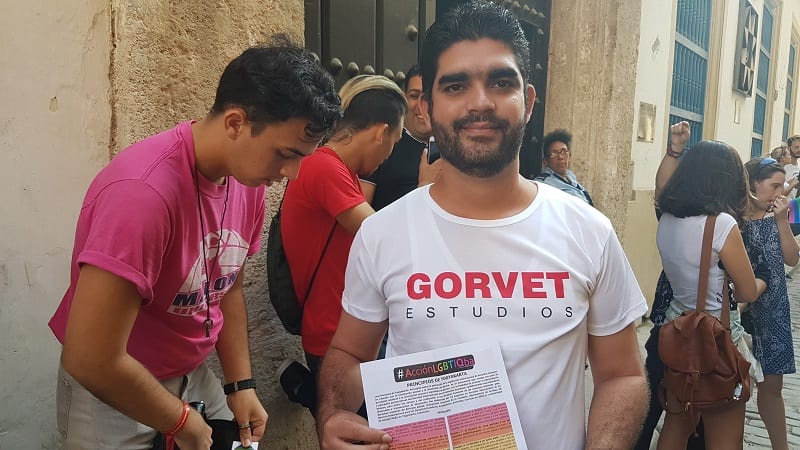 An activist hands out rainbow-colored flags and Lidia Romero takes advantage of the moment to announce that the 2019 Agenda of activities to support different family models, will include a fair with the work of independent crafts people and artists. All the money collected from sales will go towards organizing more activities. This fund will be public and transparent so that everyone can know how much was raised and what it will be used for.
Even though artists will produce works related to the LGBTI community, they don't necessarily need to be members of this community. In fact, so far there are only three and they are all heterosexual.
Even though controversial Article 68 didn't make it into the Constitution passed by Cuban Parliament and backed by 80% of the population, more and more people are supporting same-sex marriage and different family models, regardless of their own sexual orientation.
Click on the thumbnails below to view all the photos in this gallery. On your PC or laptop, you can use the directional arrows on the keyboard to move within the gallery. On cell phones use the keys on the screen.