A Family of Cuban Rockers
By Giovanni Jaramillo Rojas (El Toque)
HAVANA TIMES – Allien and Maria have taken their love for rock one step further. This music has marked their family's life.
He knew his name was strange ever since he could remember. But, above all else, an unrivaled originality. His mother always knew that she was carrying him. But, it wasn't until the fifth month of her pregnancy that the doctors could see the creature that was dodging ultrasounds and scans.
When they did finally catch him, his father's fury was such that he said: if he's a boy, he's going to be called Allien. The male sex flourished and this promise was kept. Neither their family's astonishment nor the out of control laughter of others mattered.
Allien is a young slim and smiling man. He smokes Criollo cigarettes and has a blond-dyed mohawk. The tattoos he shows off recount a certain rebelliousness (if he puts his two fists together, you can read HATE YOU!) and he is the owner of a suggestive sarcastic smile.
The 26 years he drags behind him have been intense. He has never been daunted by anything and has essentially done everything he felt like doing. He is a devoted rocker, he works as an electrician and he is the father of a tiny 15-month-old person.
"Look, this is my son," he says pointing to a tattoo on his right forearm and he shows a Jason mask (the murderer in the movie "Friday the 13th") with some Bob Marley dreads.
"What do you mean your son?" I replied confused.
"Yes, it's him, he's called Jason Marley."
Allien's girlfriend is called Maria. They met in 2013. On 23rd and G streets. Havana's rock intersection. She is a legal assistant and is 32 years old. Her voice is emphatic and she's charming. She's a convinced rocker. Practicing. Old school.
Maria welcomes me while washing down the floor with buckets of water, while her sound system is blasting Red Hot Chilli Peppers, Coldplay, Linkin Park, System of a Down, AC DC. She has the cover of a Korn album tattooed on her right thigh, as a way to pay tribute to her platonic love: Jonathan Davis.
"He's Jason's brother," she says introducing me to a 13-year-old teenager who was wearing a Led Zeppelin t-shirt, "he's called Ozzy Hendrix."
"You're kidding me," I reply.
"No, honestly. His father and I were big fans of Black Sabbath and Jimmy Hendrix. So we decided to give him that name, right Ozzy?" the boy nods, "plus, the name suits him: he likes rock and horror movies."
Maria proudly says that they listen to more music in the house than they watch TV. She puts on the best of rock music for her children every day. As a mother she is adapting her offspring to her own likes: let them be rockers, happy rockers, she adds.
Rock is a very serious matter for both Allien and Maria. They agree that it was in the late '70s that the genre began to pick up the speed that it needed to avalanche. Rock was banned in the '80s in Cuba and rockers at the time were repressed. Allien points out that even though the subject is better addressed now and there isn't any more repression going on, rockers continue to be discriminated against which is reflected in the shortage of venues for concerts and get-togethers. "Everything that was shut in the '80s was never reopened, confining rock to legendary status," Maria emphasizes.
For Allien, it's no easy task keeping up his physical appearance and dapper look on a daily basis:
"People stop and stare because they see me as something strange, a phenomenon." Being a rocker sets you apart in a city where people listen mainly to reggaeton, salsa and timba. Many people think that you look ridiculous, but they never say it to your face. Anyhow, with the internet now, society is beginning to understand that all of this is normal and it has begun to accept it or, at the very least, to ignore it, which is better: you live your life and I live mine.
Allien doesn't fit in with the image of a "father of the family", in many people's eyes.
That day in 2005, when Audioslave performed for free at the Anti-Imperialist bandstand in Havana, was one of the happiest and most unforgettable days in Maria's life. Not only because they were the first important band to come to the island since rock was practically invented, but also because it was the first time that she could feel the spellbinding power of a sound that gets in your blood, your bones, everywhere.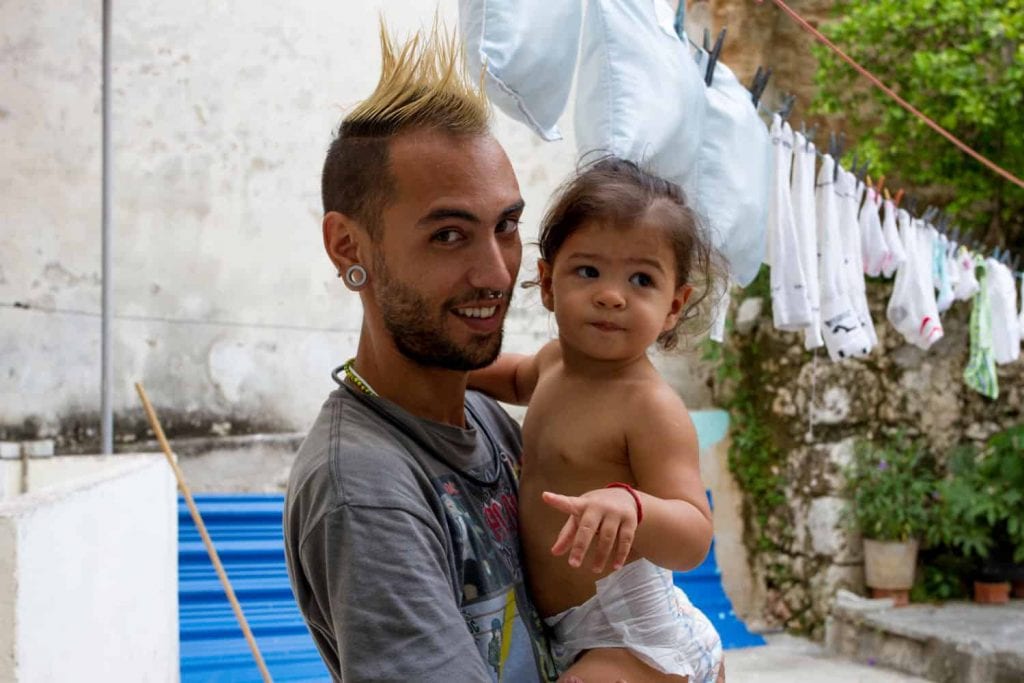 Then, Sepultura came. An incredible surprise. "Real hardcore rock, kicking skeletons, breaking heads: an intense hardcore tune to start off with that got everyone hitting each other and jumping up and down and the music was so loud that it felt like your chest was going to burst," Allien remembers, closing his fists tightly. "The Rolling Stones concert was bigger but it was also very good. People didn't know much about Audioslave or Sepultura; that was for more for people who really know rock, but you don't need to be from that time to know who the Stones are," Maria explains.
Rock and roll in Cuba is a family. Every rocker makes that clear. You can't have disagreements. There are very few loyal rock followers and if their support for each other isn't mutual and sincere, between musicians and audiences, clubs, bars, producers and recording studios, there will be a second extinction. The irony is that Cuba's rock history hasn't been written in Havana, but in other cities.
Maria dares to put on her sociological hat:
"There is something in the countryside that makes people more introspective, lost in thought, mystic, even dark, and you can see that in the music that is being made in Santa Clara and Pinar del Rio. Black, Trash, Industrial, Death. Cuba's most hardcore and frayed rock comes from there. In fact, the best festivals, where rockers from all over the country meet up, take place in these cities.
Allien follows suit:
"Punk rebelliousness has been lost. Kids nowadays aren't radical in any way, they don't confront the police, or with society or with anyone and to top that all off, there's very little punk here. There's more metal. However, listening to rock in modern-day Cuba is the same thing as being a rebel. If you were a rebel when you were young, with your parents, at school etc, then it's very likely you like rock now. That's how it works, I hope Jason and Ozzy don't go astray but continue to follow this path."
Maria smiles. She smokes her fourth cigarette since we began. Metallica is playing in the background. A quiet cry interrupts the conversation.
"Jason's up, he's hungry," the father says, his heart swelling with love for his little baby monster.