Interview with Ivan Garcia by Francisco Castro
HAVANA TIMES – As part of the tribute to Virgilio Piñera to mark his centenary year, the ICRT (Cuban Institute of Radio and TV) has just finished shooting "If you're going to eat, wait for Virgilio", by filmmaker Tomas Piard, based on the play by Jose Milian, playwright and director and National Theatre Award winner.
After fifteen days of shooting, the film's leading man, Ivan Garcia  – who also won the 2008 Caricato Prize for the best male performance for playing Virgilio Piñera on stage – agreed to share his views with HT on the character – the real and the one recreated by him – the phenomenon known as the "Virgilian year" and everything that goes with it, including the translation into visual images of this vital piece of Cuban theater.
Ivan Garcia: When I decided to resume my work as an actor, the first door I knocked on was that of Jose Milian and his Little Theatre of Havana, and after the interview he granted me, he said, "you look a lot like Virgilio Piñera". At that point I still had no clear idea about Virgilio because I was very young and had not studied him in-depth, had not read much about him nor his writing.
So in August-September 2004 they did a montage of "If you're going to eat …" based on what actors had done in previous seasons. I looked at the recordings of the treatments done by Alexander Paján of the Virgilio that preceded me, and from there I took the basic characterization. I also read some of the available literature on Virgilio and started to get to know the character little by little.
At that stage it was very superficial, it wasn't an in-depth study, so to speak, and for that reason I don't think anyone remembers the performance, apart from the fact that that particular season they only did six performances, because unfortunately we had a hurricane, which, believe it or not, had the same name as me, and it swept away all the electricity cables on Linea street where the Theater Brecht is located and that put an end to the performances.
Then in 2007, Milian invited me to do a longer run on Virgilio, taking turns about with Angel Rodriguez Lahera in playing him. We had about a month of rehearsals and two months of performances. And for that I got myself well prepared, read a lot of background on Virgilio, studied his theater, all his poetry, some of his stories …
I wasn't able to read his novels because I couldn't get my hands on them – in fact, to tell you the truth, I'm reading them now thanks to the centenary editions. I was also a bit more mature as an actor and as a person by then, so I took on the character with more feeling, and with less inhibitions.
So I'm comfortable with the character. I don't know if it's because I have come to recognize the person of Virgilio in me, and somehow link his sensitivity to mine so much so I've made the nice, friendly way he had of expressing himself as well as reacting to different situations, part of me – at least as reflected in the text.
I'm not like that in real life, I can go overboard at times, but I'm not really like that deep down. I'm not as touchy as he was, don't explode with people, I find it very difficult to speak my mind, tell someone the truth, throw it in their face, I think twice about it and end up keeping it to myself, bottled up. He didn't do that.
But then again maybe we interact when it comes to the creative spirit and the way you move we have a likeness. Maybe even when it comes to that rebel spirit that's bubbling inside waiting to get out. Indomitable.
But I don't think we are very much alike as persons. Not in our general characteristics, in any case. Maybe it's this little being inside us we need to protect to face the world. I've had to face the challenges of life, not with his weapons and armor, but as a little being – a very small and very fragile being, in the midst of a rough world, convulsed, on the outside, and I've had to put on my armor too.
This greatly enhances the theatrical performance which was more turbulent, had lots of music, lots of musical steps that spurs you to physical action and very violent emotional outbursts.
Overall the play was very lively. So I let myself go with the flow in those pleasant moments as well as those heartbreaking moments, which are perhaps the most difficult to do for me, because baring your soul isn't easy, it's always hard to open up and show it to everyone, and that's what is so good about this audio visual performance, showing the naked soul of a Virgilio a lot of people maybe just don't know.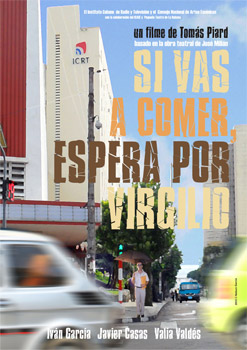 This, because the character has become a stereotype, a persona that is all up front, a very over the top person, but not much has been said about the other Virgilio, or the storms: the light storms and the heavy storms that assailed his spirit, that never let up. A rebellious spirit, indomitable.
The audiovisual is much more focused, much more intimate, seeks the interior of the character, of each of the personas and reaches a lot deeper into their essence. In my particular case it has helped me to find a smaller inner world in Virgilio, that was more complicated to find in the theater because it was outside, had a tone of voice much higher than usual, and here it is reduced, comes in doses, is a more mature, more delicate performance.
By this time I had plenty of time to meditate, to return to the text, what he meant, tie up many things in the text with his real life, stories told by his friends, his family.
Thomas Piard has been fundamental in my rediscovery of the character of Virgilio. Being directed by Thomas Piard is a delight. He's one of those directors who talks to you, asks you your opinion, doesn't impose on you, but tries to find solutions working with you.
From the very beginning we talked a lot about all the characters. We reached agreements on many things I was not in favor of, and it's great when directors are receptive to actors, because you have an image of the character, and at the end you have to defend it with whatever weapons you have and that you believe in and have faith in.
If your director supports you in that and gives you room for creativity, it's great because you feel more comfortable. And he directs in a very special way, talks to you, and convinces you with his spiritual arguments.
At the moment it's a great pleasure to be living the "Virgilian Year", but I think the main thing is that Virgilio didn't experience his vindication the way he deserved. I think he is the only one who can say whether or not he has been vindicated. And recognize his writing, his artistic genius as an innovator in creating new forms of writing, especially in theater and poetry.
I think what they are doing now is alright, but if they had done it before, or if he had not had to put up with so much mediocrity, so much stupidity for so long and that is still there under the surface, though maybe not apparent.
That would have been ideal. That there hadn't been these arbitrary senseless measures that ultimately have led to nothing but shame for Cuban culture, for posterity from such an ugly era, we call the gray five year period, but which lasted longer than that and the dead weight of those gray years still burdens us.
It's over, nothing can be done about it, not only is Virgilio being vindicated, but many others too, and that's fine, but I think it would have been better it hadn't happened in the first place.