Actor Jazz Vila & Cuba's First Horror Flick
Interview by Helson Hernandez
HAVANA TIMES, Dec. 9 — I had the opportunity to interview young Cuban actor Jazz Vila, whose career has been associated with the group Teatro El Publico.  During the recent period he has been developing his professional talent in Spain, however for the moment he is back on the island to act in the first terror movie ever made by Cuban cinema.  He was selected to play one of the leading parts in the production "Juan of the Dead."
HT: Tell us a little about "Juan of the Dead"?
Jazz Vila: "Juan of the Dead" is a comedy of terror set in a Havana plagued with zombies who are struggling to eat.  Amid all the disinformation and chaos, a group of co-workers in the neighborhood headed by Juan decides to benefit from the situation by starting a home business under the slogan "Juan of the Dead: We Kill Your Loved Ones." All the situations that come out of this phrase cause spectators to enjoy the movie like kids.
HT: And who is "La China?"
JV: "La China" is another member of the team of heroes in the story.  He's an extravagant character, with a very provocative style and an unmistakable bearing.  He's always accompanied by his childhood friend, "El Primo" (The Cousin), with them forming a pair that will give people plenty to talk about.  I can't reveal too much more about the character, except that it's the only one that possesses long-range weapons (laughs).
HT: How was it that the director Alejandro Brugues chose you for this role?
JV: In 2008 Alejandro Brugues and I got together at the Malaga International Film Festival when we went to see the European premiere of "Personal Belongings."  I remember that one day I commented to him about my hope to work with him again, and a couple of days later he sent me the script for "Juan."  I finished reading it, called him and I told him: "I have to be in this movie.  It's going to be historical for the Cuban cinema."
Months later Alejandro sent me a new version of the script that included La China, a character written exclusively for me.  This was something that made me feel more than proud, because at the moment very few actors have the fortune to have roles written for them – and much less for the cinema.  So I'm taking advantage of this interview to thank Alejandro once again for this role and for having confidence in my talent.
HT: Your background points to the theater.  However "Juan of the Dead" is not your first experience in the cinema.
JV: My first experience in the cinema was "Blues por la muerte del capitan" (Blues for the Captain's Death), a short by the Mexican director Fernando Zamora.  Then came the filming of the feature film "Personal Belongings," a movie I recall with much affection because it opened several doors for me through international film festivals.  In addition, the commentaries of the critics and the public were excellent.
HT: Your entry into the professional world began in one of the most important theatrical groups in our country.
JV: After concluding my studies in interpretation at the National School of the Arts (ENA), I had the immense fortune of carrying out my graduation thesis as a part of the great cast of Teatro El Publico.  This is the company which I continue to belong to and one that I am tied to with strong bonds, despite my absence over the last few years due to commitments outside of Cuba.
HT: Let's talk about your characters in the group El Publico, and others outside that group.
JV: My premiere with El Publico was "Icaros," a work written by Norge Espinosa.  In it I interpreted "Icaro of the Lamp," a sort of modern day Aladdin full of rage who is tired of traveling on his magic carpet and finally destroys the labyrinth.  I can't hide the fact that so far Icaros continues to be the play that I recall with the greatest satisfaction, as an actor and for being a member of such a clever and perceptive project.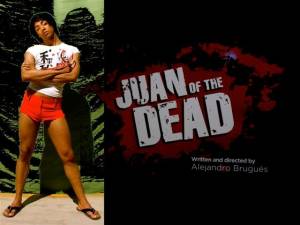 Behind the legend came "La loca de Chaillot" (The madwoman of Chaillot), another brilliant idea of Carlos Diaz that unfortunately had very few presentations, which prevented me from performing all the characters I had rehearsed, except for the grand lady in black and the nice messenger in an orange wig.
Outside of El Publico and the theater, I was able to make a breakthrough for my beginnings in television as Andresito the baker in the telenovela "Las Huerfanas de la Obraria" (The Orphans of Obraria Street).
HT: You are returning to Cuba to do a movie just when El Publico is celebrating its twentieth anniversary.  Can we talk about your return?
JV: Filming again in Cuba and running into the most recent premieres of the company ("Tango" and "Ana and Marta") has been something infinitely pleasant and revealing for me.  To see and hear about how Carlos Diaz continues to fill up the theater with intelligence and true talent, with everything from mirrors with which the audience is undressed before El Publico… it's something too beautiful to allow it to escape.  Five years have passed since my last performance with the company; I decided to chase after the white rabbit but I'm sure that soon I'll be traveling to this wonderland to see El Publico's next premiere.
HT: In Spain your work has focused on the world of dance.  Tell us more about this.
JV: Certainly.  My work in Spain is focused on dance, though not as a dancer but as an advisor, or a manager, in production areas, and some collaborations like wardrobe design and scenery.  Flamenco has been the genre where I have developed most of my works and where I have been able to share with figures like Maria Juncal, Andres Marin and Carmen Linares, who was nominated for a Grammy several times.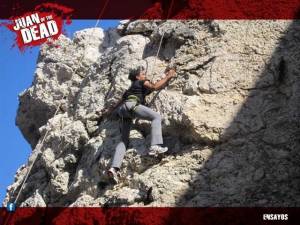 I should say that 2010 has been a very special year.  I've had the pleasure to work with Blanca Li and her company in the revival of "Poeta en Nueva York" (Poet in New York), and I had the honor of accompanying Les Ballets de Montecarlo in their Spanish tour, with a program consisting of "The Consecration of Spring" and "Seherezade," in homage to the centennial of the Russian ballets.
HT: What expectations do you have for "Juan of the Dead," seeing how this is the first big super production of its type in Cuba.
JV: I'm convinced that "Juan of the Dead" will leave a mark, not only for being the first great production of his type in Cuban cinematography, but because doors will open up to directors willing to take risks with other genres.  At the moment the entire team is working tremendously hard and I think the final result will make history.
HT: How do you view Cuban theater in comparison with what you've seen abroad?
JV: In general terms, Cuban theater has always been distinguished for its high artistic level.  At the moment, from what I've been able to appreciate, the theater has evolved and become enriched, despite the material shortages that inevitably weigh on productions – but not the creativity.  I find it very bold that musicals are returning to the stage, although much is still lacking for these efforts to achieve real quality and for the preparation that performers are required in this art form.