Alex, an Ordinary Cuban Turned Artist
by Ivett de las Mercedes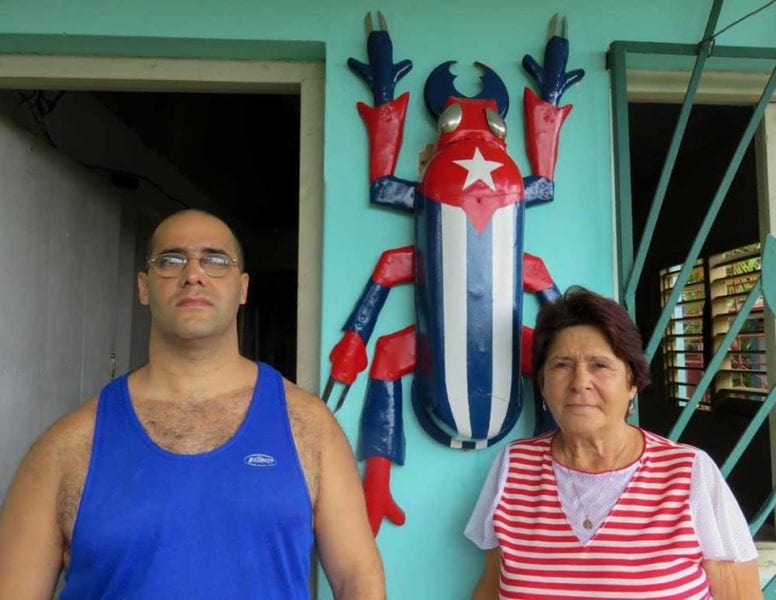 HAVANA TIMES — Thirty-four year old Alex Aparicio Gutierrez lives in San Cristobal, in the western Cuban province of Artemisa. Without having any formal education in drawing, he creates an inspiring and sincere reality in his work. There is a beetle on display in the entrance of his home, built out of recycled materials, and many visitors stop to look at it.
Havana Times: What does drawing mean to you?
Alex Aparicio: Drawing is something instinctive, necessary, almost animal-like. I have learned from looking at books, talking to other painters and art critics at exhibitions, in galleries. When I began drawing, I was somewhat lost, without a path to follow although always marked by the beetle – an image which is always present in my work – until I began the series: Ordinary Cubans. It's a series which I still haven't completed. The title indicates what I am in society, in conceptual terms, what my social class is. It's a starting point, the poor Cuban – with financial problems – and all of the drama that this entails. The beetle is like my path, it has always caught my attention; they have a very characteristic smell and they are beautiful. I can become the man-beetle, they have this shell to survive.
HT: What materials do you use in your work?
AA: Color pencils are my favorite medium, as well as pastels, ink. When I was child, I was limited in being able to play with the other children in my neighborhood and at school because of my visual problems. I used to stay at home and draw. My first pieces were portraits that I used to make of my friends in class, it was a very beautiful time. I work with whatever pops up, with inexpensive materials, I can't afford to work with good quality materials. I have thought about doing something with canvas and regular oil paint because I can't get a hold of real oil paints. The material you use has an influence, but not so much, art is an experiment. I don't have any academic training but I throw myself to the winds. Whatever I draw, I draw in my own way, in my own style, without teachers.
HT: They are very good, especially your chiaroscuros.
AA: Chiaroscuro is a very interesting subject in my work because it always comes out really well. I try to draw the background out of focus so that you can see what's in the foreground, which is what I'm more interested in, with better clarity. I enjoy making an impact with my drawings, that there is an interaction between the objects depicted in them. I like free and erotic subjects.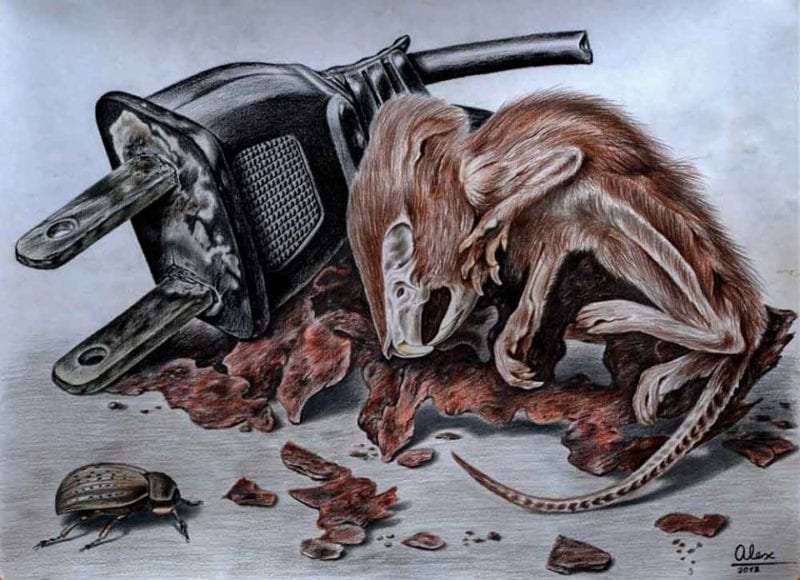 HT: Tell us a little bit about your visual problems.
AA: I had a cataract operation and my crystalline lens was removed. I need to undergo another operation but I prefer to keep on wearing glasses, I don't want to take the risk. When I have to spend a lot of hours on a job because I'm running against the clock, I relax for ten or fifteen minutes, I take a break, and then I continue. Sometimes, I have to look at some details with a magnifying glass. Some friends come and want reproductions made of an old photo or an enlargement. Some of these photos are so worn that I have to use my imagination. Old photos are works of art and I enjoy drawing them, but painting is something I do a lot faster, in a week or two because of my visual impairment, pencil drawing is a very slow and precise process. I really depend on my glasses.
HT: Have you exhibited your work?
AA: I have taken part in some personal and several group exhibitions; I have also taken part in galleries. I have exhibited my work mostly in San Cristobal, never in Havana. Passing a curator who holds a great level of recognition is a prize in itself, although, personally speaking, sometimes this doesn't keep in line with artistic quality because of curators' own prejudices. They tend to be subjective analyses.
HT: When you are creating, do you believe you are possessed by some external force?
AA: I believe so, sometimes you can hold onto a muse and when I'm starting a piece, I always have the same feeling like a child who is getting a new toy, I stand in front of the cardboard with huge desires, it's inexplicable, something I need. Maybe it's the beetle that inspires me, sometimes I go to a friend's house and I have one on me. My life philosophy is to search for inner freedom, to free myself of every prejudice or preconceived idea, but these things get me thinking.
HT: People used to tell me: you have to see the crossbow.
AA: The crossbow piece is a "that's enough!" which forms part of the "Ordinary Cubans" series. Everyone has their "that's enough!", it came to me when I was thinking about how far somebody can go when they are experiencing a situation that is adverse to them. It's my recreation of a crossbow made out of whatever I could find: scrap metal, and what's remarkable is that it works. We have had to get by with whatever comes our way.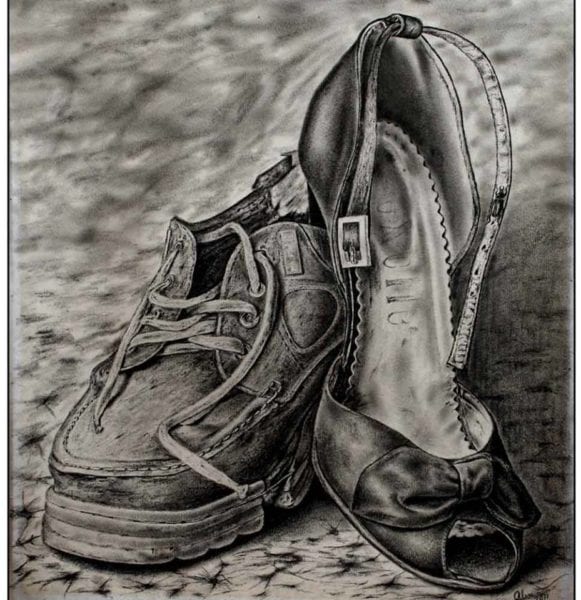 HT: Anything more than drawing?
AA: I studied a degree in socio-cultural studies, at the local university. I read a lot, literature competes with drawing, it's my fuel. Every time I finish a book, I draw much better; it's not only about technique, to make art you have to first fill yourself with a large inner world that feeds and enrichens your imagination. The university I studied at organized my way of thinking.
HT: Do your parents support your efforts?
AA: They are my accomplices, they understand me, without them I wouldn't have time to draw, the opposite to other artists whose relatives have turned their backs on them. My friends tell me that I am extremely lucky and the truth is that I really appreciate all of their support.
HT: What do you think about art and artists?
AA: I respect and identify quite a bit with anarchism, with its philosophy. A lot of my work deals with breaking what you have to break in order to get what you need. Art needs a little scarcity, for us to suffer a little and have to work; this leads us to think about our existence. And you get to know other people who are in worse situations and you realize that you aren't alone in this struggle. Sometimes, when artists have a certain financial standing, they forget about their roots, about where they came from.
HT: Your work is made with frankness and following a loyal style. What is the purpose of it?
AA: It's part of the man-beetle's path; it's the search for independence. Every human being is obsessed with their own life and in my case, it's being free inside myself, psychologically and philosophically-speaking; sometimes it's dangerous because when you break down barriers in life, you need to be independent and you always clash with society out of necessity, with contexts which are difficult. Sometimes, I feel like a prisoner, I have been a victim of censorship at exhibitions and galleries. Censorship is often no so obvious, it's underhanded. I have exhibited a very suggestive piece or two. I feel like I have an award at a gallery and they haven't given it to me because of the content of my work, maybe even because of their hypocrisy or fear, but the public tells me that the award was mine. Artists who belong to this town need more promotion. I know a lot of them who have great artistic talent and are working in food service because it gives them money; it's a social reality, this talent is slowly being lost. I tell myself that I can't cross sides, art requires sacrifice.
Click on the thumbnails below to view all the photos in this gallery. On your PC or laptop, you can use the directional arrows on the keyboard to move within the gallery. On cell phones use the keys on the screen.