An Up and Coming Cuban Actress
By Helson Hernández (Photos: Lorenzo Lopez)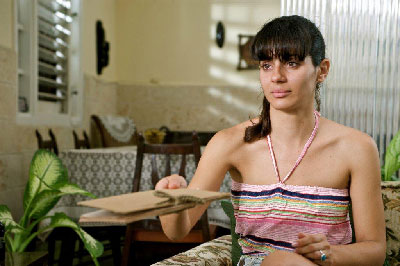 HAVANA TIMES — We spent some time with the young actress Danae Hernández, talking about her aspirations for the future and the experiences that have marked her growing career in film, TV and theater.  "In Cuba, television is the medium that brings you the greatest recognition among the population," she told HT.
Havana Times: What did you do before acting in the movies and on television?
Danae Hernández: I spent several years dividing my time between the School for Arts Instructors and other amateur theater courses, workshops and groups. These gave me the opportunity to learn and stay active as well as to continue my ties to the medium.
After my graduation, I continued these activities until one day a casting agency called me about a role in a movie that Gerardo Chijona was directing. That's how I began on this long road of stiff competition. I had the good luck to attend the training classes for that movie, headed by the great teacher Carlos Díaz, and in which everything was focused on acting for film.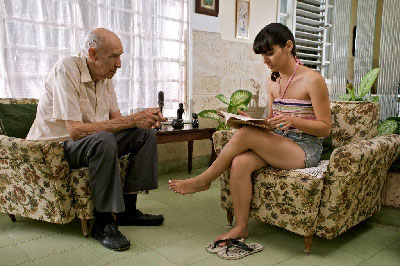 This marked a change in my life. I began to work in professional theater, as a member of "El Público", a large theater company in our country, to which I owe a great deal of what I am.
HT: Questions have been raised regarding the artistic preparation offered in the career of Arts Instructor.  What's your opinion with respect to this?
DH: It's true that there have been doubts, especially about the very large scope of the project, but I can assure you that the school offers a good program of study; at any rate, when I studied there the coursework was quite profound.  Of course it wasn't a program to form actors, nor painters, nor musicians, nor dancers; literally, it was for the formation of arts instructors.  That's where one's personal ambitions enter in play: your dreams and above all whether or not you use your time productively.
HT: What was the acting role that initially opened the door for you into the professional world?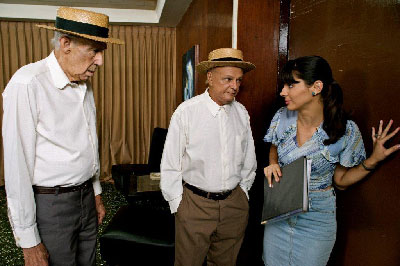 DH: The production of the play "The other side" by Gao Xing Yan, directed by Alexis Díaz de Villegas with the "El Público" theater company.  This was my moment of truth, since the play involved a complete cast of actors with a very effervescent and – to me – novel style of theater.
HT: You're also one of the young actresses included in the casts of the soap operas produced for Cuban television, is that right?
DH: In Cuba, television is the medium that brings you the greatest recognition among the population. People see you on the street and they greet you as if they'd known you for their whole life. This is both amusing and touching. For me, television was something I hadn't even dared to hope for, since I always saw it as something very distant from my real possibilities.
When I was chosen for the cast of the series, "Con palabras propias" (In their own words), I went for days without telling anyone for fear that it wouldn't really happen. I thoroughly enjoyed the entire process: the rehearsals, my role, the relationship with the other actors and actresses, the work with the director. I found television to be a great experience. Each of the mediums is very distinct and each has its own attractions. I believe that a performer should work in as many facets as their art can be manifest in, so that they can love it all the more intensely.
HT: What factors determine the opportunities and the professional fulfillment of young Cuban actors and actresses today?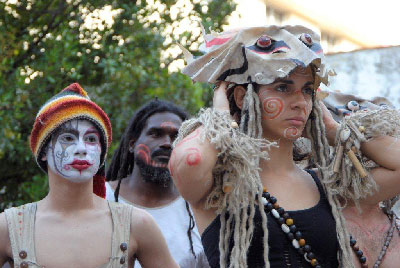 DH: Well, there aren't a lot of opportunities, but there are some that appear and can be taken advantage of. Really, we would want there to be more for the simple fact that acting is a skill and the more experience you have the more you grow. Of course, as we have more opportunities to work we become more fulfilled, and I believe that setting goals in pursuit of this helps us to invest our best efforts and to concentrate on our careers.
HT: And the movies?
DH: I had a fleeting role in "Camionero" (The Trucker), and the lead role in "La Lavadora" (The Washerwoman). I feel that the limited time that each was shown isn't due so much to the strong situation that the plot of each one depicts, but more to the fact that for a short film to be seen in Cuba it has to be in some kind of film festival, otherwise the opportunities for showing it are very few.  Really, the curious thing is how many independent productions the public have in their homes here, when they haven't even been shown yet in the movie theaters.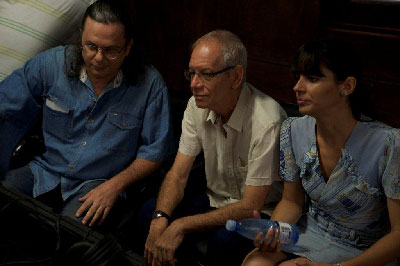 DH: Yes, film is a medium in which I feel very comfortable. I adore its language, its visuality, the acting work itself. You have to do it with the truth in your hands, otherwise it come off as artificial. This fact exerts an incredible magic. I hope that it continues to open its doors for me, because I find it immensely fulfilling.
HT: What are Danae and the actress' hopes?
DH: Above all, to continue improving myself: to study, carry out some independent theater projects that I believe I can do, as well as continuing to work in theater with those who allow me entry into their projects. I hope that opportunities to work don't stop coming; that life, love and my family continue filling me with joy; and most of all, that one day I will reach the latter years of my life with the happiness of having won the hearts of our demanding Cuban public.