Bernardo Comas: Boxing Came into My Life Unexpectedly
By Jose A. Rodriguez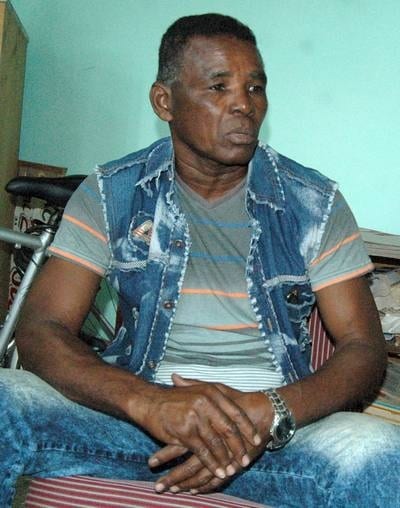 HAVANA TIMES – Bernardo Comas Aguilera made his mark on an era in global amateur boxing when he became a celebrity in the ring, but the man who was born on November 14th 1960 in what was then the Camaguey province, over eight hours away from Havana, had never thought about boxing.
This former boxer, who caught people's attention from a very young age with his remarkable punch, which won him respect both in national and international circles, sat down and told Havana Times about his early steps in this combat sport.
"Boxing came into my life unexpectedly. I was born in a very remote place called Ligerito, between two municipalities called Colombia and Amancio Rodriguez (which now belong to the province of Las Tunas) where I stayed until I was 11. After I moved to Camaguey city, I used to play baseball, I hadn't even seen a boxing match before. My father was the first administrator the University of Camaguey ever had, and we went with him.
One day, I went to the academy, I saw what boxing was and I put down my baseball glove. Trainer Fermin Espinosa saw me there and he talked to my mother to give me a scholarship to go and study at the EIDE (Sports Initiation School). I was going to get a grant to study veterinary medicine, but I got the EIDE one first.
In my first year, Espinosa taught me the basics of the sport and I took part in the 1976 National School Games in Guantanamo, in the 60 kg weight class, where I won the gold medal and was named the best boxer of the competition."
Because he was so young, he couldn't play on the national team yet, but he went along with the squad to sparring matches, until, once again by chance, he made it onto the team.
"On a tur with the youth team, we were in Bulgaria and I weighed 67 kg. The main trainer, Alcides Sagarra told the beginners' trainer, Pedro Roque, "He's coming with me." From there, I went on to Hungary with the main selection, but I didn't compete because of my age and I stayed at La Finca, the training center for Cuban boxers, when I got back to the island. The first thing Alcides said to me was that I didn't have a weight class. With a better diet there and my natural growth with age, I put on weight and weighed 75 kg."
He was only 20 years old when he finished the 1981 National Playa Giron Championships with a silver medal, after losing to Alejandro Montoyo in the 75 kg class final in January by a few points, and in March, he won the Strandzha Cup, a traditional tournament that is held in Sofia, Bulgaria.
Alternating with Jose Gomez, who was the king of the middleweights in Cuba thanks to his Olympic gold medal (Moscow, 1980) and world championship win (Belgrade, 1978), as head of their weight class, he became the top boxer for the 1982 World Championships in Munich, when he was crowned winner going against all forecasts, as he was just a newcomer on the national team. He won the title after delivering an electrifying knockout to his opponent, the Finnish Tarmo Uusivirta, who came in second place at the previous championships.
"I was the only person who thought I could beat Uusivirta. I had seen him compete and box against Gomez, but I trusted my skills, and when the first round was over, during which I had floored him, Alcides told me "you can beat him because you're well prepared," and that ended up convincing me. I knocked him out in the second round. That was my main victory, I will never forget that knockout. I was the world champion and I wasn't even 22 years old."
The next year, Gomez beat him with a RSC in the Giron Tournament, but then the roles were reversed at the Cardin Boxing Tournament.
"I was very confident at the Giron Tournament but he beat me, and then at the Cardin Tournament, Alcides called us and told us that whoever won would go on to take part in the Pan American Games. I think that I was better at that time and that's why I won after I pinned him three times, like he had done to me in January. I must say that we have always had a good relationship, in spite of our rivalry, before and even now."
1984 could have been another great year for Comas, but Cuba didn't take part in the Olympic Games in Los Angeles and the boxer from Camaguey was left wanting to bask in the summer glory.
"I really wanted to compete there. I had fought against all four medal winners. I had beat the Korean twice at the Match de Retadores, the US boxer when we came up against the United States, I had knocked the Puerto Rican out in the Pan American Games, and I also knocked out the guy who won bronze. Havana hosted the Friendship Games and we fought against boxers from the Soviet Bloc, I won that too.
"The following year, I wasn't in my best shape. I was champion at the Giron and Cardin Tournaments and at the 1986 Giron Tournament too, but I lost the Cardin Tournament in Camaguey that year and I didn't want to box anymore."
That's how he ended the Comas reign both in Cuba and the world, when he was just 26 years old, faster than expected with Angel Espinosa going from 71 kg to 75 kg, who successfully replaced him. This is how he summarizes his form.
"I had technique and punches, but you need to know other things, and to master basic strategies in order to have better results. No matter how hard you punch, you have to hit your opponent and you need to have good physical training, know what distance is best to fight against each rival, when to use a counterpunch, etc., you need all of this to become a great boxer."
With regard to the few knockouts in boxing today, he said:
"First of all, they've changed gloves. They were lighter before and you could feel the blows more. Rules were also changed and there was a time when boxers knew that they were at an advantage and so they avoided confrontation so as to keep their point difference and win without taking a risk, this has taken away a lot of drama from the match. I remember that when I used to box, even if I won before time was up, I had to continue working in different rounds with trainers and run. That's why I was trained to box all three rounds, if need be."
What do you think about Cuban boxing today?
"In my time, there were celebrities in every weight class, today we can't see them because they don't compete internationally. They don't even compete much in national tournaments, and second-class celebrities sometimes go months without having a fight. Boxers develop their skills in the ring, and I was fighting all year round when I was boxing, outside and here, because every province had at least one official tournament."
What does Comas do now?
"After I retired, I finished my degree in Sports and I stayed on to work at the Camaguey Academy, where I still am today. I went on a mission to Venezuela twice, once to El Salvador, and I also trained for more than in month in Azerbaijan in 2011, where I was invited by AIBA to train 10 Spanish-speaking boxers at the World Academy there. I have three children, my son boxed a little bit, but he gave it up. I go to tournaments whenever I can or I watch matches on TV. Right now, the boxer that is having the most success is (Julio Cesar) La Cruz, but I think (Andy) Cruz is really great. Nevertheless, the boxer who impressed me the most in all of my life was Sugar Ray Robinson because I saw him come up against Cubans Victor Corona and Andres Aldama, the Panamanian Mano de Piedra Dura and he was incredible, it was always super enjoyable to watch, both as an amateur and then as a professional."