Caleb Casas, a Cuban Face in Acting
Helson Hernandez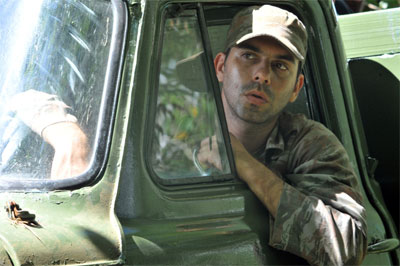 HAVANA TIMES — Cuban actor Caleb Casas lives and works as an actor in Colombia, a country with many cultural ties to Cuba. "I'm in another country making a living at what really makes me feel realized," he told HT in his interview in Havana.
HT: You haven't been seen on the Cuban stage or screen for several years.
Caleb Casas: I've been working in Colombia for seven years, along with my girlfriend Laura Ramos, who people will recall is also an actress. Colombia is now my second home. I've mostly been doing television because theater and film is a bit more complicated here. They are more regionalist there.
Basically I've been doing series and telenovelas, which are opportunities that have allowed me to continue my acting work in Colombia. I've been lucky in that regard.
Now they're doing a lot in television in these countries with the concept of series. These have strong international demand and constitute a form that has taken hold. Colombia right now is the hub of television in Latin America. Lots of people immigrate there. Argentineans, Venezuelans, Chileans, Mexicans and Cubans predominate in the competition for roles there right now.
HT: What were your last jobs in Colombian television?
CC: There was "Primera Dama," from a blockbuster novel that first made it big in Chile. Later Colombia bought the rights to do it there. My character was the bad guy in the story. I'm pleased to have played that type of evil character, instead of being typecast as the typical romantic hero or the heartthrob, which here in Cuba I repeated a lot in my work. That new experience required me to do and give more as an actor.
HT: What opportunity prompted you to give it a go in Colombia?
CC: Along with need, I was always interested in testing my luck. But thank God we also met our current agent, a Cuban who has lived abroad for a long time. Through his efforts opportunities were presented to us, which made us decide to go to that country.
HT: Have your expectations in Colombia been filled so far, and is your work there as popular as it was here in Cuba.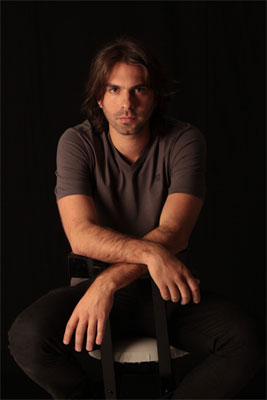 CC: I can't complain. I'm in another country making a living doing what really makes me feel realized, and with more or less popularity, though that isn't so important.
HT: Tell us about memories of your training and your early career in Cuba?
CC: Before, I went to an art school in Havana, preparing to enter the School of Art. But as fate would have it, the tests I took were for acting at the School of Theater, when I didn't even know what it was.
After graduating as an actor, I had the great fortune of doing the still-remembered television adventure "Descamisados". This constituted my recognition in that medium, along with the current singer Eblis, who has lived in the United States for years and has worked as a part of a popular musical duo with his brother. With Eblis I was part of a very popular acting duo that performed here in Cuba thanks to the adventure series made for television here on the island.
HT: What about your family and your career?
CC: I have a maternal aunt who is an actress. She played in a very brief scene in a Cuban film called "Plaf." Her name is Ana Vivian Mora. Currently she's a director of advertising spots for Cuban television. So, there's a history of art in my family – it's not just me.
HT: What were the reasons for you returning to Cuba after seven years abroad?
CC: It's something I was waiting on for a long time. I wanted to come back home to my country. Being close to the family was a longing that I've happily materialized now thanks to a film project in which I'm part of the cast. This is a film written by Roberto Daranas. It has a very good script and is being directed by Alejandro Gil. There are high expectations for this new Cuban film.
The film is called "La emboscada" (The Ambush). It tells the story of four men who were ambushed in the war in Africa, where extreme situations are shown. The four characters are under attack, but they're unable to get out of their trench, though they suffer hunger and thirst. It's like a large magnifying glass over them, with some flashbacks into the personal lives of these men.
Those who are with me in the cast include Patricio Wood, Tomas Cao, Armando Gomez, Nestor Jimenez, Alejandro Cuervo and Arianna Nunez. I think it will be out around the middle of this year, depending on the post-production process.
HT: What other experiences have you had with Cuban cinema?
CC: The first one I did was in "Tres veces dos", by Lester Hamlet. The second story in the film (which includes three separate stories) was where the actors sing, but since we didn't have good voices for that, it was dubbed with recordings by singers Haydee Milanes and David Blanco.
Then came a film co-produced by companies from Brazil, Spain and Cuba, "El cayo de la muerte". The entire cast moved to the beautiful Brazilian city of Fortaleza. The director was searching for locations that looked like Havana of the 1950s so as to recreate that time. It's a tribute to cinema itself.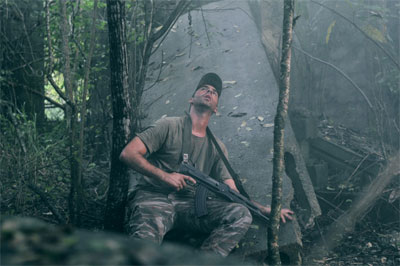 The director of this film, Oliveira, who's from the first generation of graduates of the School of Cinema in San Antonio de los Banos, made a documentary about those guys who were no longer so young, and from that came the script for the fiction film.
HT: What about Argos Teatro?
CC: It was a great school I had as an actor. I'd like to return — just like what happened with this film — and do something again with the group led by Carlos Celdran, which is who I started my career with here in Cuba.
I can sum it up briefly by saying that theater group has been the greatest for me because theater in Colombia is impossible to do, it's very difficult. With Argos Theater, I can mention shows that were crucial in their time. "Roberto Suco", was the first I acted in; later there was "Vida y Muerte de Pier by Paolo Pasollini"; but Roberto Suco was undoubtedly the most important work in my career as an actor. The character was a serial murderer who amazingly — despite the negativity he showed — was identified with closely by the public.
Doing theater is the basis of an actor. When one feels that direct energy with the public, you don't want to change it for anything.
HT: What remains of the director Carlos Celdran in the Caleb that today is in Colombia?
CC: Well, lots of things: how to focus on a job from the beginning, how to deeply understand its intent, how to dissect a script – everything.
HT: After performing, is there another path you might follow?
CC: To me, directing has always interested me greatly. In Colombia, when I wasn't able to find work acting, I took a class on filmmaking. I had to make a short film at the end of this course, and I really got into it.