Cuba Filmmaker/Actor Daniel Chile
By Helson Hernandez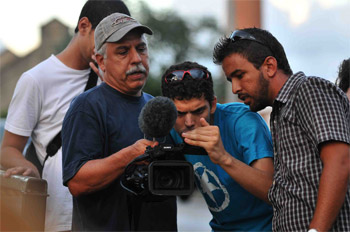 HAVANA TIMES, Nov. 16 — The young actor and filmmaker Daniel Chile told HT: "Although I'm lucky to have found my calling, I'm still trying to find myself."  His short "Tunel" will be shown in the upcoming Havana Film Festival in the Made in Cuba section.
HT: Before directing, you had to first find your place in acting, since the studies you completed were in that artistic specialty.

Daniel Chile: I always dreamed of being a filmmaker, it's something that haunted me since childhood. However, because there aren't any film schools that begin after junior high I realized that there was no better choice than to study acting. Studying at the "National Art School" (ENA) was one of the greatest experiences I've had so far. It was there that I was able to read the greatest past and contemporary playwrights, where I began to frequent the stagings of works by the avant-garde theater directors in our country, and where I acquired a strong cultural foundation. But above all, while I was there I learned the importance of directing actors.
HT: Tell us about some of the acting roles that have been important in your still short career.

DC: At the ENA I played characters in several works that are true classics of Cuban and foreign drama, ones like Mambru se fue a la guerra, by Hector Quintero, Cuento de Zoologico by Edward Albee, La Bella Aurora by Lope de Vega and The Long Goodbye by Tennessee Williams. My graduation thesis was Por Gusto, a work by Abel Gonzalez Melo, which was well received by the audience for its originality and boldness.
Later I had the good fortune of working with Mario Morales (a prominent theater director here in Cuba) in the classic Cuban play Los Mangos de Cain by Abelardo Estorino and in another excellent work, Rosa Fuentes by Reynaldo Montero.
HT: Do you think that acting is moving away from your professional interests, keeping in mind that you're taking the path of working as a director?

DC: You never leave one road to start down another, and in this case the paths converged. Not acting on the stage doesn't mean abandoning acting. After the experience of my film short "Tunel," I feel more like an actor than ever before, because it gave me the opportunity to direct talented young actors of my generation, ones such as Yaniel Castillo, Amanda Fariñas and Ariel Albonigar, as well as prestigious veteran actors like Broselianda Hernandez and Renecito de la Cruz.
As for directing, while in my second year at the National Art School I participated in a workshop on cinematographic language where I shot various exercises exploring different theatrical stagings and film productions. In doing this, I got a taste of the best of world cinema at the ICAIC Cinematheque.
When I was finishing at ENA I directed my first short film, "Tres Puntos," and since then I haven't stopped thinking about movies for a second. I think that where I feel secure, where I can best develop, show and express myself as an artist is in filmmaking, though this doesn't imply that I'm permanently abandoning my status as an actor.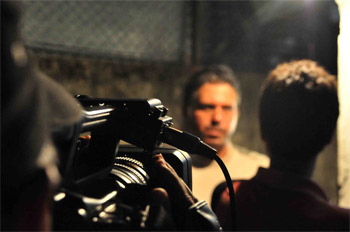 HT: Your father is a name that carries a lot of weight on the island in the film medium. Is he a determining factor in your future career?

DC: Of course ever since my childhood I've come from a world of images. My father, Roberto Chile, used to take me to his shootings, and from the corner I would see the lights, hear the sounds, and sometimes even look through the lens of his camera. Once those works were complete, I would see them — with even greater astonishment — on TV at my own house.
Every day he would bring new films and documentaries home, which is why I always had an exciting and inspiring connection with film. My father signified my introduction to the visual arts, so he'll always be my greatest influence.
HT: What is Roberto Chile's assessment of his son's work and to what extent does your father support you in achieving certain artistic results.

DC: As for my work, he's my main "tormentor" – in the best sense of the word. My father is very critical; he's a perfectionist, and that has a meaning in my life because he has made me demanding in looking at my work and those of others. He never intrudes on my ideas, nor does he try to propose another path that's different from my interests. He advises and criticizes me in what I do, but he respects the time in which I live.
He's a person who knows how to listen and adapt himself to each context and to the different opinions found along the way, so I consider him an exemplary human being. Only those who have been close to him really know what I mean.
I'm generally sure about what I want to say and how I want to tell it, but when I go to him, he supports me based on my ideas and without imposing any fixed concept. So he's a tactful person, even with his own son.
HT: You recently released a short film called "Tunel," where the issue of drug addiction induced by social problems among youth is the argument behind your approach. Why did you touch on this controversial theme with your footage?

DC: Actually what compelled me to tell the story is the theme of loneliness and to what extent it can influence the human mind, even in decision-making and choosing one direction or another in life. Although the issue of drugs for all those involved with it is a subject of much power in any narration, my story is about two young people who prefer to escape from loneliness before being drowned in their own anxieties. They journey through a tunnel that doesn't always have a light at the end.
In this case, within the plot are drugs. The theme emerged by chance, as I needed a powerful conflict zone to separate the two characters at a certain moment but that would unite them later. From the beginning, when this theme arose, I started researching the issue with psychologists and people who had suffered from addiction and it solidified as an interesting dramatic path along which I could explore the complexity and vulnerability of two characters like Javier and Deborah.
HT: Does your story have any relation to Cuban life or is it pure fiction?

DC: Although it's pure fiction, I dare say that people like Javier and Deborah are wandering through the streets of Havana every day, walking across the iron bridge, listening to "Clara de Luna" by Beethoven in their dingy room, or lying on the wall of their college searching within themselves for shelter.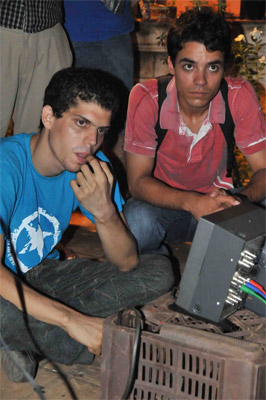 As for the issue of drugs in Cuba, this is a country with one of the lowest rates of abuse. But the problem exists. Therefore, it's something we can't ignore or hide from. On the contrary, we have to assume it as a reality that concerns all of us.
HT: The renowned Cuban singer Polito Ibañez performs the theme song you chose for "Tunel." Did the song come as an idea from you or had it already been created?

DC: I worked on original music and on the soundtrack with the excellent jazz musician Alexis Bosch, who had worked on my previous short film "Tres Puntos." Alexis did a commendable job with his music to support the living drama experienced by these two characters. He added remarkable subtlety and strength. After he finished with the music, we realized it would be great to conclude with an original song for the credits, so I immediately thought of Polito Ibañez, a songwriter who I admire and have followed since I was at ENA. Polito viewed the film and within a short time he had the song ready, one that grabbed me because it implicitly underscores some of the significant points in the story.
HT: Will we be able to see such an interesting film on Cuban television or at the cinema?

DC: The short opened the Eighth Festival of Arts at ISA [the Superior Institute of Art], which also marked the graduation thesis for actress Amanda Farina, who plays the character of Deborah. It was a special night for youth attending from the schools of art, music, the performing arts, and it was well received. We've also showed it at the Bertolt Brecht Cultural Center. As for Cuban television, it was already broadcast by Canal Habana TV on the program "Breves Estaciones." I hope that soon it will be presented at upcoming national festivals, which are helpful places for disseminating the works of new directors.
HT: Now, what are these next ideas of Daniel Chile?

DC: I want to continue working in this complex world of film. Though I consider myself a scriptwriter, I'm a filmmaker who writes. I'm writing another story, which will be the starting point for my next short fiction film. I hope to shoot it next year. In the meanwhile, I'll dream, work, study and learn. Though I'm lucky to have found my calling, I'm still trying to find myself.