Cuban Actor/Playwright Yunior Garcia
Interview By Helson Hernandez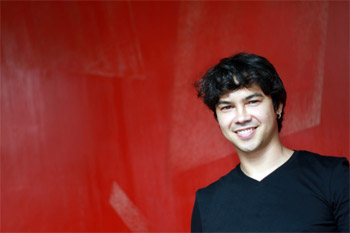 HAVANA TIMES, Oct. 23 — Yunior Garcia Aguilera is an actor and one of the creators of today's Cuban theater. He told HT in our interview: "My country and its people are the concerns that obsess me."
HT: You graduated in acting and also drama studies with honors from the Superior Institute of Art (ISA).
Yunior Garcia: I graduated as an actor in 2003 performing in La boda, by Virgilio Piñera, with the staging by Raul Martin and his Teatro de la Luna.  Incidentally, this was the first play I saw when I arrived in Havana in 1999, but back then I wasn't interested in only acting. I wanted to conceive of the roles of the characters that as an actor I wanted to embody, and that sometimes wasn't found in theater writing.  That was why I decided to complete my studies at ISA, but this time in a different program: drama.
Over those five years of study I had the opportunity to combine theory with practice. I founded my own group in Holguin and every year I tried out on stage the scripts that were being born in the classrooms of ISA.  I wasn't a "model student."  Premiering one new work each year, participating in various theatrical events and continuing to act resulted in me being absent from class frequently, but the teachers understood that I wasn't wasting time. ENA (the National Art School) was the place where I experienced theater "in the flesh," while ISA allowed me to understand it with a more analytical eye. I'm lucky to have come from schools without ceasing to be empirical.
HT:  How did the opportunity materialize for you to complete your studies as an international artist in residency at the Royal Court Theatre in London?

YG: In 2009 I joined the last workshop for playwrights that the Royal Court Theatre offered in Havana. Subsequently, Elyse Dodgson, the director of the International Department of the British group, invited me to join a work that they were planning to premiere in London during the 2012 Olympics. I worked on it for several months very enthusiastically along with five playwrights from five different countries (Nigeria, the United States, Brazil, the UK and Cuba) to collaborate in writing a single script. Participating in this project opened the doors for me to receive an international residency position that the Royal Court offers each year to young writers from around the world. That time I shared it with playwrights from nine other countries.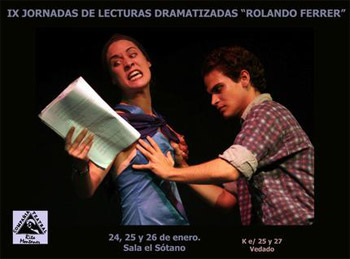 HT: What interesting experiences marked your stay in that country?
YG:It was a truly enriching experience. On the one hand, there was learning about the routine work of theatrical of creators from Georgia, Lithuania, India, Uganda, Germany, Mexico, Lebanon, the United States and Poland. On the other hand, I was able to share ideas with recognized authors such as Tom Stoppard (the screenplay writer of Shakespeare in Love) and David Hare (the script writer of The Vertical Hour and Pravda). I was able to sink my teeth into the contemporary English stage and appreciate the works of an author who's now a must for young Cuban writers; I'm referring to the almost mythical Sara Kane. I attended more than ten theatrical performances and I presented my work to critically thinking actors, directors and consultants of high caliber on the literary scene in the UK. Thanks to all these connections, I had the opportunity for the Royal Court to premiere two of my more recent scripts, in addition to my activity with the project I was already involved in for the Olympics.
HT: We've noticed that despite your concerns with other activities, you haven't neglected acting. Could it be that one creative work is getting the better of other professional interests?
YG:Writing is a task that consumes more time than you might imagine, that's why I've moved away from acting somewhat. But I remember with particular pleasure the time I acted under the direction of Raul Martin. More recently I had the opportunity to share the stage with Jose Antonio Alonso, a founder of the Buendia Company and a distinguished actor. I'm currently connected with two groups, Trebolteatro in Holguin and El Caballero in Havana. I'm not thinking about ceasing to act. Even when I write or when I direct, I do these from the perspective of an actor. I think that this position remains the undisputed star of the theater.
HT: We've heard it said that the great dramatists of Cuban theater were of another generation. As a young exponent of this creative area, can you comment on this?
YG: It's nonsense to think that new authors are divorced from previous generations. If I took that position, it would be like asserting that my writing would die the moment I jotted down the last word. When I showed my works to Estorino or Anton Arrufat, I did it with the respect due to these master teachers, but also with the self-assurance of a contemporary – though without "pretensions of contemporaneity."
HT: We'd like to know your age and what works you've published so far.
YG:I'm 29, though not as young as Hector Quintero and Nicholas Dorr when they wrote their now classic works. So far I've published four plays (Baile sin mascaras, Todos los hombres son iguales, Cierra la boca and Sangre). I've been able to premiere a dozen works, and that makes me a lucky author. But still I continue to work tirelessly. Much remains to be done.
HT: What are the themes that you've tacked in your scripts and what are your most urgent interests in continuing to develop dramaturgical ideas.
YG:In all my texts, no matter what the topic, there's always Cuba. My country and its people are the concerns that obsess me. It's true that "there's nothing new under the sun," but there's also no theme that is outdated or worn out. The context is always different, and the viewpoint of the writer is what produces singularity. I don't believe in forbidden topics or taboos or censorship. I write with absolute freedom. I think our theater still lacks many characters, situations and conflicts to explore. And there's an audience eager to see many things reflected on the stage that remain untouched.
HT: Your contributions as a writer haven't been exclusively limited to the theater, since you've also written for television, including work currently in progress. What can you clue us in on with respect to this?
YG:So far I've only put on screen the made for TV film Ni pocos, ni locos, directed by young filmmaker Ruben Consuegra. He's also doing a series for young people that's called SOS Academia, on which I shared the responsibility for the script with a group of writers. Now I'm writing, with several other writers, a soap opera that will be directed by Rolly Peña; it's provisionally titled Vereda Tropical.
HT: In your experience, have you found limitations for writers to develop their stories when it comes to their scripts for a medium like television, particularly when compared to the stage?
YG:TV has its rules. There's censorship in this medium all over the world and for various reasons. It's also true that writers don't receive the recognition that they deserve for their work. A colleague reminds me all the time that "the writer is the first one they call and the first thing they forget." Unfortunately this is true. Plus the payment isn't as lavish as some might think. Nevertheless, I don't think about so easily giving up the pleasure of creating a story that reaches thousands of people without them having to leave their homes. That's the incentive.
HT: You've already received several awards in your short career.
YG: There's nothing more controversial than an award, especially in a field as subjective as art. I wouldn't want to repeat what everyone says when they win one. But it's true that they do encourage people. I'm an advocate of awards, even though sometimes I don't win.
HT: If you were to create a script that reflected one of your future dreams, what would be the main arguments in its story?
YG: I'm fascinated by opposing truths, the ways in which various factions think they hold the truth. My future dream is always the present. The uncertainty of tomorrow is the motivation for today. The theater, beyond form and content, is always now.