Cuban artist Yram Marrero: Photography Saved My Life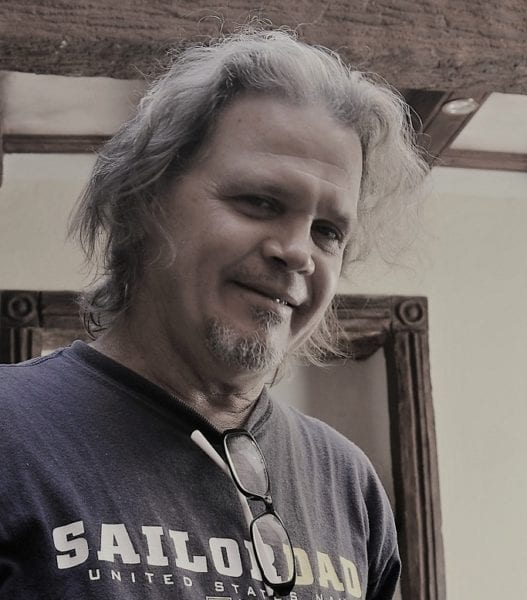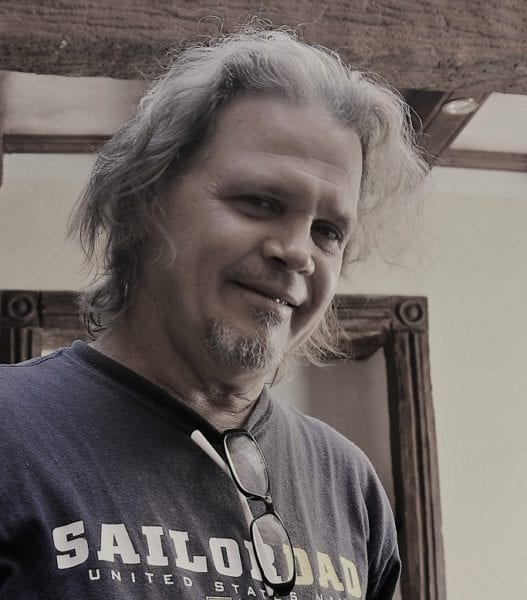 By Irina Echarry
HAVANA TIMES – Born in the '60s, a rocker and fan, Yram Marreo introduces himself in a comical way: "I-I-I am a stutterer who was born in Santa Clara"… but I met him a few months ago in Trinidad, testing out a light set next to an outdoor charcoal furnace.* He moved to this city a few years ago with his wife, when he was sure that photography was his life.
First steps
He liked Art ever since he was a child, he used to "draw and make sand sculptures on the beach." A cassava even served as the foundation for modeling a woman's torso; he thinks he turned out quite well because "a teacher took it off me and it wasn't to eat."
When he finished his Military Service, he went really far away to study: to the former USSR. It was 1988 and that was where he first encountered photography. He began to take portraits of his friends, who used to happily pose in front of his lens; in the meantime, he learned a little bit about photographic technique from Cubans and Russians.
"Gorbachov made things unbearable; at least for me and other Cubans who were studying there'; some stayed on in Gander, Canada, on the trip back to Cuba; others in Russia; and I was one of the ones who came back without a diploma."
He soon found work in that difficult time, thanks to the hobby that he had been fond of for so long. He immediately began to work in a photo studio in Manicaragua. Photographic materials were still in stock and he could experiment with them a lot.
He was already interested in the work of masters Felix Arencibia, Corrales, Korda, although he identified with Constantino Arias more, because of his work and because of what he said to his critics: Now, young people have decided to say that what I do is Art and the only thing I'm trying to do is put food on the table.
"That inspired me, but when I really began to take (let's say artistic) photography seriously, it was because I met Angel Baldrich and Exposito, excellent photographers working for Juventud Rebelde newspaper.
The first camera
"It was a Nikkomat that had a dent on the back cover, but it was like I had bought a Nikon f2, in my eyes at least." He began to take photos with this camera and contribute to some newspapers. He also began to put on exhibitions in his town, one after the other. At the Head of the local Culture office's request, he put on his first exhibition of feminine nudes to be seen in Manicaragua, "in large format with photos that were quite explicit for that time."
It was widely accepted, although it also stirred uneasiness amongst the public. He says that he wanted to get rid of taboos surrounding the nude form. Then, he realized that he hadn't understood the Culture Ministry's request, who really wanted a tribute to "the militia woman, the woman of the woman's federation, mother and partner. But, that doesn't detract away from my exhibition, I told them: under all of those uniforms, there is also beauty."
Back at that time, in the early '90s, he took photos for the Escambray Theater Group, published some of them in Tablas magazine and also graduated from the Comprehensive Photography School in Santa Clara.
The first shocking photo
Everything that happened in the town was captured by Yram's lens. One day, during a parade, he took his first really shocking image. "It had everything, even humor. It was just like these things happen, I realized that El Tabo, a very charismatic cowboy, who everyone in the town knows because of his crazy actions, came dancing along alone. I thought he deserved to have some photos taken.
When I was focusing up, he grabbed a white street dog by the paw, who was walking beside him. El Tabo spun around sharply on his left heel, pushing off with his right foot and, juggled the poor dog from one hand to the other at the same time. I clicked and when I lowered my camera I realized that I was shaking. It was because of the excitement, I knew that I had a photo that I had never taken before and that I would probably never ever take again.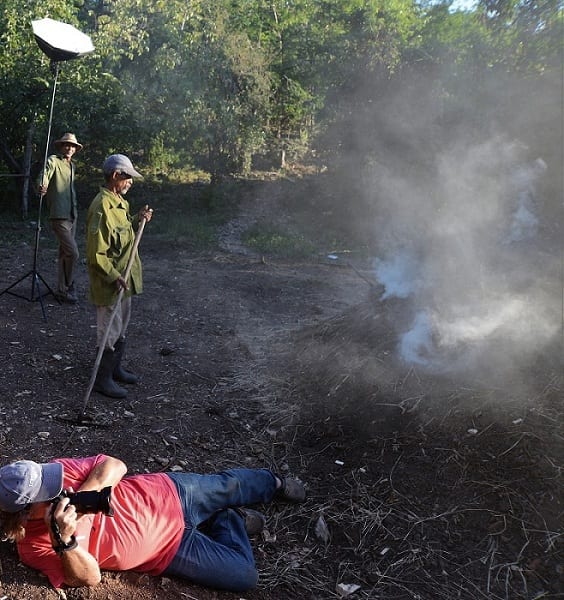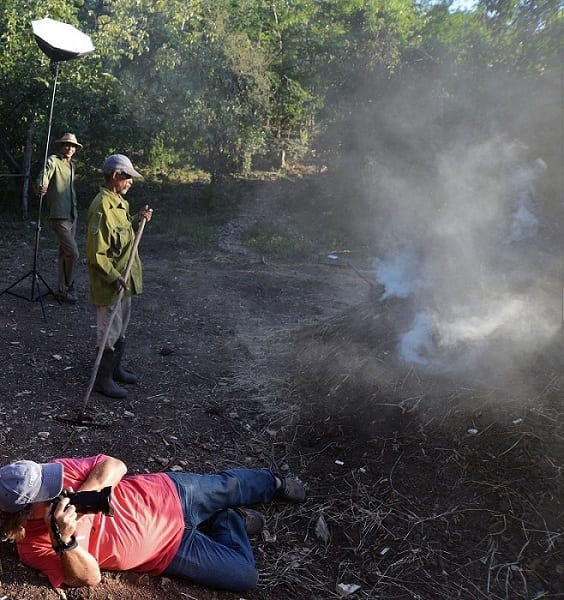 "That excitement multiplied later when I printed the photo. I had caught the dog's expression of horror with its four legs wide open and a stream of urine that was flying in the air, bathing the public who were crowded just a few meters away from El Tabo. I always liked feature photography and I assessed that photo using these codes. It was well-composed, well-focused, the light exposure was spot on, and bearing in mind the motive, the chosen shutter speed was also right. On the whole, I believe it was technically clean in every sense and it spoke volumes about the character, professional and lifestyle of that man."
That photo was unfortunately lost some time later. Other things were also lost when the Soviet Bloc came crashing down, including Photography in Cuba.
The Fatal Period
That photographic studio kept going with its own projects, but you can't take photos without reels of film, photographic paper and chemicals. When everything collapsed. Yram's life took a 180, like many Cubans' lives did; and he had to dedicate all of his energy to getting by.
"I went to fish tilapias in dams with a speargun. I finally ended up rearing pigs and taking care of a small piece of land, with my father-in-law. I plowed with oxen, I planted seeds and that's how we spent that period that was called "Special", but I call it "Fatal".
Something was missing from his life: "We sold a skinny pig and I bought an enlarger with the idea of picking up photography again. I was lucky to find work in another studio, in Fomento, and I then went to work for Fotoservice."
Switching over to digital
Fotoservice stores appeared in the '90s when very few were able to take advantage of digital photography. It took a while to get used to but he understood that this was the future of photography and he had to learn everything he needed to about digital photography in order to carry on in this profession. At that time, he discovered Raul Canivano's work and his photographic series Tierra Guajira: "that sparked a healthy envy in me; it was one of the things I always wanted to do."
Yram's words are filled with nostalgia: "Today, the Gelatin Silver process is an expensive luxury that only few people can afford and a fond memory for others like myself. I've not lost hope about being able to see how the first traces of an image appear when you reveal it under the light of a filter, to when you switch on the light and come face-to-face with something truly wonderful, like a friend of mind says."
He isn't rejecting digital photography, he admits that "possibilities are endless today and I know that what is around the corner is inconceivable in the future. I can do it but I find analog photography a lot more pleasurable. I used to do it for the whole process, noise is ugly to me and the grain of a photo is beautiful, even the smell of chemicals on your clothes when you got home used to speak for what you did."
Finding things along the way
Even though he respects conceptual photography and admits that he has experimented with it, Yram likes going out without having an absolutely clear idea of what he's going to shoot. "I find things along the way and I do what I can." A friend recently invited him to take part in a project about coal producers, as a consultant really, and some of the photos he took during nights and days spent at that place have been successful. One of them even received an award on the site yourshot.nationalgeographic.com as one of the best picks on March 22, 2018.
To his surprise, Arte por Excelencias magazine included them in its last edition. "This is my fuel. Next year, I will exhibit another series that I am already working on, its about fishermen, which is also one of the most humble and oldest professions in the world."
Trinidad
He founded a creative production company, alongside his wife: Short Producciones, which is dedicated to promoting culture in Trinidad. In the case of the documentary "Ciudad sin Tiempo", which tells you what happened during the last restoration works in Trinidad between 1976 and 1988, a process that came before the city was declared a UNESCO World Heritage Site.
"Trinidad isn't only tourism, it's a city with 500 years of history and a strong cultural movement, where there are people who take their work very seriously." The thing that makes him the most happy with this project is the ties it created with graduates from the local Art school, which was unfortunately closed a good while ago. "The relationship between artists goes beyond the artistic and professional, it's a real brotherhood."
Just as real as his love for photography is, as it keeps him going.
—–
*The series by Yram Marrero about charcoal sellers can be seen for an entire month at Trinidad, Cuba's Archaeological Museum, from Friday, January 18th.