Cuban Author Pedro Juan Gutierrez Launches New Novel
By Cecilia Crespo (On Cuba)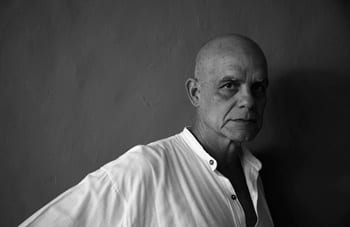 HAVANA TIMES — In different ways, Pedro Juan Gutierrez offers us a self-portrait in each of his books. On this occasion, he intentionally announces it with the title of Fabian y el caos ("Fabian and Chaos"), his most recent novel, just launched in Spain.
Published by Anagrama, the novel scrutinizes a past more distant than the one tackled in the author's Dirty Havana Trilogy.
The main character is a gay pianist (Fabian) living in the times when homosexuals were persecuted in Cuba, the first two decades of the Cuban revolution.
"The novel unfolds in Matanzas, the city of my birth. Fabian is a young pianist obsessed with his work. A young, teenage Pedro Juan then comes into the scene, somewhat desperate and volatile. The character is a lot like me and the story tells many of the experiences I had back then, which is why I claim it is an autobiographical piece. It's a kind of account of our friendship, our time together and our misunderstandings. I don't beat around the bush at all in this story. I go straight to the point at the beginning and try to go to the root of the matter. I hope my readers like it," Gutierrez told OnCuba.
Once again, we are presented with an example of so-called "dirty realism." How would you describe this work?
Pedro Juan Gutiérrez: I believe it is a very visceral and hard-boiled novel. There's nothing dirty about me, I am quite simply realistic. As you know, that was a label the critics made up. It was coined in the 80s by the Americans to describe a group of writers such as Raymond Carver, Richard Ford and others who did a certain type of realism. The term later reached Spain and other places and began to be applied to writers thought deserving of it because they wrote about rather obscene things. When the Spanish publishing house Anagrama published my Havana Trilogy, they labeled it as such for commercial reasons. The journalists repeated this without looking into the work any deeper, perhaps because of lack of time. I believe reality is neither dirty nor clean, it is quite simply reality.
Where does the title of the novel come from?
PJG: Fabian is the main character, and the times the novel is set in were truly chaotic in many senses.
A long time passed before you decided to unearth this story from your youth. Why didn't you write it before?
PJG: That's true, I could have written it much earlier. I spent 20 years seriously considering whether to write the novel or not because, in a way, it's a complicated issue involving fairly serious ethical problems. I didn't want to cause anyone any problems and the story tells episodes in the life of a great friend from my youth. We were very different but had a close friendship. I finally decided to write it, and that's that!
The back cover of the novel reads as follows: "Cuba in the 1960s. The revolution has triumphed and two young men who apparently have nothing in common become friends. Pedro Juan, a familiar character for the readers of Pedro Juan Guitierrez, is athletic, strong and, in time, will become a seductive lover of voluptuous women. Fabian is exactly the opposite: a scrawny, fearful and myopic pianist, a homosexual whose family – a mother from Madrid and Catalonian father who emigrated to the island in the 1920s – lived better times in pre-revolutionary Cuba.
"This unlikely friendship will survive the test of time and the lives of these two boys will again cross in the years to follow. Pedro Juan will have become a hedonist who enjoys sex with well-endowed women that demand no commitment, including a voracious sexagenarian, while Fabian will have turned into an artist unable to confront a hostile reality. He has been arrested for being a faggot and, even though he is ultimately released, fear will grab hold of him and he will retreat deeper and deeper into himself. The two will meet again at a meat canning factory where the pariahs of the new revolutionary society work, but their destinies will be irreconcilably different."
The corrosive and transgressive Pedro Juan Gutierrez is one of the most widely published and read Cuban authors in the world. Though born in Matanzas in 1950, it was Havana's neighborhood of Centro Habana that took him in and saw the birth of his work. In his own way, Gutierrez reveres and enshrines this part of Havana, which he turned into a character in its own right, rather than the setting for his stories.
In his books, filth, alcohol, irony, hunger, prostitution and, of course, sex, copulate with compassion, tenderness, laughter, melody, madness and hope. He defines himself as a regular writer who is trying to reveal what lies behind each individual's darkness. His books reflect his people, friends, loves and nostalgias – nostalgias that apparently haunt him, and he attempts to exorcise through words.