Cuban Jazz Pianist Harold Lopez Nussa
Helson Hernandez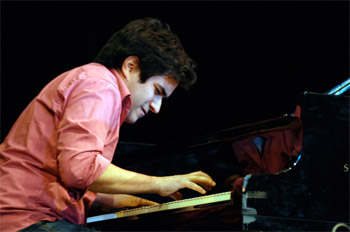 HAVANA TIMES — Young Harold Lopez Nussa is among the great pianists of Cuba. "I think we should pay more attention to jazz in the teaching process," he said in his interview with HT.

HT: Lopez Nussa is from a musical family.

HLN: Yes, I'm from a musical family. My mother was a piano teacher and my father was a percussionist. Then too, my uncle Hernan is a little better known pianist, and my grandmother also studied piano, actually she's still playing. Plus my brother is a percussionist. Most of all, I owe to them for my being in this world, and my parents for taking me to my first tryouts.
HT: Did you begin your academic studies on the instrument that has given you the career you have today?

HLN: Yes, I've always played the piano, even in my initial studies at the Manuel Saumell School. That's also how the other musicians in my family began. As you know, the instruments that you start studying when we're young are the piano and the violin, beginning at the age of eight; but if one likes, they can switch to another instrument later on.
HT: As a kid, did you have other interests before getting into music.

HLN: When I was a kid what I really wanted to be was a baseball player. I didn't even think about music. I'm an Industriales fan to the death, and I love baseball. Fortunately everyone in my house is are Industrialista fans, so we don't have many arguments in that respect.
HT: Tell us something about your songs.

HLN: On my 2007 CD on the Colibri label, I had a lot of guest artists, which was really nice. My uncle, Hernan Lopez Nussa, produced it. In all of the recording sessions we had an absolutely great time, and those were stimulating, which was exactly what resulted. By having a good time I think that was reflected in the music. This disc is characterized by a selection of versions that I've done on songs and composers of my basic preference.
HT: It must have been a lot of hard work to select the songs to complete "Canciones," if we're talking about personal preferences.

HLN: It was extremely difficult, and not all of the songs were Cuban. There are also ones from Brazil and Argentina. It's a small selection from a list that even now I can't say how long it was. My family was involved in helping me choose them. Really, more than anything, it was a record that I made so that I could enjoy it. I wanted to create the kinds of music I've listened to since I was a child, songs that had to do with my musical education in Latin American musical composition. I think there's a fairly accurate representation among that long list of composers.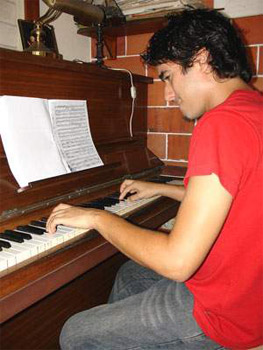 HT: Jazz has left little room for your interest in classical piano?

HLN: I'm a classically trained pianist. Jazz and popular music came much later, at the end of my mid-level training. That's when I became more interested in that genre, a totally different world that has nothing to do with what we study in school.
I believe we should pay more attention to jazz in the teaching process. We need to look for different routes for those musicians who want to have their classical training but in the same way want to distance themselves from academia. In that way they can find new paths, they can go off in search of sounds in popular music or jazz itself, which allows more creative freedom.
I'm a lover and a supporter of classical music, and I never wanted to leave it completely, though it's true that jazz and popular music have kept me busy lately. For the classics you have to spend a lot of time studying, searching for information. I hope to be able to continue playing with the symphonic orchestra on scores, which have always been one of my great passions, on par with what I'm doing in my work as a pianist.
HT: What about your comprehensive series of Villalobos concerts?

HLN: That was a project that I got into a little late, but it certainly was a tremendous pleasure to have worked with Ulises Hernandez, who I admire greatly, as I admire the other pianists who participated. I was the youngest of the performers who were called on and selected by Ulysses to give the Cuban premiere of the work of the popular Brazilian composer Heitor Villalobos.
It was a challenge to have been included in this musical event, and as such I learned from all of them. I'm sure the recording of the CD and DVD of the first live integral performances in those five concertos for piano and orchestra by Villalobos is a work that will endure for their value.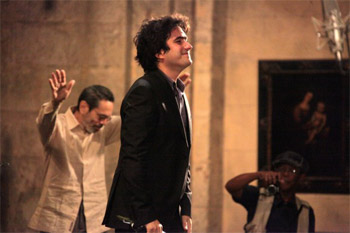 HT: And the Buena Vista Social Club?

HLN: I recorded for that group on three albums. Participating in these productions were international artists such as Sting and others. I played the piano for some of them, and on a song that Vania Borges sang for one of those disks. The first album I played on consisted of something like four or five songs. To me everything that is good music is done with the seriousness that interests me. Having recorded with such renowned artists has added to my development as a performer and a musician.
HT: We have touched on the area of Harold as a performer, but tell us about yourself as a composer.

HLN: I don't consider myself a composer as such, sometimes I just get ecstatic at times and that's how some of my things get recorded. I did some songs, some that were better than others, but I have fun and it also pleases me to know that something that occurs to me can suddenly turn it into a work – it can wind up being on a disk for other people to also enjoy.
The album Canciones included a song of mine, "Bailando Suiza," which became a tribute to a group of composers who I admire. When I arrived in Switzerland for the competition, several people helped me come up with a song to play. This one was one that had some movement, stretching, where I appropriated a little bit of everything to put in it.
HT: Havana's Malecon?

HLN: That is undoubtedly one of my favorite places. Since we're on an island, the sea is of great importance for almost all of us. When I'm on tour traveling in other countries and I don't see the sea, I feel a compelling need to see it again. Havana's Malecon seawall is part of my life; I live near it, it's a place that inspires creation. We have danced and sung there on many occasions in get-togethers with other musicians and friends.
HT: Newspapers in Europe wrote:  "Harold Reigns in Switzerland" for your having won the first prize in the competition for solo piano in 2005.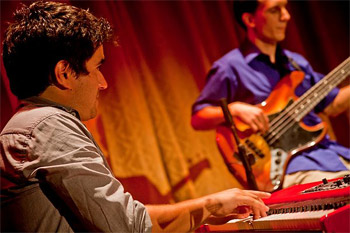 HLN: This was at a jazz festival. Those competitions are very unique. Their decisions depend on many things, such as the jury and the opinions of many people, which I don't think determines who is or isn't better than anyone else. But for me, just making it to there was a big step, not only because it's one of the biggest jazz festivals in the world but also because it's one of the best.
Suddenly finding myself among the 12 semifinalists was a great experience. There were pianists from everywhere and to be there with them, playing together, becoming friends with each one of the participants, was already a great award for me. When the winners were announced, I couldn't believe it. It took me as an unexpected surprise.
There were two rounds in the event and in each one of these we had to play an original composition, plus a mandatory piece." I think my song "Timbeando" was crucial for achieving that recognition in Switzerland.
HT: If you had to make a choice between the great classical composers, who would you as a pianist name?

HLN: The first one that comes to mind is Beethoven, though there are many of them that I'm interested in personally. If I don't mention those others here it's only because the list would be too long, but I think Beethoven's work has a lot to do with me.