Cuban Painter Yudit Vidal: "Creating to Live"
Helson Hernandez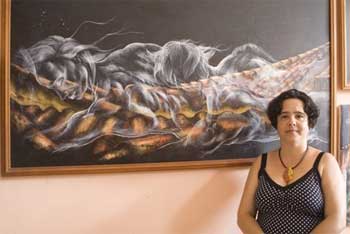 HAVANA TIMES — "To me, creating is living," said contemporary Cuban visual artist Yudit Faife Vidal, from the city of Trinidad, in her interview with HT.
HT: You live in Trinidad, one of the most beautiful and historic villages on the island.

YV:  I think Trinidad is more than a historic-architectural site frozen in time; it's the evolution of cultures, a daily meeting point where pleasure and aesthetic enjoyment merge in everyday exchanges.
HT: What influence has this City had on the creative path of your work?

YV: Above all, one might say that in recent times it has taken me deeper. I see myself facing a constant need to capture the intangible. Maturity forces you to retrace your steps. Perhaps having ventured into the vast field of restoration — a field that I studied for six years at ISA-CENCREM —is apparent now.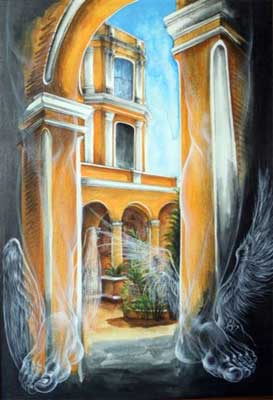 This is especially apparent in my most recent work. I've been creating "Detalle colonial" (Colonial Detail), where the out-of-date, nostalgia, eighteenth-century legends, the details of a landscape carved by time, among other brushstrokes of the town, have seized my imagination and spring up in the paintings and result from this evolution of Trinitarian nuances.
HT: What about the visual arts in Trinidad? Tell us about your current movement.

YV: Currently, there has arisen an important cultural phenomenon in terms of "arts and crafts" in the city. Tourism often takes its toll on this matter, but fortunately its opposite lies in wait. Art, commerce, the quick and easy way, and creation coexist. There's an entire body of students full of hopes and desires that emerges from the Academy of Fine Arts that we have here in town. Some go along with the current while others resurge and reach their desired recognition thanks to efforts to defend "'the fine arts."
HT: What expressive world have you encountered with your work?

YV: It's been a whole jumble of nuances that are as conceptual as they are surrealistic and symbolic. I try to be faithful to the academy, striving to maintain a firm stroke that results before an accompanying color.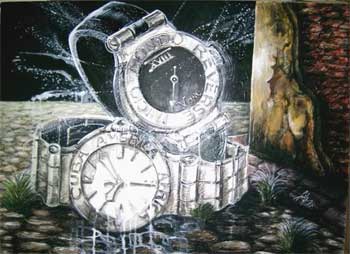 HT: Have you only explored painting?

YV: I've worked in almost all of its manifestations. Nevertheless, I've also made attempts at installations, sculptural works and expressive multi-language projects. We can't remain only with one tool of expression. The modern era demands more of you every day.

HT: Who are the "beings of tiny immensity."

YV: "Those crazy rugrats," to quote Serrat. Those tiny creatures that make life pleasant, and feed the soul… the children of today, the adults of tomorrow.
HT: You are a "Universal Ambassador of Peace." How were you given that designation?

YV: It was following the implementation of my project "Seres" (Beings) in Luxembourg. I was involved with a series of events and points of contact with international culture figures. My artistic achievements were recognized by the committee on this important "Peace Circle," as well as by its president.
That was how I was given the title, first for my efforts around that noble aim, and then as a duty of every person on earth to preserve peace and love in pursuit of a better world.
HT: What commitment did receiving that designation bring to you as a person and as an artist?
YV: My art, my effort, my life.
HT: "Art and Prison." What was the motivation behind that project?

YV: It was to raise a halo of light to those beings who for one reason or another are deprived of what's necessary for enjoying freedom and who need to feed their spirits nobly so they'll never fall back into the same pit. Bringing one's fruit there is a beautiful gift of hope whereby you can contribute to renovating lives; it gives them a chance to start all over again. Having this opportunity is a privilege.
HT: What process of creation are you in now.

YV: You never know. The mind governs but the soul slips away, and it's always looking for new air to fill… I'm still working to see what emerges. I think I'll always be doing that. For me, creating is living.