Cuban Poet Jose Antonio Vilaseca
By Helson Hernandez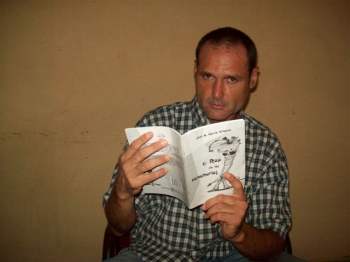 HAVANA TIMES, July 22 — We interviewed writer Jose Antonio Vilaseca, a creator born in the cultural community of Guanabacoa and who has to his credit several books put out through Cuban publishing houses.
Besides being an accountant for two decades "I've also been a cultural promoter, a financier, a planner, a warehouse chief, a stevedore, a guard, and a production and operations assistant for the anti-mosquito campaign."
HT: What is your full name and what's its origin?
JOSE ANTONIO VILASECA: Jose Antonio Garcia Vilaseca. "Jose Antonio" is after my paternal grandfather, while "Garcia" came from his father, who was from the Canary Islands. "Vilaseca" is from my maternal great-great-grandfather, who was Catalan. I was born in a town located to the east of Havana, where I have always lived up until today. The town's name is Guanabacoa, which in the language of the indigenous Cuban peoples meant "High lands of many waters." I was born on Thursday, July 11, 1963, at 11:25 in the morning.
HT: How did you discover that you could write?
JOSE ANTONIO VILASECA: Ever since I learned how to read, my parents as well as my aunts and uncles continually gave me books. So, by the time I was 11 I had already read things by Jules Verne, Emilio Salgari, Daniel Defoe, Juan Cristobal Naples and Jose Marti, among others. It was around that year that I wrote some horrible stories about pirates and noble kings. I wanted to write stories like those of Verne and Salgari. That was how I started writing.
HT: What studies and occupations have you had?
JOSE ANTONIO VILASECA: I'm a mid-level accounting technician by training. I practiced that for more than two decades, and I later made it to my third year majoring in sociocultural studies, though I had to drop out due to personal circumstances. I've also been a cultural promoter, a financier, a planner, a warehouse chief, a stevedore, a guard, and a production and operations assistant for the anti-mosquito campaign.
HT: At the last Havana International Book Fair, your poetry for children was presented, titled "El rap de la zanahorias" (Carrot rap)." Tell us about that.
JOSE ANTONIO VILASECA: The editor, Dulce Maria Soltolongo, proposed that I write a children's book over a period of three weeks, and I did it. Its characters are basically fruits and vegetables. It's a book of love, one that's very Cuban and that's situated somewhat between being lyrical and free and easy.
HT: You've participated in literary competitions. Do you have other publications?
JOSE ANTONIO VILASECA: I don't compete so much, and nor do I present many books to publishing houses. I'm a poet in the shadows, delighted with creation, but awkward when it comes to managing a literary career. Notwithstanding, I won the Felix Pita Rodriguez and the Farraluque national competitions, both for poetry and both in 1999.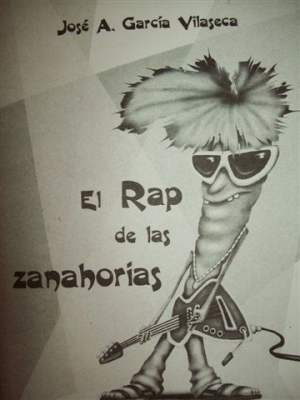 I've won other smaller competitions, coming in second and third and receiving honorable mentions. Previously I had published the books "Atajos hacia la idea" and as you already mentioned "Rap de las Zanahorias" (through Extramuros Publishers), and a book of songs with a unicorn. I've also been published in national and foreign anthologies and in Cuban magazines.
HT: Generally, what are the themes that your work?
JOSE ANTONIO VILASECA: I am a festive poet, because I say that when we're born we're assured of illness, growing older and death; so it's up to us to guarantee happiness, enthusiasm, laughter and optimism. Although I've written many existential works, and even some tearful ones, the majority of them are happy. My theme is love, that's my vision of the world and our existential conflicts.
HT: Among the current poets, there's not a lot of poetry dedicated to children and the young. In your case you've devoted space to them. Can you comment about this area of your creative work?
JOSE ANTONIO VILASECA: It's difficult to write for children. You might think you've created a book for them, but when they take a look at it they're simply not interested. This has happened to many authors, just as the opposite has occurred. As for me, I'm still a kid because I'm still pretty innocent. So I don't write for other children but for the child that I believe I am. Nevertheless they've liked some of those poems; in fact "El Rap de las zanahorias" was one of those.
HT: You stated on one occasion that "learning is always a paradise." Explain that.
JOSE ANTONIO VILASECA: When I learn something new I'm happy. That's why I've spent a lot of my life in classrooms, learning how to abstract things from reality and to distance myself from problems, from concerns. When I study I simply fill myself with peace. Do you know anything that seems more like paradise than peace? A school is a strong castle.
HT: I know about you having reached out to yoga and reiki, in addition to other eastern disciplines…
JOSE ANTONIO VILASECA: Orientalism is fascinating to me. There I find the magic that allows me to me fly. I belong to a very Caribbean culture and I am to a certain degree an exponent of it. I like the culture of the Caribbean. I'm part of that culture, but in an alternative way and with much balance, I draw much from India, Japan and China. Those are incredible cultures. The practice of Yoga techniques or any other discipline of this origin offers much in terms of health for the body, mind and soul. I'll never give them up.
HT: You've given technical advice to some beginning writers. Do you consider that a virtue in this current world so marked by individualism?
JOSE ANTONIO VILASECA: I'm always willing to help others. That's something that not only produces in me infinite pleasure, but it's part of my principles, my personal ethics. At the beginning of my career I was helped a lot by numbers of kind people, now I'm only returning to others a little bit of what was given to me.
HT: What other future literary projects are occupying you these days?
JOSE ANTONIO VILASECA: I never have any project in mind, because for me the future is a fantasy. I float in the present and that suits me fine. In this present I'm finishing the writing of four poems: the first one in free verse, the other one as poetry for children, one with "decimas" and sonnets, and the last one in haiku. I'll try to publish them as soon as possible so that I can begin on a short story and perhaps a monologue and a piece of theater work. I also want to join the National Union of Writers and Artists of Cuba (UNEAC), but most especially I want to float in the silence and the calm so that I feel as happy as an angel.
HT: In saying goodbye to us, could you leave one of your poems that are included in the book we referred to previously, "El rap de la zanahorias?"
JOSE ANTONIO VILASECA: I'll let you see this short poem that I titled "Menu":
Rice with stars,
stewed plums,
ivy pottage,
but there is no salad…
Heavens! What a dinner,
so wrong.