Cuban Rappers 'Doble Filo'
Helson Hernandez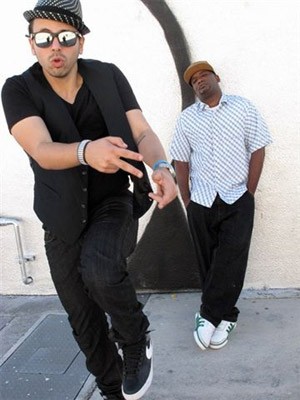 HAVANA TIMES, Feb 29 — Members of the popular rap duo Doble Filo (Yrak "Vitalicio" Saenz and Edgar "Edgaro" Gonzalez) granted an exclusive interview to Havana Times. As they noted, "There has always been a wall of misunderstanding when it comes to promoting rap music in Cuba."
HT: What did you two do before becoming exponents of rap?

Edgaro: I started rapping at the age of 13 in the Alamar community, in East Havana. I studied electronics and later went into music professionally with Double-Filo, in this way continuing with music. I feel I've always done rap and I've always been involved with music.
Yrak: As for me, I studied civil construction. Though in the end I never practiced it, I've done everything else – from working as a cartoonist and guarding tourist facilities, to holding a job in a shoe factory. All of that lasted until 1995, when they held the first Festival of Rap here in Havana. That's when my life changed. Prior to that, rapping had been nothing more than a dream, something that I fooled around with in my neighborhood. But the festival made me start taking myself seriously in all that I am…a professional rapper.
HT: What was it that attracted you to this style of music?

Edg: When I was growing up in Alamar, everyone rapped in school and in the street. It was a mass phenomenon in East Havana. What attracted me was that it provided a platform for freely expressing any idea or feeling. I also painted back then, so I started with graffiti and then went into producing music.
Yrk:  I remember that in the 80's the streets of my neighborhood were like stages for street dancers, they stopped the traffic all the time. So, since I always liked to write, I got the idea of ??doing a kind of song, something short. I remember people calling it cotorreo (chatter). I would put words to the sound of the clapping that people used for backing up music. At first I listened to American music that we could get on FM radio stations, and later to some of the Puerto Rican performers of that style. To all of those influences, I added the touch of Cuban music that people listened to back then.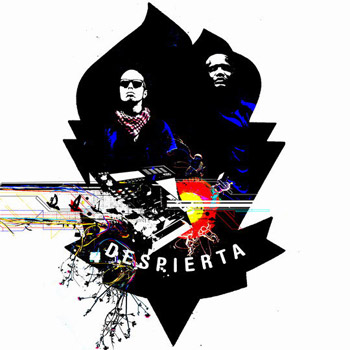 HT: The two of you entered the professional world of rap in an epoch that wasn't very conducive for supporting and promoting that musical genre here in Cuba. Any comments?

Edg: There has never been a time conducive to rap. Back then it was shunned because it was a "new" form of music, one that was misunderstood, though it's still not the favored style.
Yrk: Reinforcing what Edgaro just said, there have never been good times for rap. There has always been a wall of misunderstanding when it comes to promoting this style of music in Cuba. I'm speaking of the Cuban media in general, along with the record companies and institutions.
I remember that for us to get affiliated with the Benny More Music Company, it took a year of paperwork and meetings since the directors of that institution didn't understand that our music could be a part of the catalog of Cuban music, even though this was a directive from the Ministry of Culture and the Cuban Music Institute.
The Asociacion Hermanos Saiz (AHS) has consistently given us its unwavering support. Currently we also have the Cuban Rap Agency, though it doesn't completely spare us from misunderstanding, especially when that institution still doesn't provide the promotional backing and support that this genre needs on the island.
What's ironic is that we here in Cuba say that we have a broad spectrum of music, that we're a nation built on cultural diversity, but then look what happens.
In the end, the country can't accept the diversity that rappers represent when it comes to creating and disseminating art. This is my unceasing response, and whenever I'm asked this question I'll never be able to give a different argument. To be honest, I don't think it will ever change.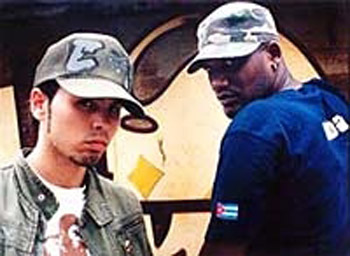 HT: If we look at the evolution of rap on the island, how do you compare the present with those early days?

Edg: Certainly Cuban rap has grown tremendously in its authenticity, speaking in terms of its verses, vocabulary and in its sound. It's among the hottest forms of hip hop in Latin America.
It's also gained with respect to autonomy. Rappers now produce, record and mix their own albums and put on their own concerts. The most important event in our country right now, the "Premios Puños Arriba" (the fists up awards), is organized by rappers. We found a way to transcend our music, waking ourselves up and seeking out alternatives.
HT: What did the CD (Awakening) represent for the history of the group?

Yrk: Just imagine it was Doble Filo's first album. After so long we finally decided to do a CD as we wanted to, producing it with our own money and effort. I call it an album by friends. It was the next step in our creative effort, and I know that it was also one for rap in Cuba since it has a more contemporary sound. It has the impeccable production work of Edgaro and a few arrangements by musicians like Charlie Gonzalez and Diaz Dayramir. Likewise, it has guests that include Carlos Varela, Nacional Electronica, Ernesto Blanco, Havana Entrance and the singer Osdalgia.
This CD allows us to reach a wider audience, adding a video approach to it. Despierta won an award at the last Puños Arriba awards ceremony, another one at the "Lucas" Cuban music video awards, and this year we received two more nominations at the Cuban Video Festival. Now the challenge is to make our next album. I only hope that it's as well received as Despierta was.
Edg: I'd like to add that the disc will also come out soon licensed under the EGREM label. It will include a DVD, videos and a special "unplugged" acoustic track with the band. It will be the first rap DVD ever produced in Cuba. We're very proud that this record was put together independently.
HT: What role has Emetrece Productions had in your work?

Edg: Emetrece has done a lot to spread Cuban hip hop and to unite Puerto Rican artists with Cuban rappers. Its contribution has really helped to develop rap and its global reach.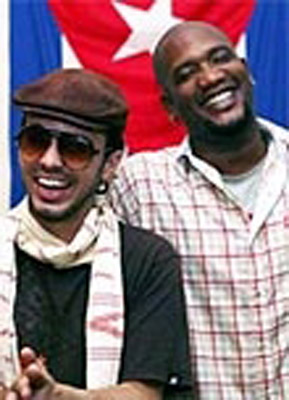 HT: Performing in the United States is always controversial in relation to Cuban music. What experience has Doble Filo had with this?

Edg: We went on tour there, and it was very important for us to go with the full band. While in the United States we were joined by the guitarist Jorge Amarales, who was one of the first members of the group Synthesis. Without knowing it, I'd already heard him on guitar on their Ancestros CD trilogy.
We wanted to transcend the confines of clichés, not only those of rap music but of Cuban music in general. When people talk about Cuban music, no one thinks about hip hop; and when they talk about rap, no one thinks about a band like ours, with timbres that invoke Irakere, the choruses of Maria Fara and voices like that of Carlos Varela's.
It was great to see how after our performance at the festival that we were invited to, "Cuban Global Fest," more and more opportunities were presented to us. We were able to see the interest from the Miami audience that likes live music, and how they were open to something new coming from this island.
HT: What are your plans for the future?

Edg: Right now we're working on a new CD. I'm in the process of structuring it out and doing the arrangements. This time we'll be working with Eddy Cardosa, an excellent producer and friend who was recently nominated for a Latin Grammy for his work with Omara Portuondo.
I've also focused a lot of energy on the videos, many of which will be under the direction of Benjamin Castillo, who's practically a member of the band now. After 15 years of working as a group, we're returning from the future.