Cuba's All Female Vocal Luna Ensemble
Founded 10 years ago and is now under the direction of Wilmia Berrier

Helson Hernandez
HAVANA TIMES — Within the movement of vocal groups in Cuba, "Vocal Luna" has an outstanding track record. Though the ensemble is about to mark the tenth anniversary since it was founded, it continues to possess very specific qualities that make it a group different from the rest of the choral ensembles on the island.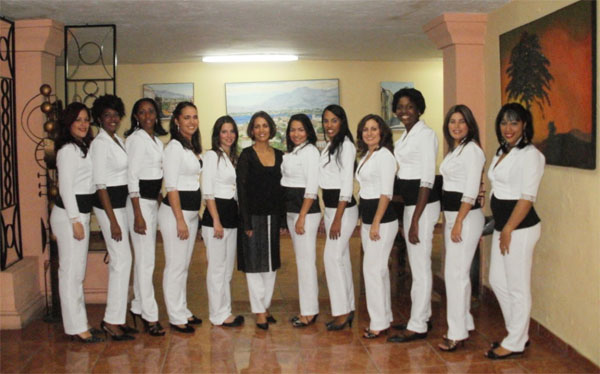 HT: How did Wilmia Berrier become involved with the Luna vocal group?

Wilmia Berrier: I'm a founder, a student of the choir's first director, maestro Sonia MacCormack, who trained me in my specialty well before I was able to enter the world of choral music professionally. Unfortunately, I had to leave the choir at one point due to my university studies, even though I was graduating in choral music. Luckily, though, I was able to re-join the group in 2010 – this time as the new director of Vocal Luna.
HT: Let's talk about the special feature of the vocal ensemble.

WB: We're distinguished for being the only choral formation on the island composed exclusively of women. Since there are no men, we take advantage of their absence. We try to perform repertoires that make our musical style and songs unique. We're also trying to reintroduce the female figure in composition, and from every angle. This is somewhat difficult since the choral repertoire for female voices is very limited. Rarely is anything written for women. Around the world, our approach is considered a rarity.
HT: And particularly in Cuba?

WB: Well, here in our country there has been an evolution and development of female vocal groups, despite the limits on this elsewhere. The reason is that in art schools, at the middle and upper levels, there are female choirs that are made up mainly of the singing and directing students attending those institutions.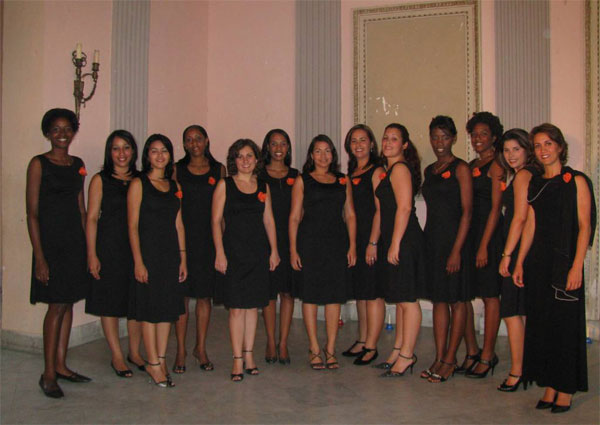 HT: Was the group seeking to define itself by associating with a specific musical aesthetic?

WB: I don't think so. Vocal Luna was characterized mainly by highlighting more contemporary and sacred music. When I joined the group, I looked at what it had and what it lacked in this regard. What I found was a deficiency in Latin American music, in the arrangements of folk and popular music. So, I took advantage of this tenth anniversary to enrich the range of possibilities of the ensemble.
We took on a project called "Cantos de Cuba y el Mundo" (Songs of Cuba and the World), in which we used rhythms not only from the island, but also from the Balkans, Nigeria and Senegal… with malambos, cuecas, tangos, Peruvian waltzes, Brazilian sambas… We tried to play a range of music that wasn't unknown to Luna at that time, but that were hardly exploited. This was because we lacked composers, arrangers and people who were daring. If writing for a mixed choir is difficult enough, for a women's group it's much more complex since they're an octave less, without there being any men. The absence of male voices limited the group and predisposed it a little in the creative process.
HT: How do you see Cuba in the world of choral music?

WB: We have a First World level of choir development. Wherever Cuban choirs perform outside our country they do well, usually winning awards. In Cuba one can now speak of a Cuban school of choir, which has a fine level of development with a clear special and sound, and appreciable quality and tuning. We have varied repertoires ranging from the universal, to sacred, popular and even folkloric music. Vocal Luna is included within this range of Cuban choirs that give impetus to this movement. In fact we have important international choir festivals here. We have not only the oldest one, which is held every two years in Santiago de Cuba, but we also have "Corhabana" in the capital.
In 2013, Cuba will begin to unfold in a series of international workshops on choir directing. These were requested by exponents of the genre, who will come from other countries. They're interested not only in Cuban music, but approaches to directing and arranging. The economic issue limits us a lot, but we're growing despite it. We still don't have a movement of fans, which we have to promote now. For this, our group is working on the development of choral music in Cuba. This will ensure the future of this specialty, as well as an audience.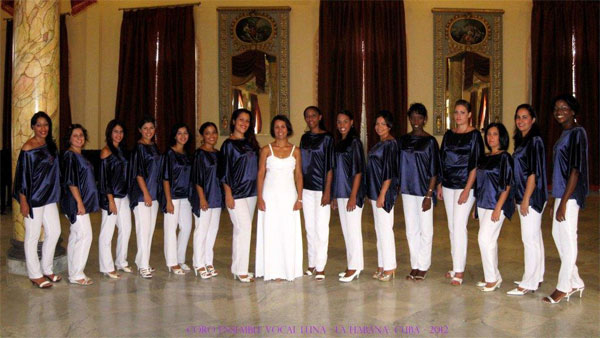 HT: What about the "Lunitas"?

WB: That's the children's singing group of our Vocal Luna choir. In it we train young girls in this wonderful world of choral singing. Since 2007, its director has been Sandra Santos. Now many of them have grown but they don't want to leave, so when they reach a certain age they'll become part another project called "Jovenes cantoras de Luna" (Young Luna Singers).
In addition there's a little singing group called the "Pequeños Príncipes" (Little Princes), which is wonderful, just with boys. People interested in these can call 537-267-4785. And finally we also have a mixed group called "Mi sol" (My Sun), with the youngest singers of all. Through these we're able to realize the impact we've made in our work with Vocal Luna.
HT: What experiences has the group had outside the borders of the island?

WB: When we were directed by Sonia MacCormack, Vocal Luna traveled to international events in countries like Ecuador, in a festival in Quito. We were in the Festival Internacional y Concurso de habaneras de Torre, in addition to one on Margaritas Island (Venezuela), where we won an award in the category of female voices.
HT: Is Luna by chance a feminist collective?

WB: We uphold that position, but not fanatically.