Cuba's Banner Vocal Group 'Sampling'
By Helson Hernandez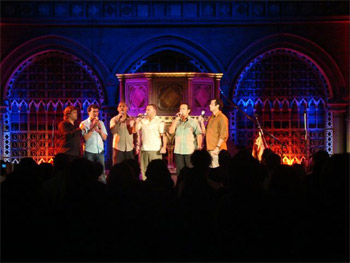 HAVANA TIMES, Dec 31 —Rene Baños is the leader of the renowned Cuban a capella singing group "Sampling." As he noted, "Something that regularly catches my attention is the ability and willingness of the most diverse audiences to give themselves enthusiastically to music, to share it, to sing it and to dance with us, even when they don't know the language or aren't familiar with the musical style."
HT: Tell us about your training.

Rene Baños: I started studying music when I was eight, at the Manuel Saumell Elementary School Conservatory in Havana. However, starting at five years of age, I learned a little piano and basic music appreciation from my Aunt Melba Pascual, though it was more like a game. At that conservatory, though, I studied the violin for seven years.
In 1985, when I was 15, I continued at the med-level on that instrument at the Escuela Nacional de Musica (ENA), which is also in Havana. For my first two years I studied the violin, but I switched to the piano and finished my studies with that as my basic instrument. I had always preferred the piano and practiced it quite a bit, concentrating a lot on music composition, arrangements and directing.
During that time, I joined the school symphony orchestra and the chamber choir directed by maestro Alina Orraca. I also founded and directed the ENA jazz group and I was the pianist for the group Giron, which was part of the nueva trova movement.
In 1989, I took part in forming the group "Vocal Sampling," and later I graduated as a concert pianist and a piano teacher; that was in 1991, the same year that I enrolled in the Instituto Superior de Arte (ISA) in Havana, in the music composition program.
HT: Before "Sampling" was born, what was the professional life of Rene Baños?

RB: Vocal Sampling arose before I was a professional musician – I was still a student. It wasn't a vocal experiment having the aim of becoming a professional pursuit, nor was it very serious at first. So, I didn't have any experience or professional life at the time the group was born.
HT: What can you remember about the first time you imitated the sound of an instrument using your voice.

RB: We started using our voices as instruments in a very experimental and spontaneous way. At first it was just a funny musical game that started in the summer of 1989. We would go to parties and play the guitar, piano and some percussion instruments, in short, whatever we had on hand. What we were missing we would fill in for using the sounds of our voices. If necessary we would imitate the sound of a trombone or a trumpet, for example, we did it with our voices. We would even do this in kettledrum or conga drum solos.
HT: What's the origin of the name "Sampling," and why was that chosen as the name of the group.

RB: In 1991 we decided to take things a little more seriously. We began to expand on our repertoire and our musical arrangements. We also thought that we needed to give the group a name, so we choose the English word "sampling."
That term was very fashionable in the music world at that time. It was the name for using certain electronic instruments to process sound in a new way. This employed digital memory to record any natural sound, especially the sounds of musical instruments, which could then be played back with a high level of realism. Our thinking was that what we were doing, paradoxically, was a type of human sampling.
HT: Was it difficult at first to convince the other members to give up their instruments in search of the original sound that you've achieved today?

RB: There was no need to convince anyone. The six of us founders were all very attracted to what we were doing in the group and we wanted to development it further. In fact, though all of us studied instruments, and none of us had any singing or choral directing experience and our first professional experience was Vocal Sampling. This doesn't mean that we've put aside our instruments completely. We continue practicing and performing with them from time to time, but it's not what we do regularly.
HT: How long has "Vocal Sampling" existed?

RB: On December 20, 2011, Vocal Sampling turned 22.
HT: I imagine that translating one's voice into sounding like a musical instrument requires not only vocal ability but also a process of accumulating knowledge of the instrument itself?

RB: Over time, our way of making music has ceased being an activity of mere imitation. We use imitation as an element, but it's not the only one. Most of the time, if not always, it's impossible for a voice to sound exactly like a musical instrument, which leads us to combine voices, substituting timbres according to the necessary sound or expression, trying to find a functional equivalent that mitigates or recreates the element that we're seeking.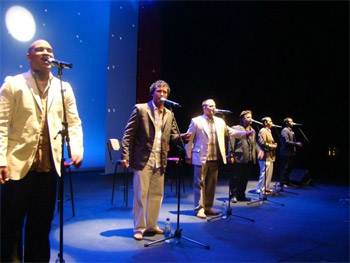 Of course we have to do a lot of analysis as to how the different instruments work in various genres and styles, as well as in combination. But the framework of the musical figure in each piece uses not only imitation, but a few additional elements as well. In the vocal sense, we rely on classical techniques to the highest possible degree. It's the basis for the healthiest physiological experimentation.
HT: Who are the current members of the group?

RB: Osnel Rodriguez Otero, Hector Crespo Enriquez, Oscar Porro Jimenez, Abel Sanabria Padron, Reinaldo Sanler Maseda and myself.
HT: Have you had any interesting experiences from the repercussion of the work of "Sampling" abroad.

RB: Many. From being able to meet and directly share with many diverse artists and projects from almost all parts of the world to even swimming in the Indian Ocean on Reunion Island or in the Blue Lagoon in Iceland or in the North Sea in Sweden, or climbing to the peak of Mount Teide in Tenerife, or fishing in the Sea of ??Japan, or standing at the Wailing Wall in Jerusalem or feeding kangaroos in Australia.
Something that regularly catches my attention is the ability and willingness of the most diverse audiences to give themselves enthusiastically to music, to share it, to sing it and to dance with us, even when they don't know the language or aren't familiar with the musical style.
HT: Not long ago you gave a major concert on the most elite stage in Cuba, the Gran Teatro de la Habana, where only those of the most exceptional artistry perform, and where not just anyone is selected. What did this opportunity mean for your group?

RB: The theater is the best stage for us. It's where we feel the best and where we can best express what we do in the most detailed manner possible. It's more than in an arena, a plaza, a stadium or a platform. The key for us is performing, and we always can, under any circumstances, but the theater provides the best conditions for our work.
The Gran Teatro of Havana has all of that. It also has a very special cultural halo, and it has its own public, which is very sensitive as well as very demanding. It gave us the greatest pleasure to perform there, given its excellent technical conditions and because we always come out on stage pleased with the connection achieved between the audience and ourselves.
HT: What project is "Sampling" working on now. Records, tours?

RB: Right now we're preparing our next record, and we're also going to film a live concert. This is in the short term. We have a lot of things to do, experimenting and expanding our tuning fork of genres and styles. We love doing all of this, expressing ourselves through audio and video media, and putting our work on stage to take it wherever we're asked.