"Curly": an Anonymous Hero of Nicaragua's Civic Rebellion
He handed the bereaved mother a flag stained with the blood of her son, a youth he had tried to rescue.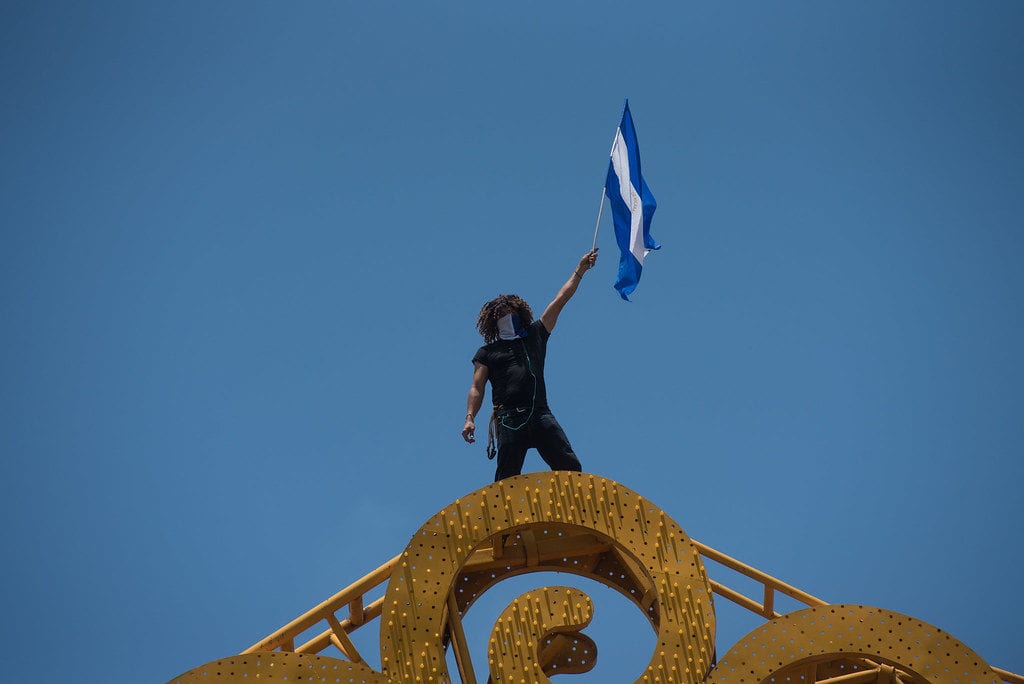 Amid the flying bullets from the repression, he transported the wounded on his motorcycle. He witnessed the death of Francisco Reyes and teenager Matt Romero.
By Ivette Munguia (Confidencial)
HAVANA TIMES – Amid the brutal repression from Daniel Ortega's regime, anonymous heroes have emerged. One of them is a young rescuer with long curly locks and dark skin, who the self-organized nicknamed "Curly" for his unique head of hair, or alternately "Spiderman" for his agility in climbing up the metal trees.
This past Good Friday, April 19, he performed another feat: he put into the hands of Guillermina Zapata, one of the "April mothers" [mothers who lost a child during the 2018 uprising and subsequent repression], a flag that had been stained with the blood of her son. "Curly" had unsuccessfully tried to save the slain youth, Francisco Reyes Zapata, in the middle of the Ortega forces massacre against the huge Mother's Day march last May 30, 2018.
"Curly" – who asked not to use his real name for fear of reprisals – is a Managua resident who joined the self-organized movement. After the April Rebellion began, he carried his blue-and-white flag in a number of demonstrations against the dictatorship, until that May 30, when the regime positioned snipers at the National Stadium, and they began to fire shots at the crowd. Curly then tied his flag around his neck, accelerated his motorcycle and headed for the zone where the wounded were falling, anxious to help them out.
That's where he found Francisco. Together with another, he put him onto the back of his motorcycle and drove off to locate the nearest ambulance. However, Francisco had received a lethal bullet to the head that left his cephalic mass exposed. He had died almost instantly, and Curly and his friend could do nothing. Francisco's blood soaked Curly's blue-and-white flag.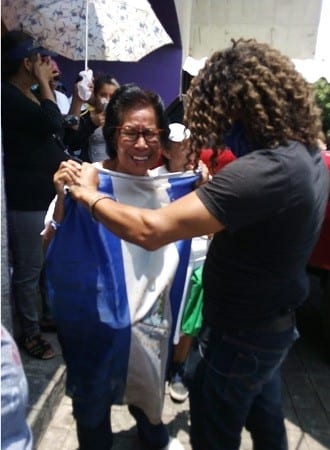 A flag for a mother
At the end of that day that had left at least eleven dead in Managua, Curly learned the identity of the youth he had tried to rescue: Francisco Reyes. He found out that a sniper shot had taken his life; that his father was an on-duty policeman and his mother a humble woman, for whom her son Francisco had been like her right hand. Curly then promised himself to find the mother, give her a hug and tell her how he had tried to save her son.
This meeting occurred unexpectedly this past Good Friday, April 19, when both of them were at the Stations of the Cross procession at Managua's Metropolitan Cathedral, an event also attended by thousands in commemoration of the year's anniversary of the first victims. At the end of the procession, a young woman who knew Curly's story and also knew the mother, introduced them.
"Dona Guillermina turned around to look at me and burst into tears. She began to hug me and hug me, crying all the while. You know, a bunch of things flashed through my mind, too many things. One of them was the irony of life. I said to myself: I have her son's blood on one side of me, and on my chest the tears of his mother," states Curly. In that moment, he tells us, "I felt that the flag wasn't mine any longer, it was hers. And when she saw the flag, she grabbed it, burst into tears again and hugged me harder."
Guillermina was also surprised by the meeting. "I never go to the Blood of Christ procession, but this Good Friday I decided to attend because it was April 19. I never thought that I'd run into him. He told me that he'd promised himself to find me and give me the flag," she recalls. "I felt so moved. I wanted to meet this young man, who had gathered up my son's body at the moment he fell by the Engineering University."
At the brink of death
After leaving Francisco in an ambulance, Curly continued transporting the wounded in his motorcycle. That day, "the wounded young people, grazed by buckshot or because they were struck by rubber bullets, there were all kinds of things happening. What I did was take them some two blocks away, out of the perimeter of the National Engineering University where the crowds were, so someone else could help them," with first aid.
That day, Curly zig-zagged wildly on his motorcycle, dodging crowds of people fleeing from the bullets. The noise was deafening, people were running hysterically, and the toll of the wounded continued to mount. The next day, when his adrenaline finally wore off, he stopped to reflect that he had also been on the brink of death.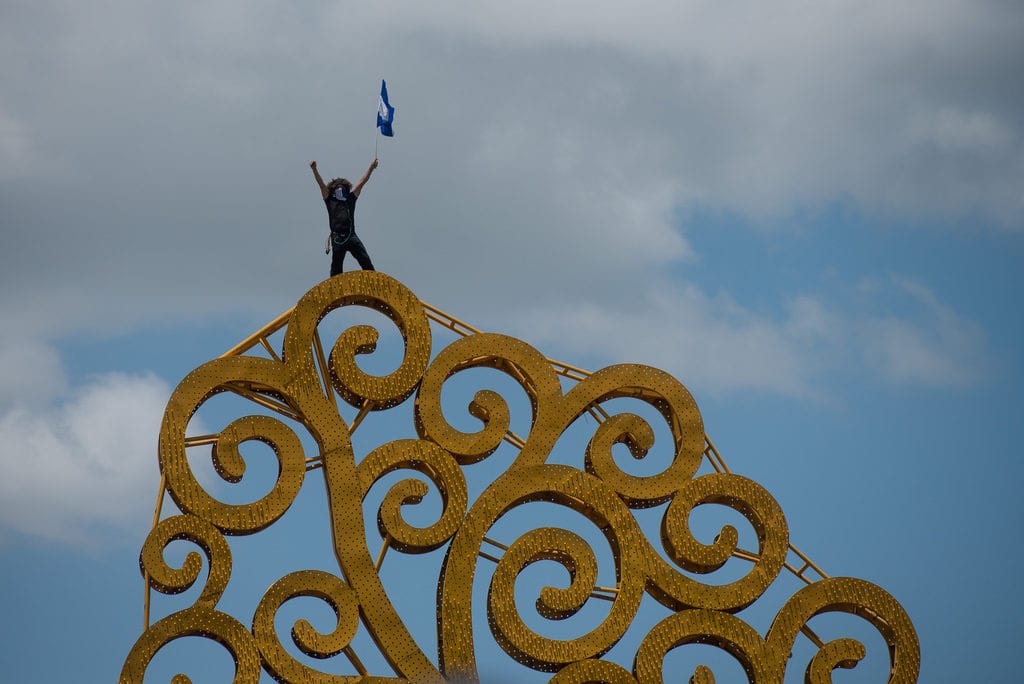 "I'd never been in a situation like that, or found myself so determined, so that it didn't matter to me if I was killed, as many comrades had, many Nicaraguans. It was a May 30 that today I recall and I say: it was a miracle that I came out of it alive. My motorbike was hit by a bullet in the tire. I kept the bullet, just like I kept the flag. When I went to patch the tire and saw that it had a pistol bullet in it, I thanked God," Curly commented.
The self-organized youth isn't a doctor nor has he studied first aid, but after May 30 he was willing to save lives as a rescuer. Four months later, he had another brush with death, but this time, he admits, the experience was tougher: the victim was a 16-year-old teenager.
The death of Matt Romero
"When they lifted him up and put him on the motorcycle, he was still alive. They loaded him on, another fellow got on the bike with him, and we took him to the fire station at the Ivan Montenegro market. When we were taking him, we lifted up his shirt and we saw the bullet hole in his chest. At first you could feel his heart, how it was beating. It was a coup de grace – a shot to kill – and in truth, that's something I can't forget. He died right in front of me, and when I saw he had expired, I was amazed how life can just leave a very young man," he recalls.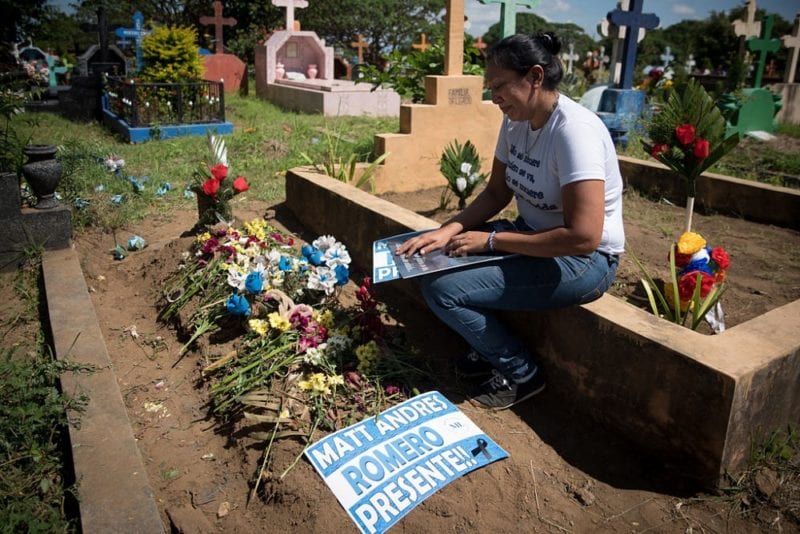 The sixteen-year-old that Curly had tried to help was Matt Romero, a student in his fourth year of high school. Matt was killed by the paramilitary on September 23, during the march titled: "We're the voice of the political prisoners".
Curly has a video from that day, taken at the instant that the teenager is being taken off the motorbike and transferred into an ambulance belonging to the fire department.
"Of the first young man, I only know what I saw on the news, but that youth, yes, I saw him die," Curly repeats, still stunned by the impact of the event. "It still impacts me, I still remember them, it's not easy to watch someone die," assures the anonymous hero with the unique head of hair.