Danay Bautista: Cuban Jazz in Spain
Helson Hernandez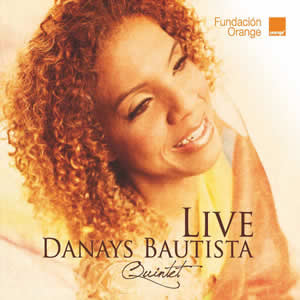 HAVANA TIMES — Singer Danay Bautista's Cuban jazz has succeeded in Spain and she has just finished recording her first album (Live) there. "There is much to be learned in a different country," she tells us during her interview with Havana Times.
Havana Times: Tell us about Live.
Danay Bautista: It is an album recorded during a live concert, that's how this project came into being. I performed at a legendary venue in Madrid, the auditorium of the San Juan Evangelista School, a hall that has a lot of history. Musicians of the stature of Camaron de la Isla have performed there. Today, in addition to holding flamenco shows, the venue focuses on jazz music particularly.
HT: Was it recorded in Madrid? With what label?
DB: With the Cuban label Bis Music, though it was financed entirely by a foundation and the support of the SGAE (General Society of Authors and Editors).
HT: How did you enter the music world?
DB: I first completed my guitar studies. In the 90s, two friends and I threw together a band called Trio de Plata ("The Silver Trio"), which later evolved into Cuarteto Esperanza ("The Hope Quartet"). The quartet later became a band with the same name, but geared more towards jazz music.
HT: Jazz has been the genre you've been most interested in professionally.
DB: Yes, that's true. The great advantage jazz gives music-lovers is freedom, it opens up many horizons.
HT: Are there any points of contact with Cuban folk music in your work as a musician?
DB: There's probably some connection. It has to do with the kind of music made back in the days of folk musicians like Gema and Pavel, perhaps because of their new aesthetic and lyrics, the mixes. I think that's where the point of contact is, even though I don't consider myself a folk musician or a singer-songwriter. This type of music is the one I'm interested it, something having to do with jazz, with Brazilian sounds, anything that has this flavor to it.
HT: How did you, a musician, become a singer?
DB: It was something that took place as I developed as a musician, the two always co-existed. For me, it was always a question of playing and singing, a symbiosis between my voice and the guitar. I've been more focused on singing for some years now.
HT: There are a number of well-known pieces in Live.
DB: There are pieces by Martha Valdes, from her album Tengo ("I Have"), a solo by the band's pianist, among other works by icons of Cuban music.
HT: Tell us about your band.
DB: The band is called Danay's Quintet. It is made up of five Cuban musicians who live in Madrid. They are extremely talented, as so many Cubans on the island are today.
HT: Are there a lot of Cuban artists in Madrid?
DB: Yes, there's a very intense music movement permeated by Cuban artists. A lot of Cuban music is played there. There's a significant number of Cubans playing next to Spanish artists also.
I've been living in Spain for 5 years now. Madrid, the capital, is extremely cosmopolitan. It is moved by diverse cultural phenomena. Almost all Cubans living there know each other and we're always doing things together. But we're not there only to play Cuban music, there's much to be learned in a different country.
HT: What about performing in Cuba?
DB: It is one of my dreams. The album is out and interesting things have started to happen around it. It would be great if the six of us could come play in Cuba. I think it is quite feasible. If we can put all of the pieces of the puzzle together, I think we can.
HT: Tell us of any significant experiences you've had after recording the album.
DB: I've been able to share the stage with important music figures – a renowned tenor in Spain and Europe right now, Jose Manuel Zapata. We've held concerts with Jerry Gonzalez and Jorge Pardo, who was a member of Paco de Lucia's band for many years. I've also participated in the Ellas Crean ("Women Artists") Festival in Madrid.