Directing a Cuban Children's Choir
By Helson Hernandez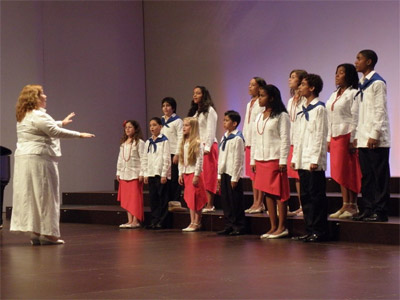 HAVANA TIMES, Jan 28 — Mailen Avila is the director of the "Solfa" children's choir of the Schola Cantorum Coralina. As she commented, "This year we're again on a CD that has been nominated for a Latin Granmy. The album is "Reir y Cantar," together with the legendary songstress Omara Portuondo."
HT: Have you always been linked to the choral movement?

Mailan Avila: As a child I was a founder of the "National Choir of Pioneers of Cuba," and later when I was in my mid-level music studies I sang in the women's choir of Professor Maria Felicia Perez. Also, along with other professors, I founded the Cantoria Escenica of the "Grand Theater of Havana."
HT: What's your educational background?

MA: I graduated as a teacher of music appreciation and theory from the "National School of Music," and I graduated in musicology and with a master's degree in fine arts from the St. Petersburg Conservatory in Russia.
HT: Along with your participation in the renowned Cuban choir Schola Cantorum Coralina, what other artistic responsibilities occupy your time?

MA: I am the contralto founder of the Schola Cantorum Coralina and I direct the Cantoria Solfa, which is one of its community projects.
HT: Tell us about the emergence of Solfa.

MA: Solfa emerged in 1993 as part of the Schola Cantorum Coralina. It was under the auspices of the "Pablo Milanes Foundation" and was comprised of children from 3 to 5 years of age. Our rehearsals and meetings were held at the Casa de la Cultura in Old Havana.
HT: How has the experience been of working with children, not only on the educational front but also in terms of the professional obligations all of you have assumed as a group?
MA:Working with children is a both gift and a daily challenge. It means unconditional devotion to everything that we're doing, which means always being full of passion, enthusiasm and joy. It's group effort, with us functioning as a team.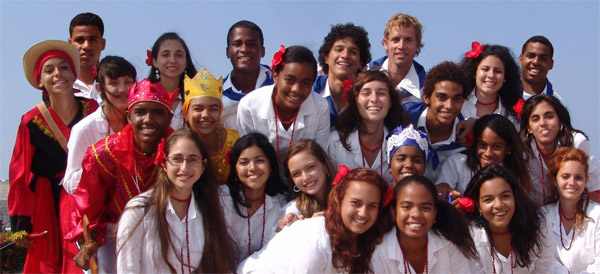 HT: In your assessment, what place does Solfa occupy within the children's choral movement that exists in Cuba.

MA: Solfa served as a point of reference for the "National Choir Movement," in fact it's the pioneer of that movement. It's the Cuban children's choir that has the largest number of children from the community and that has received the most national and international awards in the history of Cuban music.
Among the honors we've won,  is one from Cubadisco in the category of children's music; while in the Lucas Awards we were recognized for the best Cuban music video for the song "Venga la Esperanza"; we also won the silver medal and the second prize at the Loto-Quebec World Choral Festival in Canada; and something extremely important to Solfa was the nomination for the 2001 Latin Grammy for the album "Asi cantan los niños de Cuba," together with singer-songwriters Carlos Cano and Francisco Repilado (who's better known as "Compay Segundo"). This year we're again on a CD that has been nominated for a Latin Granmy. The album is "Reir y Cantar," together with the legendary songstress Omara Portuondo.
HT: It's well known how difficult the whole process is of leaving the island on trips abroad. But Solfa, in addition to being mostly children, had the fortune of presenting itself internationally. Could you recall some of those experiences for us?

MA: Yes, we've been fortunate in that the children in Solfa have had diverse experiences in other countries. Just to mention a few, there were our tours of Venezuela during the Environmental Day at the "The Tree of Artists is the Tree of Life concerts" at the National Theater of Caracas. This was dedicated to children who are without parental protection, and was sponsored by the "National Institute of Child Welfare."
In Europe we have performed in several competitions, festivals and summer youth camps. Countries like Spain, France and Ukraine have therefore come in contact with our choral work, as did Canada, a country that gave us the opportunity to participate in the Loto-Quebec World Choral Festival and the International Festical d'Art Vocal de Trios-Rivieres.
HT: Have artists in the world of choral music here in Cuba been able to achieve their full realization so as to win its place and have deserved outcomes?

MA: I can't speak for all artists who are exponents of the world of choral music in Cuba, however I think that many have achieved great success internationally and have managed to walk the right and desired path.
HT: Specifically Mailan, what aims do you now have in your professional career?

MA: I want to continue working with my kids and to able to participate with Solfa in choral festivals held here in Cuba.