Heidi Igualada, A Female Cuban Troubadour
Helson Hernandez
HAVANA TIMES — "It's good that there are more women creating Cuban trova songs," said Heidi Igualada in her interview with Havana Times.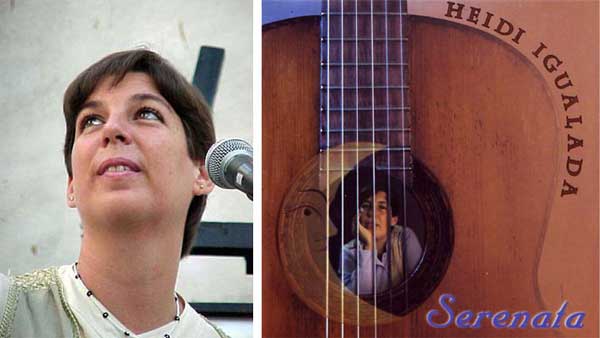 HT: You were the winner of an Adolfo Guzman competition.

HI: Yes, I've participated with my work in three editions of that event, ever since that tradition-filled music competition was revived. The first time I was selected as a finalist and received mention for my song "Luna," which was sung by Glenda.
The second time I didn't even make it to the second round, unfortunately. Then, the third time I participated — the last Guzman that was held by the way — it was with the song "Flor de luna," a danzon-style piece arranged by Pepe Ordaz and performed by the singer Veronica Velasquez. On that occasion I won second prize, though at that time I wasn't in Cuba.
HT: That competition has helped to promote new values ??in composition throughout its history.

HI: But there should be more promotion of the event and the works of those who participate in it. I remember that when I was a teenager, those memorable Guzman events came out with many songs that are still heard today, since they continue to be heard in the media.
Unfortunately that doesn't happen anymore. They don't play the new songs; so when the event ends, those pieces remain in obscurity. The problem is that the Guzman competition was forgotten, but thanks to a group of people it's being rescued and is stimulating the development of new Cuban composers.
HT: What made you decide to become a troubadour?

HI: I'm asking myself that same question. Ever since I was little I used to sing and play guitar – that instrument has always been with me. I started to create my songs when I was a student, but I only showed them to a friend I had back then, though now she doesn't live in Cuba.
In a music session at her house I happened to meet the renowned troubadour Vicente Feliu, and so I had the opportunity for him to hear me sing. I remember hearing Vicente say: "You're a troubadour," which I didn't realize up until that moment.
I don't know why but I identified with that aesthetic. In my youth I identified a lot with the songs by Silvio Rodriguez. In short, what I had wanted was to study journalism, but again, until that moment when it was noted by Feliu, I hadn't considered working as a troubadour.
HT: Tell us about "Frida la otra mitad" (Frida, the Other Half)?

HI: That's the title of one of my most beautiful songs. As you might guess, it's dedicated to the great Mexican painter Frida Kahlo. It was created for a competition sponsored by the Pablo de la Torriente Brau Center, which gave me the satisfaction of being among the winners out of the many works that were presented, with mine having been inspired by that Latin American artist.
I put together a band that is currently accompanying me, and I can give you the exclusive that they — along with other compositions of mine — will be a part of my new album now in preparation, which is to say the third album in my career.
HT: So you're no longer a troubadour accompanied only by your guitar. You've expanded the format.
HI: I'm not going to stop being Heidi the troubadour, since there are songs that I sound better only with the guitar. I really enjoy that instrument, and even more so because of the particular way we troubadours communicate, but it turns out that I have songs that ever since I composed them they've sounded better to me with more musicians. Even on my two previous albums with the Colibri and Unicorn labels I've tried to include songs that I didn't sing in my live performances. For that reason, since it was too small a sound with just me and my guitar, I decided to form my group.
I have piano, drums, a set of minor percussion instruments, a flute and a bass. The musicians are very talented young graduates from art schools. Pepe Ordaz is the arranger, but to be honest, many of the arrangements come out of our rehearsals. Each member contributes and we end up seeing the final song as our own.
HT: Tell us about "Trevol de Ciudad"

HI: Sure, that's the name of my back up band. I wanted to name it because I've noticed — at least among the troubadours of my generation — that musicians only accompany the singer and their work. But I wanted to do something different. I wanted the group to also have a role, that's why it's not "Heidi and her group."
At my suggestion, they have their independent work. They've composed their own works and do a good job with instrumental music. In these times of such urgencies, people do things very quickly. Musicians in particular play for various artists at the same time, they'll engage themselves in more than one project at the same time, and in the end it all sounds the same – in my opinion. I wanted to achieve a distinction with regard to the sound of the group, and I think we succeeded.
HT: You come from a generation that includes a significant group of female troubadours.

HI: This refers to Rita del Prado and Lazara Rivadavia, but there's also Yaima Diaz from Pinar del Rio Province. Compared to the women troubadours that predated us, I think that our generation has more women composers, although the generation that followed us of younger women who are doing some interesting things. It's good to have more women creating Cuban trova songs.
HT: Serenata allowed you to entry the music business.

HI: That was my first album. I recorded it under the Unicorno label (which no longer exists) at the Abdala studios. It was an idea by Eduardo Ramos, which is to say that I wasn't thinking of cutting a record. I was at the right place, so the commercial manager of the company made me the offer.
I always say that I was very anxious when I made this album. I had never entered a recording studio until then. The producer was Lucia Huergo, who has always been associated with my work and will also be involved in the upcoming third disc.
This wasn't something I planned. It was work dealing with everything because of my anxiety over the recording and wanting to do it well. It wasn't a perfect album, even though it received two nominations in the Cubadisco awards ceremony.
My second album was En la linea de mi mano (In the Line of My Hand), which I consider much better in all senses, though it didn't get any nominations. Even though I don't believe in those things, it's always good to have them in mind.
HT: Where can we find your musicians and your work played live in Havana?

HI: On the third Wednesday of every month my work is presented in the garden of the Teatro Mella, located in the Vedado neighborhood on Linea Street between A and B streets at 6:00 p.m. That's "Heidi Igualada and Trebol de Ciudad." We always have guests, troubadours and poets. There, we hope to find an audience wanting to hear our work.

HT: So when will your third album be available?

HI: This time it will be coming out under the Biss Music label. For budgetary reasons it was recorded at the Lucero Records studio, with Lucia Huergo as the arranger and producer.
It will contain the closest things to what we're playing now. It will have about ten or twelve songs. I can't even say exactly when it will come out since the CDs aren't manufactured here in Cuba, but hopefully it will soon be available to everyone.