"I Wanted a New Shirt", from Santa Clara, Cuba
By Alejandro Langape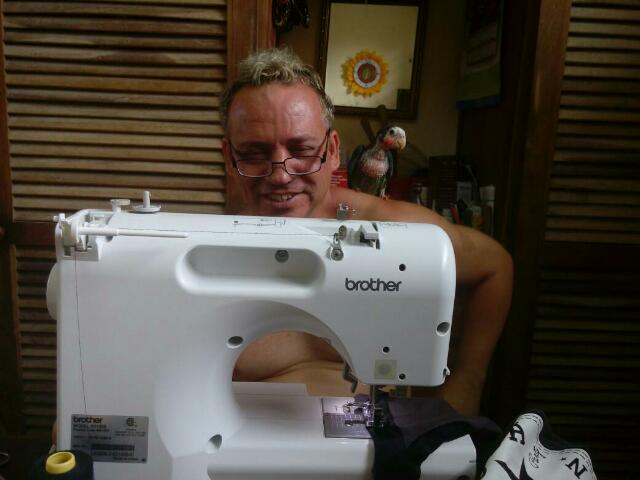 HAVANA TIMES – You go to a wedding dressed your best, right, and, if you can't… well, then I invite you to meet my interviewee whose desire to wear a nice shirt to go to a wedding turned his life upside down.
His name is Jayr and he is over 45 years old. He is gay and you can spot him a mile away (as we say here in Cuba) but that isn't important in a city like Santa Clara, where the existence of El Mejunje club has shaken up the prudish attitudes of the province's capital cities.
I met Jayr during a Book Fair in late March. He was with an old friend of mine and, while my friend and I were looking at each other up and down after more than 10 years without being in touch (my friend lives in Switzerland now), Jayr carried on talking, without really noticing, and he talked about an international beauty contest for transvestites/transformative artists that Zulema Anderson had won, a "Miss" in Cuba's transformative universe, who I had recently heard about.
I soon began to ask questions about Jayr's relationship with the world of transformative art and, after some surface remarks, he asked me to visit him one day at his house to do an interview and with that we said goodbye.
I must admit that I didn't think I would ever see him again, at least not for a good while, but God or fate had conspired otherwise, and I ran into him not too long after, with my friend again.
Then, he asked us to go to his house and while preparing us a cup of tea, he told me about his conviction that he would be able to beat any competitor on Spanish TV's Maestros de la Costura reality show because that is what Jayr is: a master of the complicated art of sewing for the transformative art world, although, he only wanted to have a nice shirt to go to a wedding the first time he cut a piece of fabric in his life.
HT: When and how did your interest in costume-making begin?
Jayr: My mother was a dressmaker and she had a foot-pedal operated Singer sewing machine which I didn't pay a lot of attention to because I was in a high school boarding school and then at pre-university too. In fact, we worked in the fields there, in tobacco fields, where I did everything from weeding to picking leaves, or sweet potatoes and other crops. And that's how I became more interested in Agronomy[1] and when I finished pre-university, I applied to study Agricultural Engineering, which I didn't finish.
HT: But, when did you sew for the first time?
Jayr: Let me keep telling you the story while the water boils for the tea. I left my degree in the third year and then I enrolled to study a free Librarianship course, but I only did a few modules and then left that too. So, I started working as a payment cashier at a textile company, in shifts. I was at home alone a lot because my mother used to work night shifts. Back then, my cousin was getting married and I wanted to wear a nice shirt to the wedding and as my mother came home exhausted from work, I decided to cut the pieces myself, using another shirt as my guide.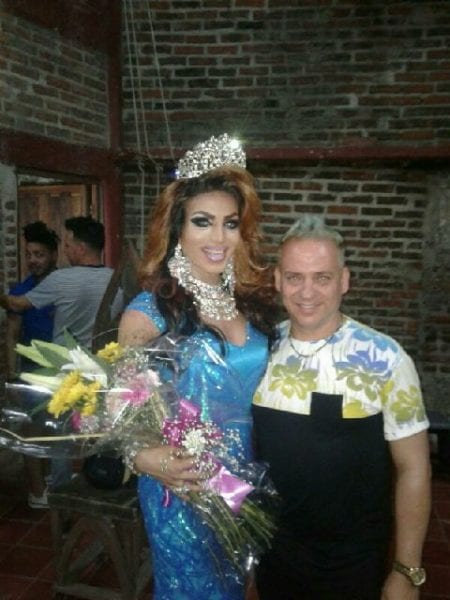 HT: And, did you cut them out properly?
Jayr: Yes. I gave them to my mother and she sewed them together. It was a fabric with vertical stripes on a white background and it made a beautiful long-sleeve shirt. At least people at the wedding thought it was beautiful.
And, I decided that I would make other clothes from that moment onwards.
Yes. I'd practice with sacks of flour which were like canvases and I had to dye them to cover up the writing. I made shirts, shorts. First for myself, then for friends who saw me wearing them at work and wanted something similar.
I also had a friend called Rider who had some aunts in Placetas. At these aunts' home, there were scraps of all different kinds of material, of percale, gingham, all from before the Revolution, old buttons. I had access to all of this and I began to create my own designs. Back then, there were crafts shops and my mother sewed for them on her Singer, and that's where my learning curve began. Then, I enrolled in a dressmaking course at the FMC (Cuban Federation of Women).
HT: Didn't they reject you because you were a man?
Jayr: No, I didn't have any problems. On the course, we were taught two ways to sew, the traditional way which they call the "Ana Betancourt" style, which was taught in the early years of the Revolution at that school in the Hotel Nacional where thousands of rural women went to study. I can't remember if the other technique had a name, and the teacher who was teaching us had invented it herself. We were taught how to take proper measurements, make templates.
HT: And how did you start sewing for transformative artists?
Jayr: Some work colleagues asked me to make women's clothes for them. I took on the challenge and gradually began to improve. And, as I had friends who were transformative artists performing in El Mejunje…
HT: Did you used to go there?
Jayr: Ever since it first appeared on the scene, when it didn't have a fixed venue.
HT: And, what's it like to sew for a transformative artist? For example, the process of taking measurements to create templates?
Jayr: Taking measurements is the first thing you always do when you are going to sew something. If you already have a model of what you are going to make, whether that's a photo, a magazine cut-out, a video, drawing or something similar, then you only have to take some specific measurements.
Transvestites need to wear their fake bodies, breasts and shoes which they normally use in their shows, when having their measurements taken. Using these measurements, you can make the templates or molds in cardboard or paper and, if they are very big, you have to glue them together. Then, they are cut in a way so as not to waste thread while you rack your brains to see whether you have enough fabric. You have to have all different colors of threads, elastic, zippers and decorative pieces.
HT: Do you know how many dresses you have made for transformative art shows?
Jayr: Dresses for shows, events. I have a friend who I worked with for a while in the North Keys who had loads of photos of those dresses. I have made dresses for Vanessa, Lily Martín, Brenda Liz, Cinthia, Shayla, Salma, Cristina, Luna, Omega, Zulema Anderson, Nahyla, Solange, Chanel, Verena, Alma, to name a few.
HT: And, what are the orders like? Are you asked to make a specific dress, or do they let you choose?
Jayr: Normally, they already have a model that they saw in a magazine, on a catwalk in a beauty contest, a music video. I have to take a good look at that model and make a dress that adapts to my customer's body. But, if they don't bring a specific model, I make one by finding out what they like and need.
HT: And, what about materials?
Jayr: I almost always have materials brought over from abroad or I buy them at TRDs (hard-currency stores). They can also be reused items of clothing, dresses, recycled clothing, printed fabrics like the ones used for costumes on parade floats.
HT: How many dresses can a single transformative artist order?
Jayr: A lot. They wear several during every performance and, as hundreds of people come to see them at every show, they shouldn't rotate them too quickly.
HT: Do you know many people who do what you do?
Jayr: A few. It's a lot of hard work. Printed fabrics are the hardest to sew and the models are very difficult. Customers tend to be very demanding and have a different temperament.
HT: But, I guess you get decently paid.
Jayr: I don't think so. Sometimes, people are in your debt and its hard work to get your money.
HT: Is that because you prices so expensive?
Jayr: Prices for labor start off at 5 CUC (=USD) and can be as much as you want, and then there are some dresses that require so much work that you could say they don't have a price. I tend to "get on well" with my customers.
I haven't charged more than 20 CUC for the labor, without bearing in mind the cost of the elastic, zippers, brooches, whalebones, braids, applications, sequin thread, hand embroidery, lining and dress fabric, lace and stones.
Abroad, many of the dresses I have made could easily cost thousands of USD because all tailor made clothes is expensive. Add to that the fact that the finishings and quality of my work is very good, not to toot my own horn though mind you. I use modern machines that can be programmed, which I have been able to buy and this helps customers leave with a smile on their facces. And this desire to satisfy your customers' demands here isn't compensated like it should be.
HT: And, are you really that good at what you do?
Jayr: I can assure you that you never see my zippers, my stitches don't break and not everyone is aware of this. (He takes a break while handing me a glass of green tea). Look, in Uruguay, Zulema Anderson continues to wear dresses that I made for her when she lived in Santa Clara. There must be a reason why, don't you think?
[1]Jayr has a good collection of cacti in his comfortable home, whose scientific names he can easily repeat.