Interview: Cuban Painter Ileana Mulet
Helson Hernandez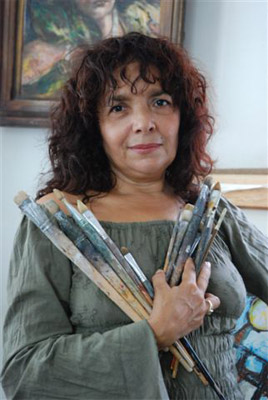 HAVANA TIMES — One of the greats of Cuban visual arts today is Ileana Mulet. In her interview with HT, she told us: "Two places were the "school of life" for me. One was being an interior decorator for the tourist industry for over seventeen years, and the other was working as a costume designer for television for five years."
HT: When did you start painting?

Ileana Mulet: I started early, doing like all children and drawing everything I found, including cartoon characters where you had to fill them in between the lines. But the most significant was drawing on the blackboards at school using colored chalk. When I was very young I enrolled in the prestigious Oscar Lucero school, which was a military barrack converted into a school on the Loma de la Cruz (Hill of the Cross), in Holguin.
I was born there in Holguin, where some of my first emotions were experienced. Children who are surrounded by campesino culture are often very imaginative; it's fertile soil that seeps into one's pores, injecting a type of nectar that's indispensable for creating.
HT: What traits of the zodiac sign Cancer does Ileana Mulet exhibit?

IM: Many…imagination, being overprotective, overly sentimental, but also being strong. The moon is the village, and my following are those viewers from the city.
HT: Do you consider yourself an expressionist painter?

IM: I'm an expressionist, with hints of magical realism.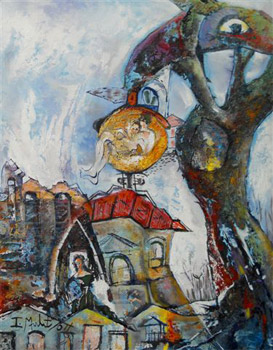 HT: The city and architecture, transformed by your creative imagination, form a world that has marked the visuality of your work.

IM: Sometimes I wonder how it stuck to me, that wonderful real world of the city, the need to work it until leaving it like a backbone of a fish. Then I insert poetic shades that run like wild rivers. I often rebel and paint faces and bodies, which in these cases come out with great force. The city is also there like a halo of mystery and love. It invites me over and over again to enter its incestuous dance of vibration and color.
HT: What did your experience on Cuban television that contributed to you as the artist we now recognize?

IM: Two places were the "school of life" for me. One was being an interior decorator for the tourist industry for over seventeen years, and the other was working as a costume designer for television for five years. Sure, having accumulated experience as a visual artist was good; shapes, colors, and design merged into one. I worked a lot on special costumes for stories and theater, which culminated with a major production, "Shiralad," a television series that captivated people. I won the Caracol Award from the Union of Cuban Writers and Artists for costume design.
HT: Does writing stimulate you to paint or does each manifestation have its own space?

IM: It's the accumulated energy of the desire to express oneself, not to postpone the task. You can't talk to the public entirely through painting. In my way of thinking, when we're born we're genetically gifted with artistic abilities, which means we can create in many art forms. But if we don't develop those abilities, nothing will happen – but they're there.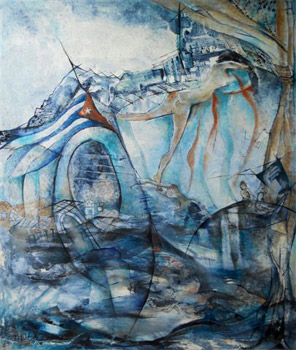 Writing poetry isn't new. I've been doing it since I presented my first individual exhibition of paintings. I now have several books of poetry published. Artex y Ediciones Union publishers will soon be releasing 2,000 copies of my book Quien golpea las puertas. In addition, I've almost completed a book of Cuban tales, or maybe it's better to say testimonies since these come from real life experiences, but have been transformed into stories.
HT: Were you influenced by other generations of artists, whether from here or abroad?

IM: Yes, I think I was influenced by all of the Renaissance artists, as well as other manifestations. I have good references, and I'm pleased to bow to them all as a humble servant of Chagall, Modigliani and others. For me, that solitary dialogue enriches my expectations in the face of a new challenge. I'll stand in front of a new blank canvas shivering with the desire to paint it.
HT: If you were to exhibit only one of your works in a show where many artists were also presenting one of their works, which piece would you choose?

IM: I would display my series titled "La Musica," or less ambitiously the one piece also called "La Musica," a 1996 oil painting on canvas that measures 110 x 80 cm.
HT: Could you share with us some of your important plans for the upcoming year?

IM: For now I'll have to leave you in the dark. I'm only planning to present my new book of poetry in February. This New Year is going to be extremely busy. I'll be working until I drop, without expecting any rewards, as usual.

Click on the thumbnails below to view all the photos in this gallery. On your PC or laptop, you can use the directional arrows on the keyboard to move within the gallery. On cell phones use the keys on the screen.