Interview with Cuban Artist Maykel Herrera
By Helson Hernandez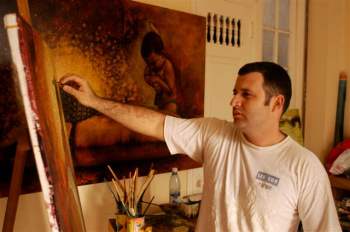 HAVANA TIMES, Jan. 10 — HT interviews Maykel Herrera, a visual artist whose work has already attained a privileged position among Cuban contemporary artists for its impact in exhibits and the interest shown by the public.
HT: Maykel, how many exhibitions has your work been in so far, if you've kept count or have a good memory?
Maykel Herrera:  I don't think I can say accurately, but I can in fact say that I've been creating continuously, non-stop, producing works for my satisfaction and also for the satisfaction of the viewers.  I believe I've had more than 25 individual exhibitions, while the number of collective exhibits I don't believe is less than 70 or 80.
HT: You're a young creator, that's why we're not speaking of you having worked a very long time…
MH:  That's right.  I'm 31 and I began my professional career in 1998 after graduating from the Camaguey Art School.  I began in professional work that responds to all my interests; to all the interests I gained from intense studies of art.
HT: And if we recall those times when we were in school, we remember this was when we began to open our minds to everything going on, tracing a path with which we would later define a language.  Let's talk about your professors, since I think it would be good to know who influenced your work…
MH:  Well, I can tell you that school is a decisive stage in the training and education of a future artist.  From there comes the formation of concepts from the point of view of content, ideas and teachers.  From there they begin teaching you to think or to at least structure your thinking, and from the technical point of view this evidently also continues to grow; it strengthens a base that will later be available to draw from.
I remember teachers like Joel Bezmar, who I owe for the structure of my philosophy, from the most conceptual point of view.  There are also others, like Alberto Larred, who was and still is a teacher of artists who have not only triumphed on the national scene but also internationally; and Gabriel Gutierrez.  Between these three I developed as a creator.
Later I begin to feel the responsibility of pursuing a professional career and to also have more freedom, because when you're in school — and I don't believe this has only been experienced by me — they contain your thinking a little, perhaps because you're going after a grade.
HT: You're talking about work that is more academic, without much freedom from the point of view of expressing one's own interests…?
MH:  They always work on your freedom as a creator but obeying a methodology, from the whole pedagogic mission and finally to your grade.  But I repeat, I believe this hasn't happened only to me, but to all artists, even in the past.  Once you're a professional you feel complete freedom and your personal stamp of a true artist is born.  Starting from here you begin to nurture the tree that will grow or fall; you're the one who determines that.
HT: I'd like to know if your first exhibition was at the same place where you studied, in your native province?
MH:  Yes, in Camaguey… It was collective.  People usually start out working from their school, in exhibition halls where you have to always present something.  But my first individual exhibition I also held there in Camagüey once I graduated.  It was a side exhibit to a more important event held in that city, the "Fidelio Ponce de Leon."  For me it was a gift to have been given that opportunity.  I did it clearly with ideological premises that were very different with respect to work I create now.  It was a very concrete visual selection; let's say one stripped of academic treatment, and one that I strengthened with an entire iconography and with symbols that were very conceptual.  It was a very complicated work from the point of view of the idea.
The form was just the opposite, very simple, very quick, very fresh.  This exhibition was titled "Isla Forever."  It had a lot to do with the conservation of Cuban identity itself.  It was not such a universal work but referred absolutely to Cubans as such, and it had repercussions.  Upon that you can create a stimulus and commitment, though you cannot of course lose the base you've now achieved.
HT: Maykel, we mentioned a word that goes in many directions, I'm referring to "interests."  Your work has had several transits.   From that first exhibition in Camaguey up to now, it could be that your artistic vision has had variations at times but perhaps your interests have remained in line with your artistic assumptions and concept.
MH:  One is always the same human being.  You are always the same person.  I consider myself a very observant individual, a person who nurtures themselves from all experiences.  I take advantage of every day to the maximum; even the things that have happened to me have been contributing or leading me to a certain series of works or to one in specific.  You first educate yourself as a creator and then you begin developing tools in school to strengthen certain tendencies that you can choose from in the future.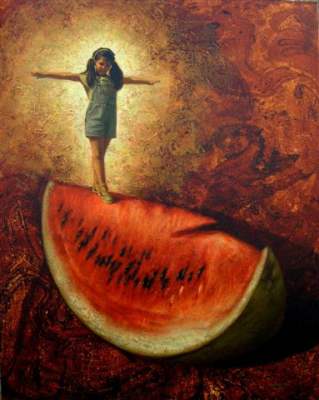 But like you said, what is important is the idea, the conceptual interest, the interest as a human being, what interests you that the public sees and feels; it's something that lasts over time.  I am developing my visual selections based on interest.  To me dialogue is what has always concerned me most…making my small contribution to the situation that human beings in general are experiencing.
My work, although it has a visual character in some more expressive cases and is a little more synthetic in others, always has an ironic or satirical search with an interest in detaching the viewer a little and making them reflect about what's happening to all of us.  It's like calling attention to the responsibilities that we have to the world. To me, the act of painting is not mere amusement but also the responsibility to make people think.
HT: So we can summarize this by saying this interest that you've pointed out has always remained in your work, from the beginning until now.
MH:  Yes, always.  I've had a very varied career.  I've gone through stages of creating sculptures, paintings, performances…  I gave blood publically in one exhibit that I did some time ago.  My mother extracted an entire syringe of blood from me before all the viewers who attended that opening.
HT: You mother must work in the medical field, because anyone else would have had shaky hands in carrying out such a task (laughter).
MH:  Yes, absolutely.  When I'm sick I hate getting shots, and I suppose that other people feel the same way.  But I decided to sacrifice myself again because of the interest I've talked about here.
HT: I've never seen in an art opening in which the artist extracts their own blood in public as part of the performance…extracting their own vital liquid.   And after, what happened?
MH:  Well, this work had an intense cost from the point of view of the performance, but it also responded to body art.  I wanted to make this sacrifice because blood was my work material at that time.  I ended up painting the island of Cuba on canvas with that same blood.  There were a lot of people there, and it was an interesting show, though I don't believe it was that pleasant because the people's faces were not like in a fiesta (laughter).  The geography that I painted of the island of Cuba was not the current one but the first one, that of Juan de la Cosa.  That first island was from a drawing, it had a different shape.
HT: Without a doubt that work was something very novel.  Let's talk now about that exhibit that has been so defining in your career.  It's one of children placed in pans and with other very clever scenes.  It is a series that while having been the most important has also been the most popular.
MH:  Well, that series was first titled "Principes Enanos" (Dwarf Princes), and it was presented for the first time in the La Acacia gallery, in Havana.  It paid homage to Jose Marti's tremendous personality and was based on that whole scenery, that speech.  I accomplished it with all those carefree little people.
HT: Were the pictures taken by real children?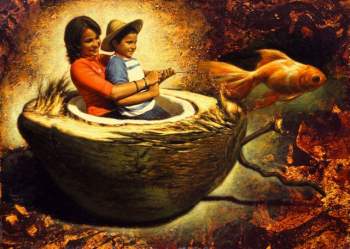 MH:  Yes, they're real.  They didn't stop being real children who are part of my environment, and like I told you at the beginning, they are creating my own experiences. This exhibition began with this title, but I have to admit I found in it a kind of very grateful and very personal visual discourse where the fully sincere creator — which is me, Maykel Herrera — obeys an extraordinary sensitivity.
When I began with this theme, I thought I'd only work from the point of view of conceptual dialogue.  I thought it was a path that no one had traveled.  I never imagined that it would have such repercussion among the viewers.  There are many people who have been sensitized with this series, with these works, but in an extraordinary way.  That had never happened to me before.
I feel really very proud to be accepted by the smallest circle of specialists and also by the public.  The public doesn't determine anything in our field.  There are great artists like Picasso and Miro who were not considered popular but nonetheless they were great creators and geniuses of the visual arts.  They had a very narrow and very select group of viewers in their lifetimes.  That's why I feel very happy seeing how people are constantly approaching me to let me know their interest in my work….
HT: Maykel, is there some exhibition scheduled at this time that's keeping you busy?
MH:  I'm beginning to prepare an exhibit for the Guayasamin Gallery in Old Havana, between March and April.  It will be an exhibit that, let's say, is ambitious.  I'm thinking of the formats, re-studying visuality.  I'm now in a process of study and research as I look for the primary base of this exhibition, which is the idea.  My work beyond an interpretive work is a very thought-out work and re-elaborated from the point of view of the idea and then, before anything else, leads to very intense work at the table, where the content of the exhibit is truly born.