Josué Tacoronte & Skpao: Music to Dance and Fall in Love
Interview with Cuban Guitarist Josué Tacoronte, Leader of the Mexican Band Skpao
by Helson Hernández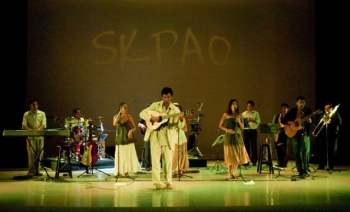 HAVANA TIMES, March 12 — Cuban guitarist Josué Tacoronte speaks with HT about his studies and career on the island and most recently in Mexico.
HT: You graduated from the National Art School, which is a part of the system of artistic education in Cuba?
Josué Tacoronte: Yes, I graduated from the Amadeo Roldan Music Conservatory, in Havana.
HT: When you entered the professional world as a guitarist, the Spanish Ballet of Cuba marked your beginning.
JT: I began as a concert guitarist and then I went on to the Spanish Ballet, where I discovered the world of flamenco and Spanish folklore in general.   I also had the great opportunity to develop and learn composition for dance.
HT: Along with that dance group — and under the direction of the maestro, first dancer and choreographer Eduardo Veitia — you created important works, like the musical compositions of several sound tracks for performances by the Spanish Ballet of Cuba.  Recall some of your creations for us.
JT: Along with Eduardo Veitia, many works were created to form a fine collection.  Among them are "La Habana Valdez," "Invocación a la Danza," "Tras las Huellas," "El Cargador de Sueños," "Flamenco Vivo" and the well known "Carmen."  I remember this as one of the best stages in my artistic career.
HT: By the way, hasn't there always been an interest in flamenco in the career of Josué Tacoronte?
JT: Classical music is something that made me direct myself toward this world, due to its different styles and epochs.  These make one understand the feelings of the composers from Renaissance to modern times.  That propelled me to guitar playing as a performer of this instrument.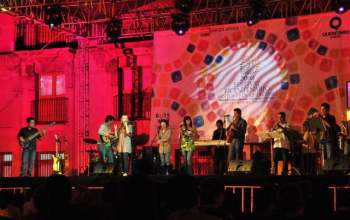 As a guitarist who isn't drawn to Flamenco after listening to Paco de Lucia, with his virtuosity.  I've always said, "There are two things in life that are impossible: immortality and playing like Paco de Lucia."  But what makes me enjoy to dance and dance is the music of my beautiful Cuba…it's son music for laughing and its boleros for falling in love.
HT: How long have you been in Mexico?
JT:  Ten years, though it seems like ten days.  Here I have learned much alongside Mexican artists who bring out an essence from rock, pop and jazz.  For me even, investigating their cultures — like that of the Chichimec people — has contributed much to me culturally.  An example of this was the recent show titled "Mex-tizo."
HT: You made it to Mexico through the institution ProArt, in the state of Queretaro, where you worked for many years as a teacher, composer and musician.  Tell us about that experience.
JT: Proart was born out of the culture, from academia and from very good Cuban teachers who have developed the children and youth of this city in everything from ballet, flamenco and music and to stage direction.  I was part of this accomplishment, which I contributed to for nine years.  In addition I learned a lot.
HT: At what point appeared the music group known as Skpao, which you currently lead?
JT: Many friends told me to record a CD with my things, but what occurred to me was to record something with all the different styles I've pursued in my career as a musician, and that's where the group came out of.  To tell the truth it's a project of the unification of not only styles but of epochs.  By the middle of this year I will begin recording the second disk.
HT: In 2009 you realized your old dream of bringing your group Skpao to the island for Cubans to hear them.  You traveled to your homeland with the other members of the band in coordination with the Cuban Writers and Artists Association (UNEAC), a cultural institution of which you are a member.
JT: That's right.  Thanks to UNEAC and to maestro Guido Lopez Gavilan it was possible to realize the dream of Skpao playing in Cuba.  But not only was it my dream, rather also one shared by my fellow musicians.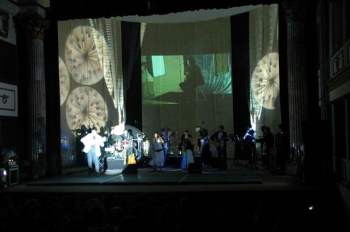 Even today they talk about how much they enjoyed the experience of sharing with Cuban musicians and the opportunity to appear at the important Teatro America and the Tomas Terry Theater, which without your help wouldn't have happened.  I thank both theaters and you Helson, especially, for your demonstrated dedication and confidence in that effort.
HT: Skpao has a wonderful lead singer, Queretaran native Paulina Izquierda, who previously had recording experience as a soloist.  But the presence of this exceptional artist has not only been important for Skpao, but Paulina — who is also a painter and a teacher — occupies an equally important place in your life.
JT: She's a person who always searches in the interior of her voice for that which is called a beautiful melody, and she never stops.  You heard her on her first disk, "Angel," though she's now with Skpao.  She will soon participate in a project of Mexican music adapted to jazz; this is going to be titled "Paulina Izquierdo y  Derechos Reservados." As a painter she also uses her imagination and she exhibits her own style full of fragility and love.
HT: In the project you referred to, you have defined a very different sonority, keeping in mind what other musicians do in Mexico and given the fact that you haven't lost your Cuban roots or your interest in Latin American and Spanish influences.
JT: I try to move each essence from one side to the other, but that's not possible without the magic touch of the other 14 members of the group.  I don't want them to pigeonhole me with a single style; I want to cover all the variants that make me enjoy music, so what better excuse is there than to do it with SKPAO.  For this we are all Skpao.
HT: So what's in the future for Skpao and its leader Josué Tacoronte?
JT: It will continue with its same members and cut its next CD.  It will be in search of new settings and for a Latin public in order to make them dance and fall in love, at least for all of them who need that.