Lesther Aleman: "I Want a Free Nicaragua in Peace"
By Gabriela Selser (dpa)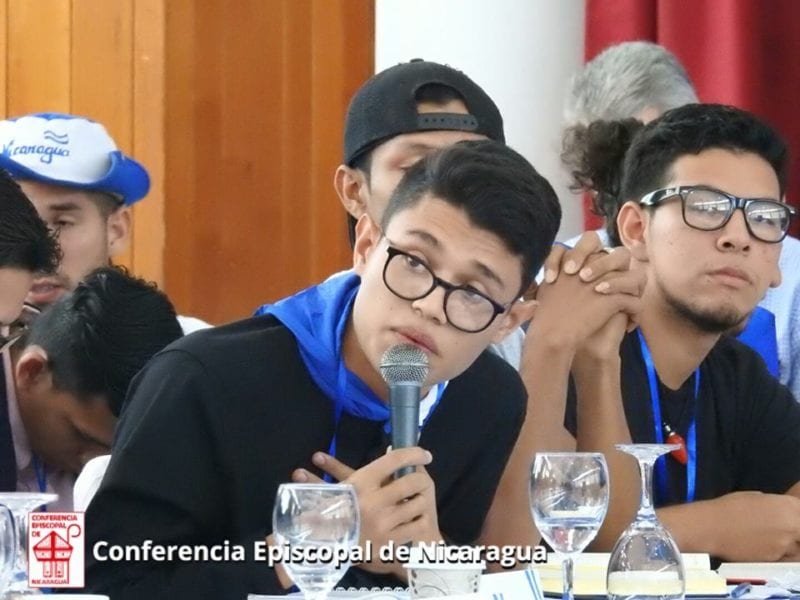 HAVANA TIMES — He is 20 years old and he would love to finish his journalism degree in Argentina. Then, he would like to be a war correspondent. But not in his native Nicaragua, which he dreams of being "free and in peace", safe from the unstoppable wave of violence that has been spilling its blood for over three months now.
On April 18th, Lesther Aleman had breakfast and went off to class, like he did every day. In the afternoon, he went to a protest the government's controversial social security reforms, which promised to be peaceful but ended up becoming a frenzied and unprecedented attack by Daniel Ortega's government supporters against a group of students, according to reports by human rights organizations.
Lesther had on him only his ID card and 100 cordobas (three dollars) in his sock. He didn't go back home because protests were going to continue the following day at several of Managua's universities, where students were beginning to be shot down, one after the other, by the National Police and to the whole country's astonishment, never having imagined such violence.
"The protest was impromptu, but it summarized our generation's weariness after nearly 12 years of state institutions, democracy and freedoms being hijacked," the student told dpa when remembering that "we went to class every day and we would ask ourselves what we could do to change this…"
"We were asked how many of us wanted to be journalists and only three of us answered… out of 45! Everyone else wanted to leave the country to study or work," he said. In April, he was in the fourth year of his Communications degree at the Central American University (UCA, a Jesuit university), which continues to be closed today like all the others. They have all lost a year.
In 1979, Daniel Ortega played a role in overthrowing dictator Anastasio Somoza and he governed the country until 1990, when he lost at the polls to Violeta Chamorro. He returned to Government as president in 2007 and today, with four presidencies and 72 years under his belt, this former guerrilla fighter isn't giving any signs that he intends to leave.
Lesther Aleman was the student who rebuked Ortega on May 16th, on the first day of the national dialogue process which has also been suspended. "This roundtable is to negotiate your departure. Give up!", he exclaimed without needing a microphone and without thinking about the impact his words would have on millions of stunned TV viewers.
In spite of protests still going on, the Government has managed to regain strength with the also unprecedented deployment of thousands of armed paramilitaries on Nicaragua's streets. Like the rest of the University Coalition's leaders, Aleman is living like a semi-underground person now with an immigration detention order hanging over his head. Nicaragua for prison.
He doesn't smoke or drink, but sometimes he escapes from the safehouse to buy sweets. Some people recognize him because of his height (1.90 m) or because of his powerful speaking voice and then he needs to return to the shelter.
He would like to hug his mom Ines on the street, the mother who taught him "to be a good student and demanding", who he thanks for the academic excellence awards he has won since preschool to university.
His father, Javier, a driver, was disappointed when his youngest child and only son told him that trucks weren't his future. However, he ended up respecting the aspiring journalist's decision, like he did when he saw his son on TV, standing up to the president.
His parents taught him "to seek the truth" and even though they tried to keep him away from politics, Lesther would go to his grandfather "who was very revolutionary" and he gave a young Lesther history books which the child devoured in his school breaks, he remembers.
"My parents support me and encourage me to continue. I miss them. I also miss the white rice and oatmeal drink my mother would bring me every night while I did my homework," he said sadly.
While the crisis continues, young people from the Coalition are organizing protests on their cellphones and on social media. Lesther claims that he has never touched a gun, but that the Government could charge him with terrorism and organized crime, according to a law that was passed this month which would send protest leaders to prison.
When asked about his ideas for Nicaragua, he said: "I want a free Nicaragua in peace, where anyone who feels uncomfortable about something can take to the street and say 'I don't want this'. A country where accountability exists, where the president informs citizens about what he/she is doing and where a 30 or 35-year-old person can be freely elected as president."