Lorna Feijóo: One of the Cuban Ballet Greats
By Helson Hernandez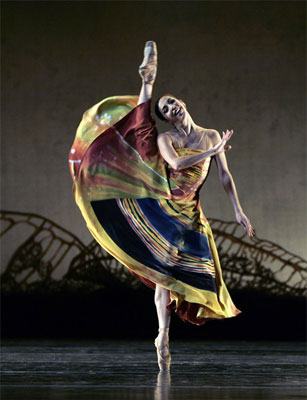 HAVANA TIMES – Lorna Feijóo, who currently dances with the Boston Ballet Company, will always be a star of the Cuban Ballet. "Cuba has been the setting where I've felt the greatest emotion," she told us during her interview with Havana Times.
HT: What are some important memories of your first days at the ballet?
Lorna Feijóo: When I arrived at the Ballet, I had the opportunity to watch, rehearse with, get to know and learn from the many great dancers who were there at that time; dancers whom I admired and still admire, although today they no longer dance or are no longer physically present among us. Of course, this included the opportunity to learn from Alicia Alonso. Entering into the National Ballet of Cuba was a dream for me.
HT: What ideas passed through your mind, and what were the expectations of that young girl who had just graduated and who now was entering into the National Ballet of Cuba?
Lorna Feijóo: The expectations were many. You arrive wanting to devour the whole world. In the school you do a lot of Pas de deux and suites from the great ballets, and you receive a thorough grounding that prepares you to face whatever may come, thanks to the great teachers who will remain in my memory forever. But really, the Company is where you discover what a Ballet Troupe is, and the styles of each ballet. Naturally, that's where the great classics are done; I wanted and expected to do them all. The truth is, I was privileged enough to accomplish this.
HT: What was the performance or staging that marked your first full appearance with the Cuban company.
LF: The appearance that marked my first real debut with the ballet was "Swan Lake" in the National Theater, where the splendor of the performance as well as of the audience was enormous. It was a large space to fill, more so than I had thought, but it was wonderful. I remember that when I exited I couldn't even hear the music due to so many shouts and applause. That was a beautiful sensation, and something that's unique to my country. Only we Cubans produce that great volume of shouting that emerges from the depths of our souls. A close friend of mine who was a dancer once said: "it's like being in a football stadium". It was my first experience with a great classic and it was marvelous and exciting.
LT: I've always felt a great deal of respect for the Cuban public: first, because they know about ballet, and secondly because they have always followed my career, wherever I am. They are harsh critics and that makes us better. When we come on stage they applaud us with so much love that you only want to make sure that they get pleasure from the show. There's no better public in the world than the Cubans.
HT: If you had to name the venue where you've felt the greatest emotion, what would it be?
LF: Without a doubt, the site of my greatest emotions has been the Cuban stage, but I can't help adding that other venues have been very important in my life as well and have left a great mark on my career. For example, the opening of "Swan Lake" in Japan with the London Royal Ballet, where I danced with our own Carlos Acosta. In the Scala of Milan with the equally unparalleled dancer José Manuel Carreño in a Gala dedicated to Nureyev, and also at Carreño's retirement from the American Ballet Theater, and of course in Boston where I've spent a large part of my career right up until the present.
HT: You've always been heard to say that it's one of your dreams to dance together with your sister, or at least to be as close as possible to her. Today, you have realized this dream.
LF: Yes, I'm thankful for the opportunity to have performed together with my sister, since I had come to believe that perhaps this would never happen. We never lost hope. We performed "Swan Lake" in Boston with my sister Lorena as the Black Swan and myself as the white one, accompanied by my husband, the Cuban dancer Nelson Madrigal, so that the emotions were doubly intense. We also performed "Majisimo" in the American Ballet Theater (ABT), a ballet that we had done many times before with the Cuban Ballet.
We had the good luck to work with the choreographer of that work, Jorge García. It was equally thrilling to appear on Sesame St., a very well known children's television program in North American, known in Cuba as The Muppetts. This has marked an important moment in our lives, since both of us are mothers. Now our daughters can see our legacy in a program that exists and will continue to exist for decades to come. It has been an honor to form part of it. We are proud to be Latinas and we want our daughters to feel proud of this as well.
HT: What do you think would have happened if you had continued your popular and much admired career on the island with the National Cuban Ballet?
LF: If I had continued with the Cuban Ballet, I would be dancing with the same love and dedication that I have today. My passion for the ballet remains unchanged, no matter where I may be.
HT: What are the most important highlights we could mention regarding what has been occupying your professional time during all these years in the United States.
LF: Of course, I would mention the great opportunity I've had to build my career. To dance to ballets from choreographers that I could never have imagined, such as Jiri Kylián, William Forsythes, Jonh Cranko, Balanchine, among others. I would also include one of the greatest things that has happened to Nelson and myself in our lives – to have brought our daughter into the world, the light of our days.
HT: What about returning and showing your first public what Loma Feijóo has achieved in all these years.
LF: Unfortunately, that doesn't depend on me, no matter how much I would love to have the opportunity to dance for those who followed and still follow my career. That represents a great dream and enormous pleasure, but I don't lose hope: rather, I'll leave it to destiny. The only thing I can say from here is that before going on stage there isn't a performance in my career that I haven't dedicated to all of the people who form part of my life, and to my Cuban public. No one can ever take that away from me, since I carry them in my heart. I love them forever….