Lynn Milanes: Following Footsteps
Singer Lynn Milanes is the daughter of one of the most important exponents of Cuban music: Pablo Milanes.
By Helson Hernandez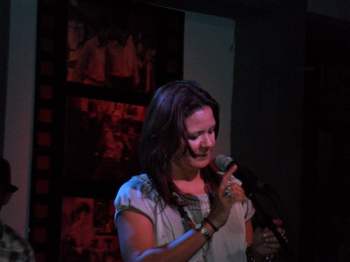 HAVANA TIMES, May 6 — Singer Lynn Milanes,  daughter of one of the most important exponents of Cuban music, Pablo Milanes, was interviewed for Havana Times.
HT: You possess a really important last name in Cuban culture.  Any Cuban, wherever they are, when hearing a song by your father will undoubtedly identify with feelings of nostalgia, with sentiments, love, with their own land, because there's no question that Pablo is a musical icon of this island.
Lynn Milanes: Yes, people even think that by being his daughter and in contact with him so frequently that it would be easy to approach him musically, but it's not; actually it's quite difficult.  I relate to him as another professional.  Still, for me it becomes very significant to have had him by my side.  The fact that we've been able to share songs together has been truly great.   That has obligated me to try to sing better, to be as if a part of him detached and wound up in me.
HT: The work of Pablo Milanes is immense.  As his daughter, are there any songs by him that have been more outstanding than others as a result of some personal experience or that have very particular aesthetic pleasure in their appreciation?
LM: Well, I've really gone through several stages in that sense.  For example when I was a little, around 11, when I discovered the song "Mirame bien" it was amazing to me, without even dreaming back then that I would ever sing.  Then I discovered another song that I was able to sing later by myself while playing the guitar.  It's called "Yo" (me).  It's a beautiful song.
There are many songs that perhaps people aren't familiar with because they're promoted less, but that was a lovely stage that he had in his creative period in the 1960s and so, when the style known as "Filin" was still popular, because my father was also one of the exponents of that rich movement in our music.  Around that time was a period in which he made beautiful songs, special moments in which not a lot was known about his inner world.
HT: We know about the close bond that exists between the Milanes family and the Cuban singer-songwriter Raul Torres.  In fact you were the influence that allowed his work to be heard by Pablo.
LM: Yes, I have many stories with Raul Torres, because he met my father through me.  We met each other in Matanzas Province when I went to hear him for the first time and fell in love with his songs.  This was back in '86, and ever since then a great friendship has grown and we've never distanced ourselves.  Raul has offered a lot of creativity for us, referring to the songs that he has composed, especially for me and my other sisters, who also sing.
HT: Let's talk about your new CD, "Te quiero bien," on the Biss Music label and produced by PM Records.
LM: Well, this production has been a stage of breaking with myself, because I was stagnating a little and it was during a difficult moment in my life.  The idea also occurred to a Cuban singer who lives in Spain, Livan Castellano.  When I approached him he proposed the project.  He even told me that he had already composed the song that would be the recording's hit: "Como un bolero."  Livan was like a kind of a visionary because that title really did resonate in the media about this recording work.  I had gone five years without singing, and this CD pushed me back out into the public spotlight thanks to him taking the initiative to propose it to me.
HT: But later other artists appeared who accompanied you along with Livan Castellano in creating the disk.
LM: Right.  Another Cuban musician who has lived in Spain for many years, Atanay, was the one who produced it.  In addition, a great friend of my family, the Spanish singer-songwriter Joaquin Sabina, lent me his studio to record it there.  So once the demo was cut I brought it back here and played it for my father, who fell in love with it.  Then we went ahead and finally completed the production.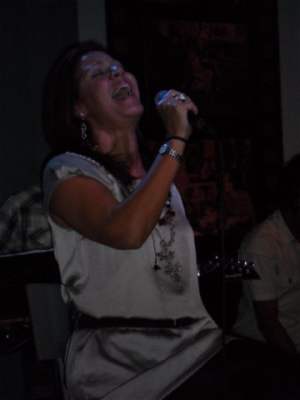 It was a discovery, because there were authors who I didn't even know in the work we did in Spain.  This was how this new approach, this new sound that was not in me came out and has remained ever since whenever I sing these songs.  This is known by those who have seen me perform live.
HT: Have you gotten back into other projects in your professional life, since you said you had been outside of music for five years.
LM: Yes.  After picking back up on my work, now I can't stop.  In fact it's been like this since the launching of my disk "Te quiero bien."  Now we're finishing up with the last details on another recording work.  It will be a CD and a DVD of a concert given this past December along with my father.  This one too will be on the Biss Music label.
I also have plans to do some work together with my sisters.  I'm already working on my new disk, with new songs by composers like Israel Rojas of Buena Fe, who has given me some of their songs.  I can also tell you that it will have things by Kelvis Ochoa, and of course tunes by Raul Torres, who's now a regular in my repertoire.  In short, there will be new things as well as some old songs that I always like to interpret giving them a different sound.
HT: What about concerts in Havana this year?
LM: I want to perform at the Fine Arts Theater, which is a place I like a lot for its intimacy and its welcoming character.  I've never sung there but the idea has me delighted given all those expectations I have for that place.  I want to do something truly special for the occasion, and this is an exclusive since I haven't talked about this concert before.  I plan to show what people aren't accustomed to seeing from me.  I'll also have my guests and some of my own instruments …strings and a piano.
HT: Lynn, looking back at your past, have you always been involved with music?
LM: No, absolutely not.  My mother Yolanda — the inspiring muse of my father's well-known piece — worked for many years with ICAIC (the Cuban film industry), which meant that she was always involved in the cinema, and I got into it through her, filming movies almost all the time.  My sisters too, because there were three of us that my mother had to drag around everywhere.
In my house, as one might suppose, my father constantly brought us music.  Ever since we were little we listened to Steve Wonder, the Beatles, Bossa Nova – American and Brazilian music basically.  But I was good at sports, so they made me decide between that and music.  I was studying while living in a dorm and they gave me a flute, so inevitably I wound up enrolling in music.  I passed the aptitude exams and ultimately graduated in that instrument – the flute.  But I have to confess, I always thought about being an athlete.
HT: The daughters of Pablo Milanes who we know as singers are Haydee, Suilen, and you.  Were there other siblings who also decided to get into music?
LM: Well, let me explain. Suilen is the twin of another of our sisters, Lian.  People even confuse her often with me for a song of hers called "Sume," which they used to play on the radio.  I also used to sing it live, but I never recorded it.  Lian graduated in choir directing and has lived in Spain for at least 12 years.  She's now involved in other things, though she sings from time to time.  But what I'm telling you is that in terms of pursuing professional careers here in Cuba, there are us three: Haydee, Suilen and me.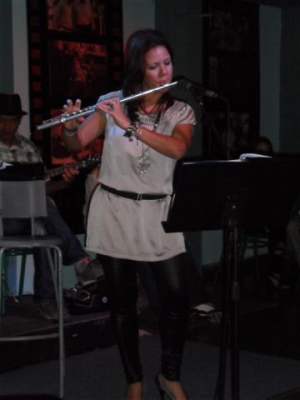 Though all of us children are doing well, we're now talking about the children of the children.  I believe that in my case I have some talented children who will be able to follow in our footsteps.  My daughter Ana Paula has a tremendous voice.  I would have loved to have sounded like that when I was that age.  Likewise, my other child has a deep interior rhythm that's very engaging.
Suilen now has a daughter studying music.  Haydee doesn't have children yet, but I'm sure that the ones she'll have will be singing from the cradle.  We have a brother, Antonio, who's also preparing himself for the world of art.  My father has a number of children, as you can see; in total there are seven of us.
HT: What's the typical day like in the life of Lynn Milanes?
LM: Well, usually when I get up very early in the morning, the first thing I do is turn on the radio for company as I prepare my children's school backpacks and make their breakfasts.  Following all that morning activity I go to my rehearsals.  When I have more free time, I use it to listen to music.  I listen to Ella Fitzgerald, Amy Winehouse and others.  From time to time I also like to listen to music to meditate, but especially the radio, since I always want to be aware of everything happening.
HT: You now hold a place in Havana that's made you quite special.  Before concluding, let's take advantage of this opportunity to invite all those interested in enjoying you live.
LM: Yes, everyone who wants to spend a nice time is invited to listen to my songs, as well as others that I only sing outside of discos on occasions like this.  The place is the Italian restaurant called Favio's, which is located at the corner of J and 17th streets in the Vedado district in Havana.  On the top floor is a very accommodating place for enjoying live music; and there is no cover, only the drinks you like.  For a little over an hour, starting at 9:00 p.m. every Saturday, I'm there with my group.  (For confirmation the telephone number is: 836-3229.