Maikel Echevarria: Making Music in Cuba
Warhol P.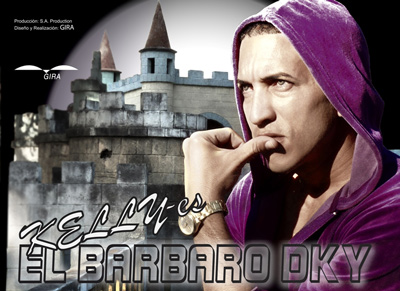 HAVANA TIMES — Maikel Echevarría (known by his stage name "Kelly-es") is a Cuban reggaeton singer with a solo band known as DKY. A vocalist for the band Manana Reggae, he tells us that, though most passionate about reggaeton, he also enjoys merengue, house and Colombian dance music (cumbia). He has shared the stage in Cuba with such renowned singers as Los Cuatro, Cola Loca, Gente de Zona and others. Kelly-es has produced three albums independently and dreams of achieving international renown.
HT:  Last year, I read a press note in which Orlando Vistel, the president of the Cuban Music Institute, announced he would take measures against certain "musical practices", including reggaeton. Do you believe reggaeton has changed?
Maikel Echevarría: I think so, I think it has matured. You have to bear in mind this music genre came to us from Panama and that we've adapted it here, we've combined it with our own rhythms. As a genre, reggaeton is still very much alive and popular. I think there are a number of new singers who are abusing the genre and end up trivializing it. They should be writing different songs, without obscene lyrics, address other issues, issues that have some importance. It seems many of these songwriters aren't aware of what they're doing, that they don't know or aren't interested in where this can lead us.
People tend to put all of us in the same sack, and not everyone doing reggaeton music writes vulgar lyrics. Many performers aren't aware of what they're conveying to their audiences, who can be children, teenagers or elderly people. In some songs, they celebrate a type of life that, instead of helping us evolve, does the exact opposite.
HT: Tell me about how you started.
ME: I started in June of 2003, putting together a song with Eddy K. That was the first reggaeton piece Eddy K did. It was called Un lapiz ("A Pencil"). It was a huge hit at the time, as was another piece we recorded together, Vivir sin tu querer ("Living Without Your Love"). That one was also very popular, though that wasn't reggaeton, it was a romantic song.
HT: How difficult is it for a singer or band to get publicized here?
ME: First of all, all musicians have to belong to a State company that does the paperwork needed to have access to institutions like the Cuban Radio and Television Institute (ICRT) and radio broadcasters. The document has to say what the artist's background is, what company they belong to. Only that piece of paper entitles you to so-called publicity.
Things work like this: the artist goes to the State company and asks for the document. Then, they go over to the ICRT, where they tell you that they're going to appear on the show 23 y M, but that you have to come back in four months, because, whenever you go there, the guest list is full. Now, if you show up with a bit of money, you're on the air in no time! That's how it works, and the radio is very similar.
HT: I know you had some problems with a Mexican businessman between 2008 and 2009. Can you tell me something about what happened?
ME: Yes, we had problems with Carlos Sanchez Gamboa, from the Grupo de Produccion Internacional (GPI) in Mexico. He wanted to help us at first. At the time, my song El Palo was very popular, it was a hit. He became interested in our work because of that song. At the time, it was difficult for a Cuban to travel abroad, and much more so without a company backing you, which was our problem, we didn't belong to any music company. We signed an exclusive five-year contract with GPI anyways, and we put together a tour with shows in Merida, Mexico City, Yucatan and even Miami.
But nothing came of that. Suddenly, the producer was accused of trafficking people and spent two years without being allowed to come to Cuba. Two years went by and this affected us, because we couldn't do anything on our own, we still didn't belong to a company and couldn't do new things under this contract. We couldn't promote our work and we weren't being given the opportunity to do auditions – in short, we were stuck in that situation for a while, until we were able to terminate that contract.
HT: Did you get anything out of that?
ME: No, nothing. But, thanks to that contract, we were able to join an institution, the one we belong to now, the National Cuban Music Center.
HT: What can you tell about Lucas, Cuba's music video show? Have you ever shown any music videos there?
ME: No, I've never shown any music videos there. Look, Lucas requires that you submit a professional music video, with the quality of an international production. So you know, making a music video in Cuba can cost between 3,000 and 5,000 CUC. That seems like a lot to me.
HT: Have you recorded at independent studios?
ME: That's the best way to go here – the other option is too complicated, and more so for the reggaeton genre.
HT: How much can recording at one of these studios cost?
ME: That depends on how popular and prestigious the recording studio is. The studios where the most popular bands record their albums are the most expensive. One song can cost between 80 and 100 CUC. There are people who charge between 30 and 40 CUC. Like I tell you, it all depends on how popular the studio is. [1 CUC is worth a little over 1 USD].
HT: What do you, Kelly-es, think about Cuban music today?
ME: It's fairly varied, but we're all fighting amongst ourselves. There are bands that combine reggaeton with other genres. When I say war, I am referring to salsa music, Cuba's music par excellence, the music that defines us as Cubans. I've noticed that, today, it's been eclipsed by this new genre that I consider a part of our evolution, but that this is something that worries people at the international level – Cuban salsa music has deteriorated a bit in light of this new phenomenon which reggaeton has brought about. Personally, I believe there should room for all types of music in our country, no matter what they are, and that no genre should be excluded.