My Reencounter with Cuban Rapper Sekou in Old Havana
By Yusimi Rodriguez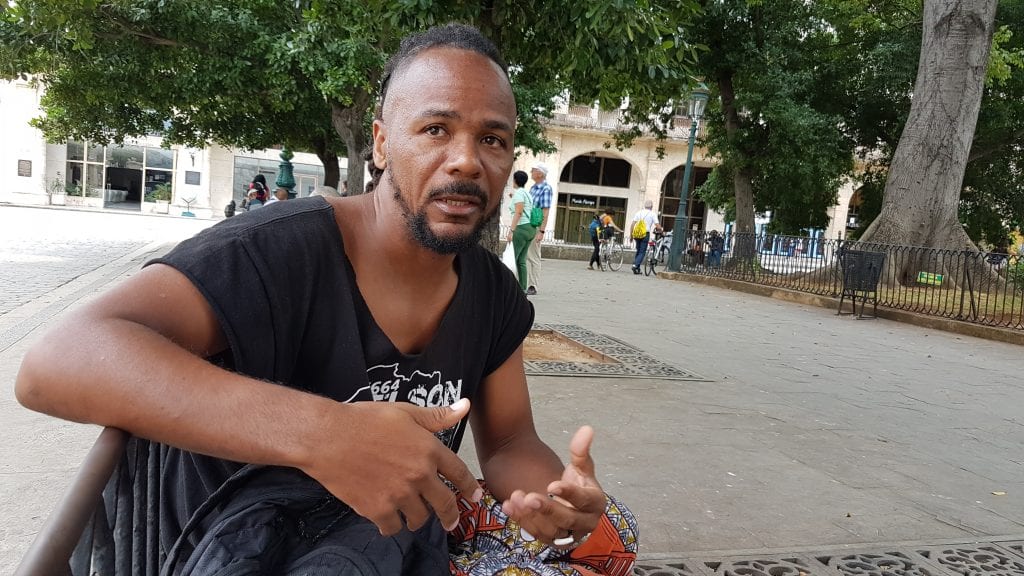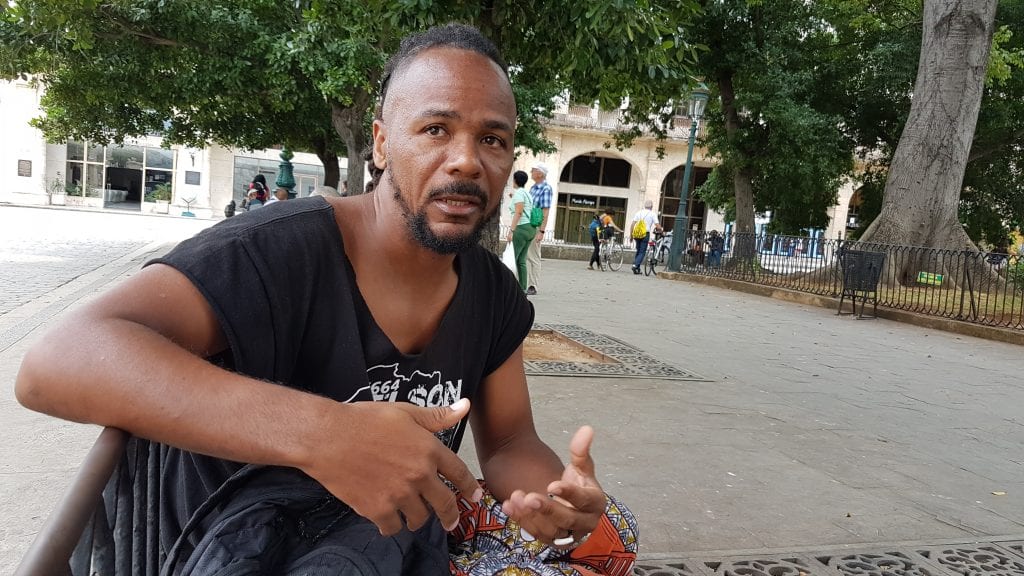 HAVANA TIMES – If you are under thirty, or you just don't listen to rap music or are not interested in hip hop, the look of this black, bearded man with dreadlocks would leave you indifferent. The name "Anonimo Consejo" won't mean anything to you, much less the name "Sekou".
But, those of us who have been following hip-hop and rap in Cuba since the late '90s can't forget this duo made up of Yosmel Sarrias (Sekou Messiah Umoja, the African name he adopted in 2001) and Maigel Entenza (Kokino), who marked an era in Cuban rap with songs such as Mi compromiso and Punto en boca.
After seeing them perform a small concert at the Pabellon Cuba, in 2012, I lost sight of them until November 27th when I ran into Sekou at a tribute to the five Black Abakuas who tried to stop the execution of 8 medicine students in 1871. There, he told me that he would be playing a concert on Thursday December 6th at 2 PM at the Taller Comunitario Jose Marti, located on Prado between Neptuno and Virtudes Streets.
This will be his first performance in Cuba in nearly 6 years. In 2012, he traveled to Venezuela for a few months to master an album, but he didn't return to Cuba until September this year. He remained musically active in Venezuela; he played concerts and recorded an album. But because an independent artist can rarely make a living off just their art, anywhere in the world, he did other work too, mostly socio-cultural work with children and youth in his community. The project, which he ran from his home for over a year, was called "La Cuadra". He doesn't know when he'll return to Venezuela yet.
Sekou: "I'm going to spend some time with my family, my friends. I need to be here. I want to work, make my music, share what I have learned."
But, if anyone is hoping to see a concert by Anonimo Consejo on December 6th, they are mistaken. Sekou will sing alone this time.
"I want to give people the music that I have been making. I am going to sing Mi compromiso, La ley, Loma y machete and other songs from that time. But, I am going to do it in my own way, without Anonimo. I'm not going to just play songs from when I formed part of Anonimo. I am still active today and I've come to perform my new work. Anonimo isn't a thing of the past, but you can't use it to say I won such and such award in this year or that and I was that, and I did that. That's all nice and well, but we are in 2018. What are you doing? If what you're doing isn't any good, it isn't any good. Everything is nice with Anonimo, everything is fresh, but I have other things now."
"One of the nice things that has come out of this is that people will be able to get a closer look at Kokino as an individual, with his music, and they will be able to approach me as an independent person. We played our music between the two of us for a long time, we used to compose music together. Right now, we are each defending our own work, using the experience we have gained along this journey, but it is more personal now."
Sekou will play songs from the albums Nuestro and Origen (his latest one), recorded in Venezuela, where he had a greater opportunity to project himself as a solo artist than here in Cuba, the US and Brazil, where he traveled as part of Anonimo Consejo. In Cuba, he performed alone at the Love In Festival, just a few days before leaving for Venezuela. There are videos on YouTube from that performance.
People going to Sekou's concert at the Taller Comunitario Jose Marti, will be able to hear him rap, sing, exploit all of his vocal skills. One of the things that made him stand out from the rest, in the eyes of those of us who used to listen to him in the first years of this century, was that Sekou sang in reggae time, as well as rap.
Sekou: "I learned to rap by watching a friend who also co-founded Anonimo Consejo, Ernesto Perez. We called him Papo. I used to watch him improvise and I would copy him. But, for some reason, these reggae melodies were mixed in at the same time. Maybe because of the things I was listening to at the time. I always had both rap and reggae in me. I do what I can melodically-speaking, falling on reggae a lot of the time, and I rap. I believe they have the same elements in their family trees, or it's like a plus. There are people who know how to do different things and it's good when they use them because they have different resources for their work.
"I'm going to be working with DJ Reymel, who people know for his work as a DJ and because he was a member of Anonimo Consejo. Alian, a bass player and friend of mine, and Latino DJ, a sound engineer and friend of ours, will also be there."
"There are songs that I used to play with a band in Venezuela and they sound completely different to how they sound on the track. We experimented with rock, jazz. This time, we will have a track as a reference, but we'll be able to add nicer touches with the dj and bass player."
This concert forms part of the idea of performing in spaces that have a life of their own, such as the tobacco factory, the roof terrace on a building, a big patio.
Even though he feels that it is too soon to give his opinion about the Cuban hip-hop scene and, more specifically, Cuban rap, he has seen rappers that he liked in community spaces in Casablanca, Vedado and Cotorro. However, he believes that the wellbeing of rap depends solely on whoever is doing it.
Sekou: "The world can be falling apart, but if you are building, whatever you are doing is valid. Anne Frank wrote some tough words in her diary at a hard time. What she did was valid. The wellbeing of hip-hop depends on us, on us not allowing disaster and catastrophe from taking over us to the point that we distance ourselves from what we are doing".
Follow Sekou on social media: @sekourepresenta (Instagram) and Sekou Yosmel Sarrias (Facebook)