Nicaragua: After the Bullets, No Peace for the Students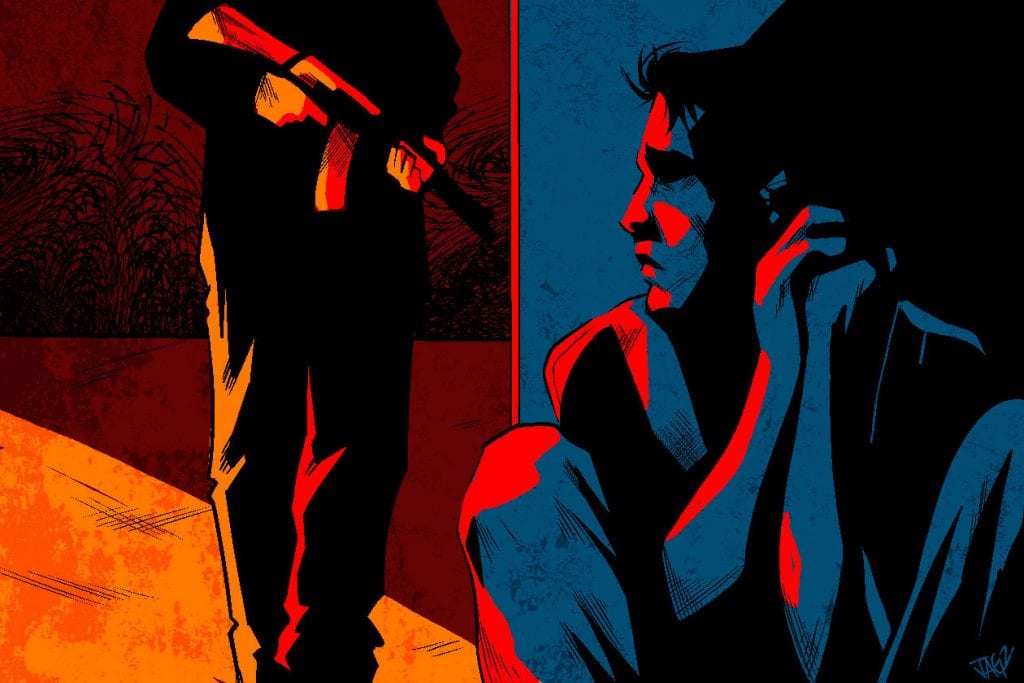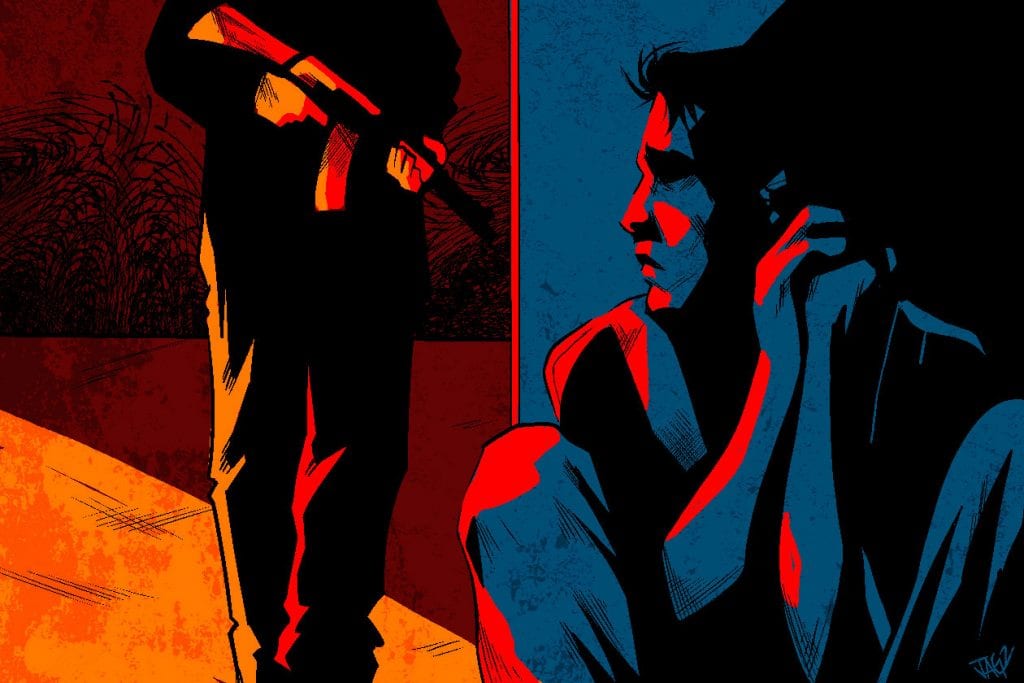 By Franklin Villavicencio / Claudia Tijerino (Confidencial)
HAVANA TIMES – "Veneno" (Poison) feels like an "immigrant" within his country.
"If you could imagine how the life of a migrant is, who has to hide from immigration to not be expelled, or be taken prisoner, that is how I have to hide so they do not kidnap me here in Nicaragua," he says.
He is 24 years old and remains in hiding. For him this has been the price to pay for rising up against the regime of Daniel Ortega that since April—when the protests began over reforms to social security—has repressed all the civic movements that demand his resignation.
But, before hundreds of college students rebelled against the National Union of Nicaraguan Students (UNEN), a wing of the governing party within public universities, Veneno's life was like that of any other student of dentistry: he was about to graduate, a goal which was interrupted and which he doesn't know when he'll be able to resume.
"Even if I wanted and take the risk of returning to the campus, nobody will assure me of my freedom, because if when I leave school I suddenly disappear…nobody would even know. Who is going to assure my physical integrity? I am bait," he says.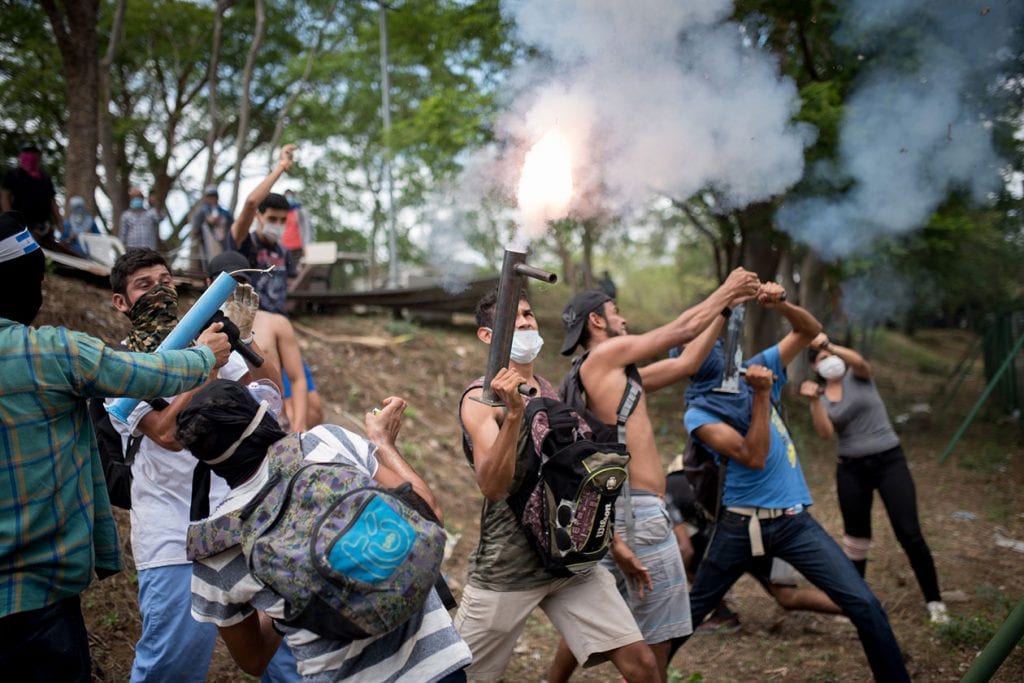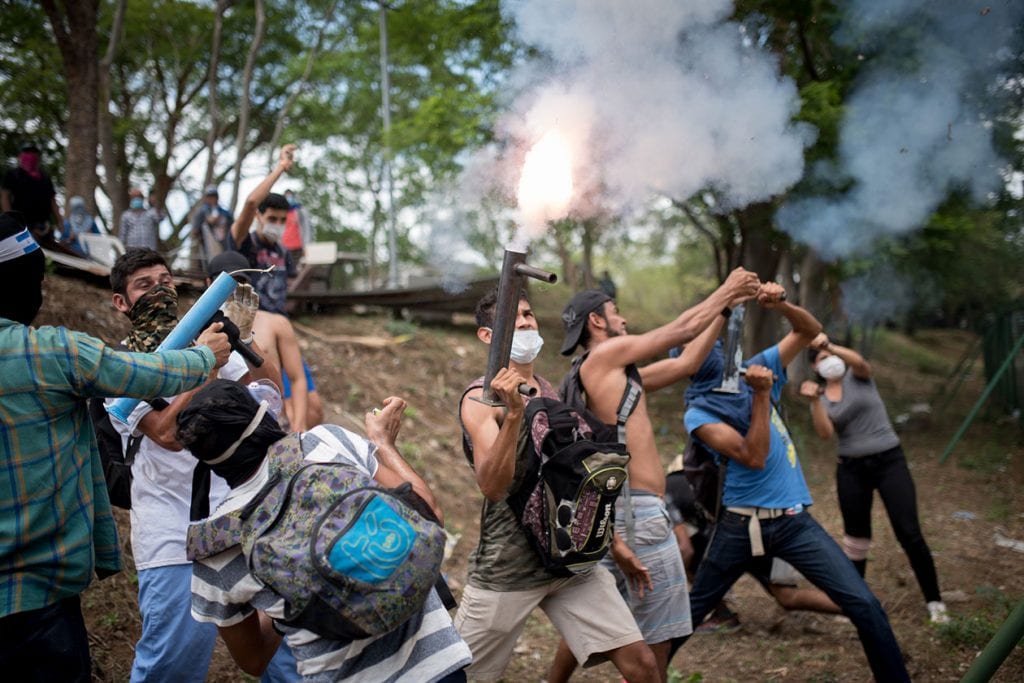 To return to the compound where on July 13th they were attacked by paramilitaries and snipers is no longer an option for him. The fear of being captured, as has happened to several of his classmates, causes nightmares. He is terrified that one day he might be behind bars, accused of "terrorism."
Veneno admits that he has trouble remembering. When suddenly a fire cracker explodes—which is very common in December—he jolts and stops talking. He has been in more than fifteen safe houses since the so-called "clean-up operation." He hardly goes out or talks to neighbors. "Here I am like the rats," he told us the first time we communicated with him.
How has your life changed since that attack, on July 13th?
He remains quiet and then replies:
"My life changed in April. Since then I have not been to my home, I have not seen my mother, I hardly talk to her by phone. I feel far away from my family. I cannot study."
From students to being persecuted
On May 7th, in the precinct of the UNAN-Managua, airs of rebellion were breathed. The media cameras focused on a protest by hundreds of college students demanding changes in the administrative structures of the campus, but within an assembly hall a meeting of the presidents of all the faculties was held: everyone wanted UNEN out. The college students did not feel represented by them. They were fed up with a decade of abuse, rigged elections, presidents for thirty years, and a large list of grievances.
There were already talks in the corridors that students would take over the campus that afternoon. Veneno began to hear mortar detonations and some classmates were getting equipped with an arsenal of stones. At that moment, the FSLN lost the hegemony of one of the most important universities in the country and where they used to "govern."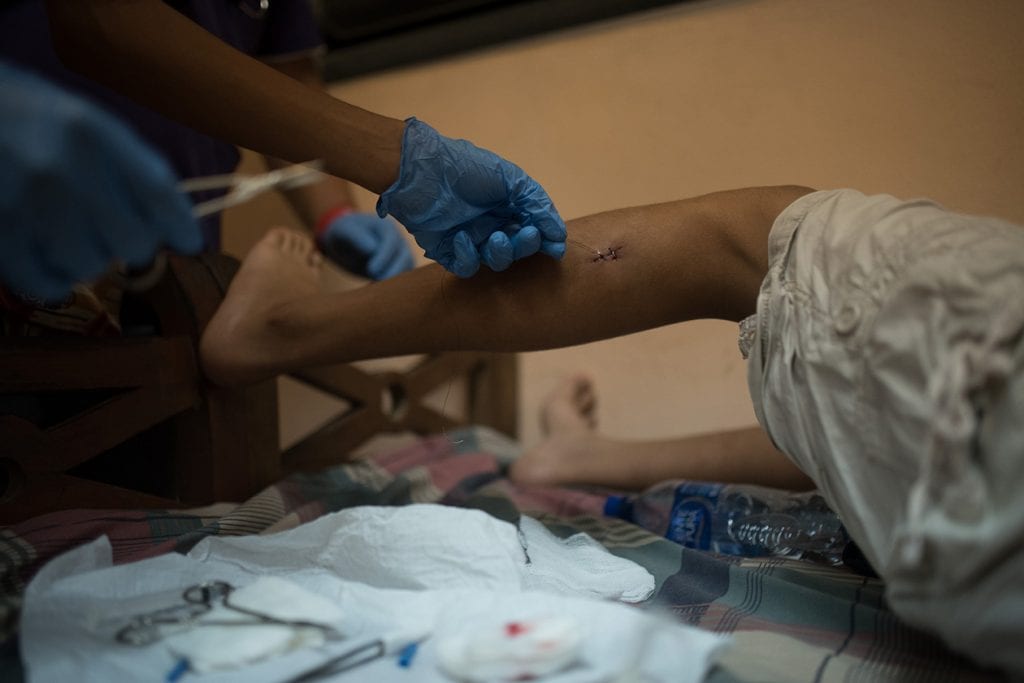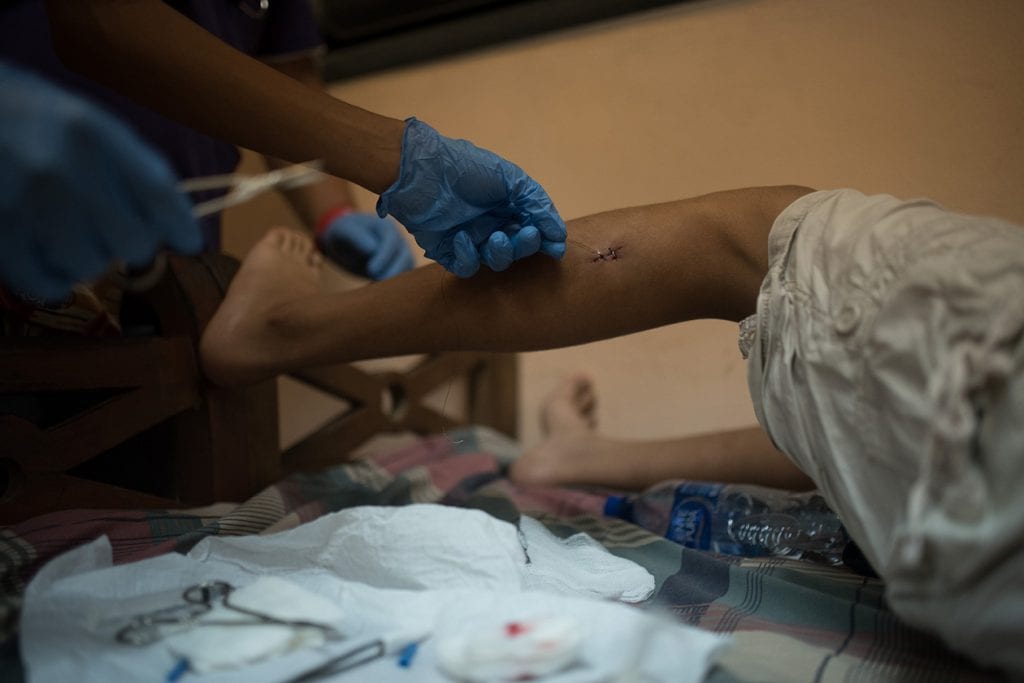 "Every time the students looked at a symbol of the party they took it down. In one of the entrances there were three flags, one of them of the party, it was taken down from the flagpole," he recalled.
That afternoon, Veneno decided to stay with another hundred students. The barricades began to rise and suddenly, the "struggle" was no longer just for UNEN and university autonomy. "We realized that the people who came to show their support told us that they were with us. We joined the people's resistance against this fascist regime," he explains.
Over time, his role would be to administer medical supplies and care for the wounded. Although he was studying to be a dentist, Veneno had some knowledge of medicine and nursing.
When the night would fall, an aura of death enveloped the entrenched. The attacks were constant. The "death caravans," as the Hilux pick-up trucks full of paramilitaries were called, would shoot automatic rifles at the barricades around the university, leaving dead, wounded and kidnapped. In the middle of the suspense, the only thing that Veneno wanted was that no one would die in his arms.
Did anyone die under your care?
"No, never."
But, on several occasions many of his patients were on the verge of dying. On June 23th, Father's Day in Nicaragua, Veneno recalls with effort how on that night he had to run in the middle of bullets to rescue several wounded. This was one of the most difficult episodes that at his 24 years he had to live. When telling the feat, it seems as if the story happened many years ago. The life of these university students took such a sharp turn that most of them have not overcome the stupor and the injuries inflicted by a State that persecutes and murders them.
Veneno explains that the situation of those who had occupied the universities is critical. Hiding and exile seem to be, until now, the only way of life.
"The former occupiers depend a lot on support networks. But, some groups and persons, are taking advantage of us, because they use our struggle to mismanage and divert aid," he denounced.
The seven lives of Tigrillo
A tiger uses its soft coat to camouflage while hunting. It is an agile, fast and climbing animal, even at night. When they appropriate a territory, they are jealous, but are also under constant threats from hunters.
That is what this young engineering student has experienced—baptized with this nickname since April—who has received shrapnel and has evaded bullets. Living clandestinely has forced him to move from one house to another with stealth, like a feline. With modesty he admits to know the country "very well" to move from one end to another, if the situation warrants it. The hardness he projects when speaking led him to be responsible for security at UNAN-Managua, position he assumed since he joined the occupation there on May 7.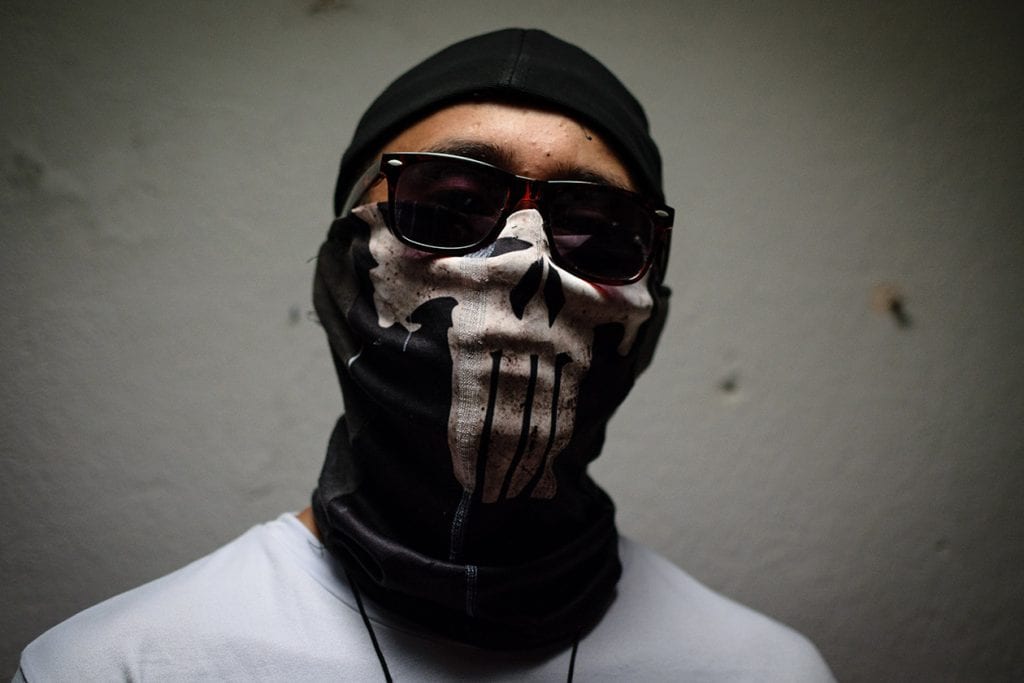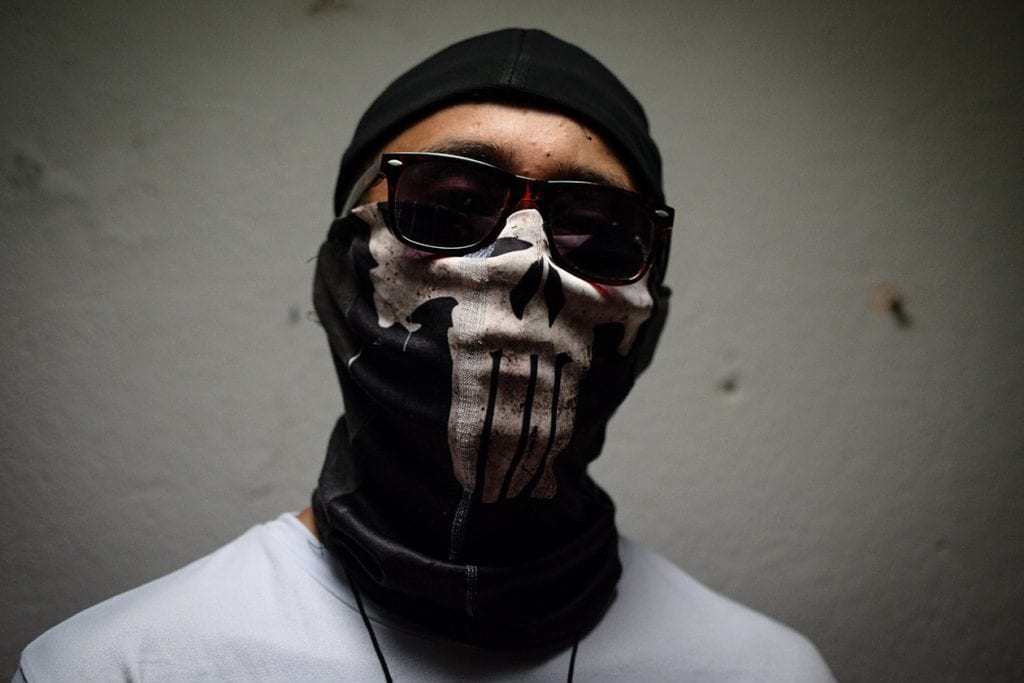 "I cannot even count to you all the places where I have been. By a personal attitude I have decided not to be isolated or locked up, because it leads us to paranoia. You feel more insecure than usual, because the level of intensity is too high. Many went into exile, others remained in the country experiencing difficulties…and then it is enough just to be alive and not be a prisoner," he explains.
Prior to April 18th, Tigrillo only had to take one more exam to graduate from the National University of Engineering (UNI). Now, he has abandon everything. "In this situation one has to sacrifice one thing to win another." He has sacrificed his career to ensure his safety. "I tell myself every day that there are no nights too long or days too dark. Above all, this battle has to be fought many times socially, psychologically and physically. Every day there is exhaustion."
For Tigrillo and Veneno it has been a "very drastic" change, to be one day very close to graduation, and the next one resisting the onslaught of a repressive apparatus.
"Life is heavy," says Tigrillo once more. In his bag he still carries a book as a relic of his previous student life. It is titled "The struggle for power," by former President Enrique Bolanos. He takes it everywhere and is aware that it could be a danger to carry it openly.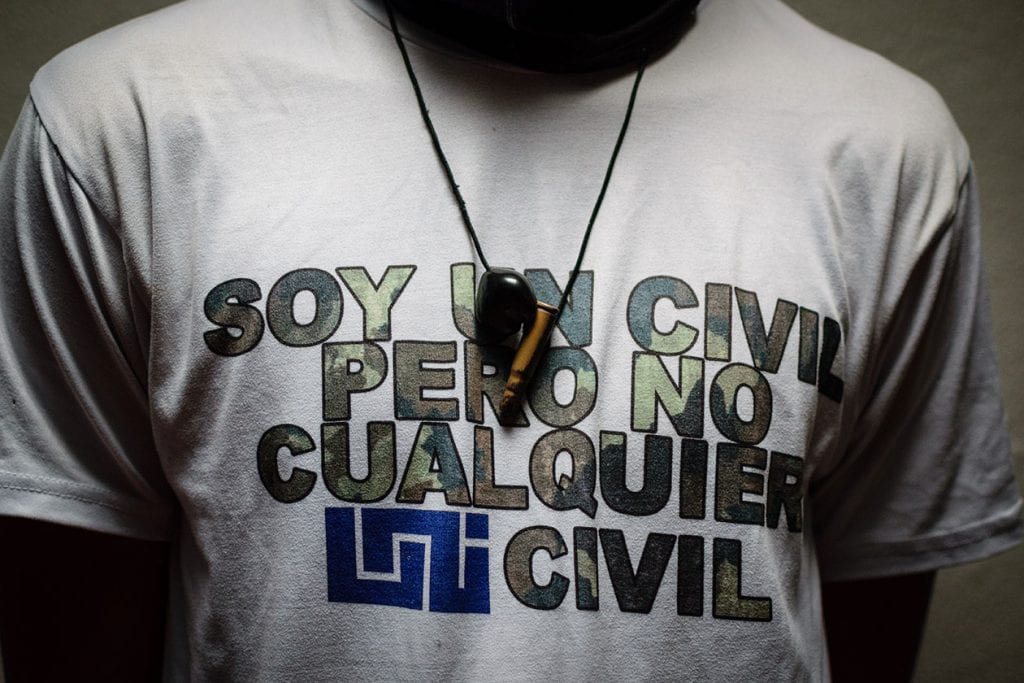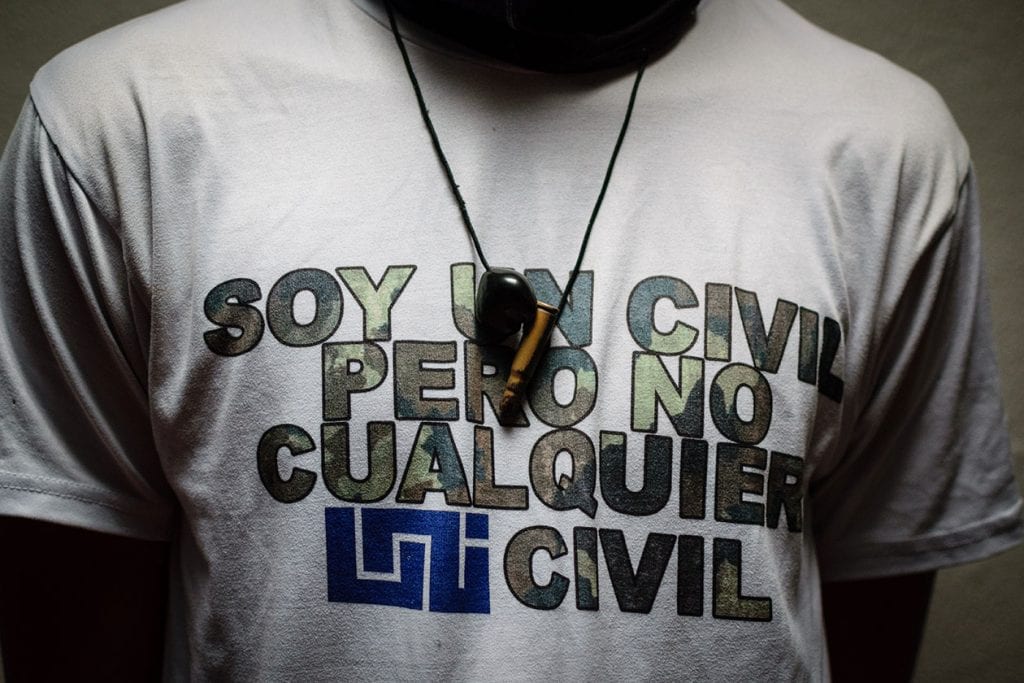 On May 28, Tigrillo was in an attempt to take over the UNI. That day all his companions believed that he had "bitten the dust". The bullet had grazed his skull but, once again, he was unharmed.
Now he had to watch how some of his fighting companions are captured one by one, "One becomes vulnerable and susceptible, because the people who you came to know are in prison or suddenly disappear, and it is hard to live. To be in this country day by day is so complicated," he insists.
Tigrillo has to deal with convulsive episodes caused by stress. At one point he thought that it was due to the bullet that scraped his skull and the shrapnel that he has near his ear. A doctor told him that the cause was not that, it was due to the tension he was exposed during these months.
The "normality" of the UNAN-Managua
Margarita feels that she lives a double life. In the mornings, while she sits at her desk in the UNAN-Managua and listens to the "sometimes subservient" discourse of her professors, she bites her lip and contains her desire to cry. She does not want to be there, but she has to be. In the afternoons, when she leaves the premises, she feels free and that is where her second, clandestine, life begins. At those moments, she combines her tasks and at the same time organizes creative and safe "forms of resistance."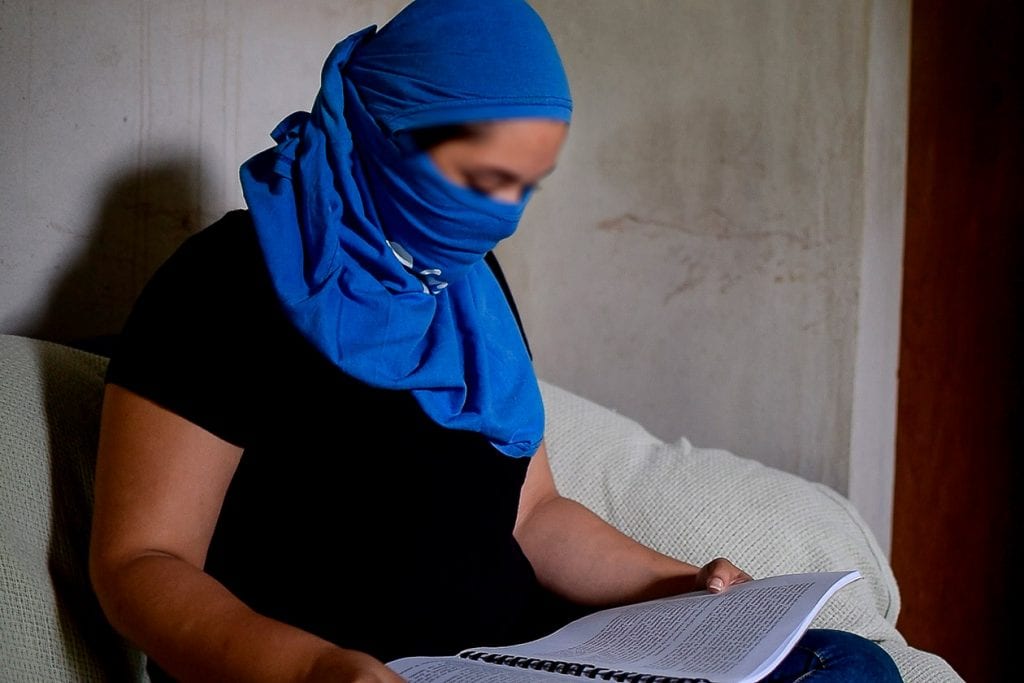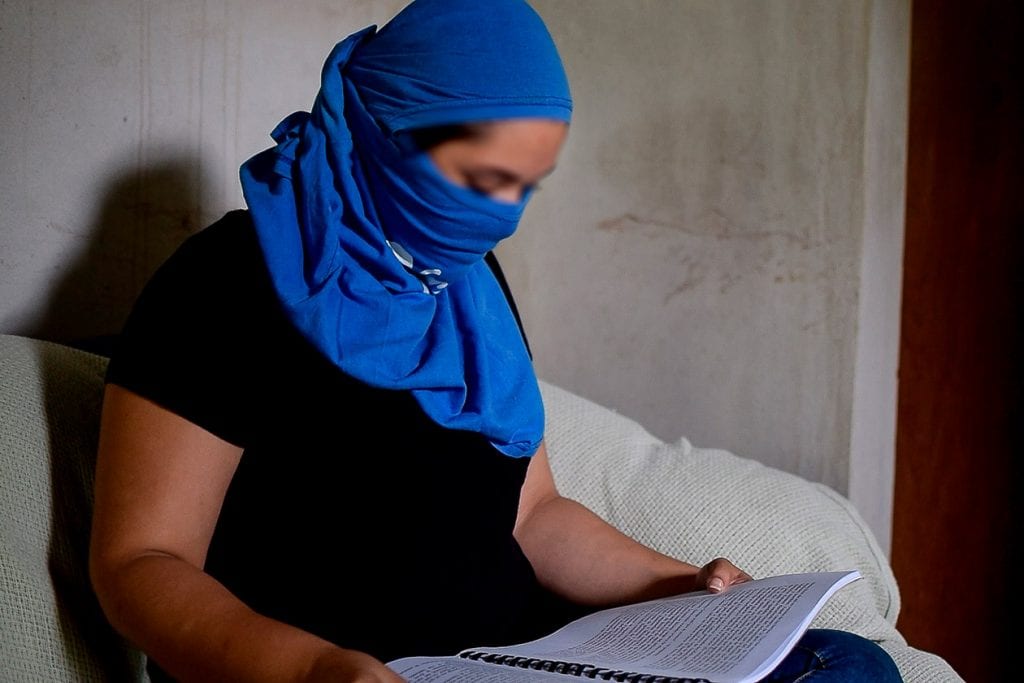 "I decided to go back to school not because my friends' deaths didn't hurt me, but because I was psychologically defeated, and the Director of my university career sent a message saying that anyone who did not return this year would be expelled and their academic record deleted," says Margarita.
She had stayed six weeks at the occupation in the UNAN, from May 7th to June 23rd. She had to leave because her parents came to get her out. This was a fairly common scene. "One day one of the guys was beaten up by his mother so he would go with her," she adds with a laugh.
There were happy moments in the midst of the chaos. One of those was when a group of occupiers danced on the bridge near gate two. The video went viral on social networks. In it, Gerald Vasquez danced without a shirt and in jeans. Before being killed on July 13th by paramilitaries who attacked UNAN, "el Chino", as he was called, danced folklore. Margarita remembers that moment with a cracking voice:
"When I entered UNAN was after classes had resumed, and I had to go through that bridge again. I held back my tears because with Gerald we had very happy moments. Many think that you return to the university because you do not care, or you are selfish, but that is not it. It is a very difficult decision to return to the campus, it is done out of necessity, not because you want to."
On September 29—78 days after the attack on the occupation in which two young men died and a dozen were wounded—the UNAN-Managua resumed classes with strict security measures: only two entrances have been enabled and in each of them security guards thoroughly check students' bags.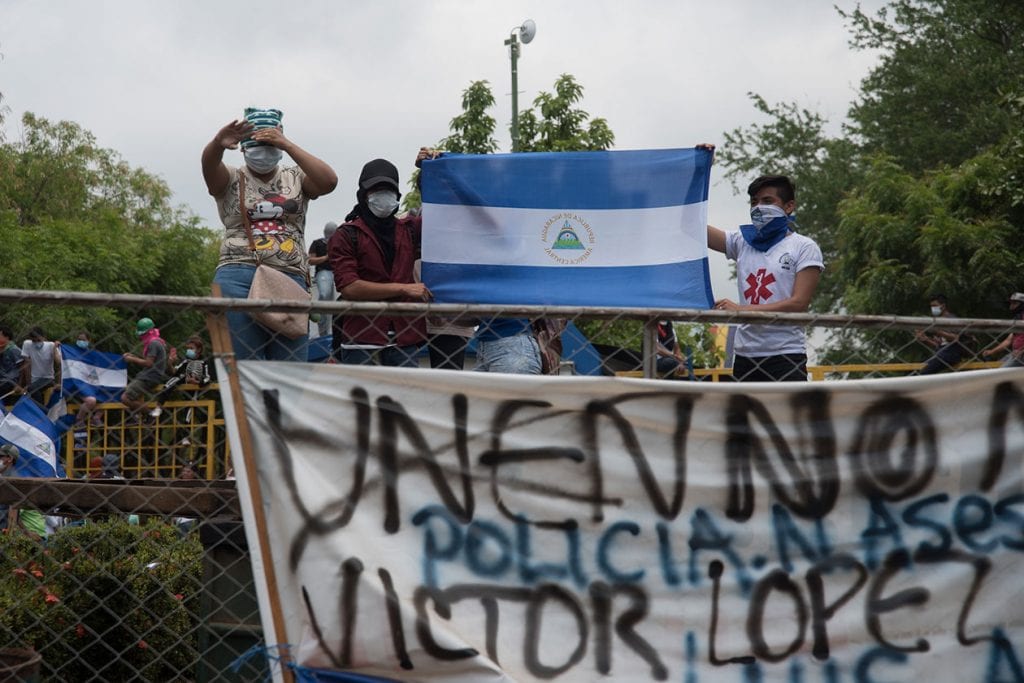 Margarita relates that inside the campus a campaign of "normality" is mentioned, that "everything is OK," but she denounces that there is a lot of surveillance towards students who attend classes. "The fact that there are cleaning staff always listening to what you say and follow you, is an indicator that nothing is normal and that they are afraid," she adds.
The professors also tell students that if the occupiers had not taken over the campus, they would not have fallen behind as much.
"I would say that the students live a passive repression, not like the way they do in the marches. It is one in which you feel observed, that everyone is watching you because you appear to be an opponent and simply are not in agreement. There is no freedom of expression," Margarita assures firmly.
The exile of "Portoncito"

Portoncito (Little gate) decided to escape before being kidnapped and that her name would appear on the list of political prisoners whose sum increases every day. Now she lives in Chiapas, Mexico, and awaits that they attend her process of refugee status. She is 18 years old, enjoys literature and art, and was in the occupation until July 13th and is one of the survivors of the attack to the Divine Mercy Church. During this whole time, she had to accept that her academic future has been relegated to the background.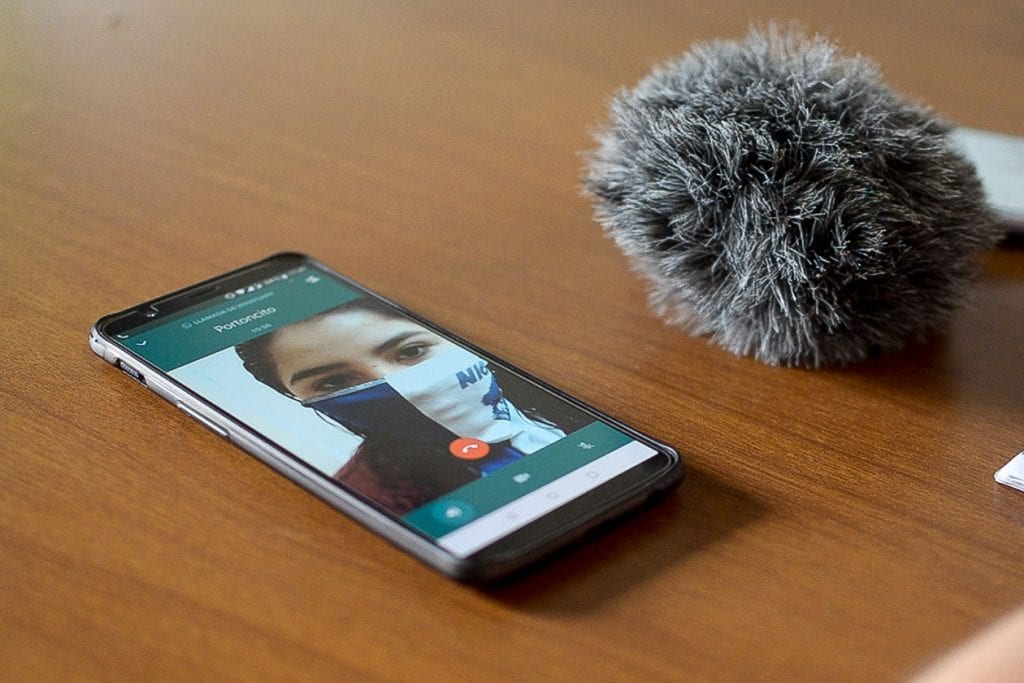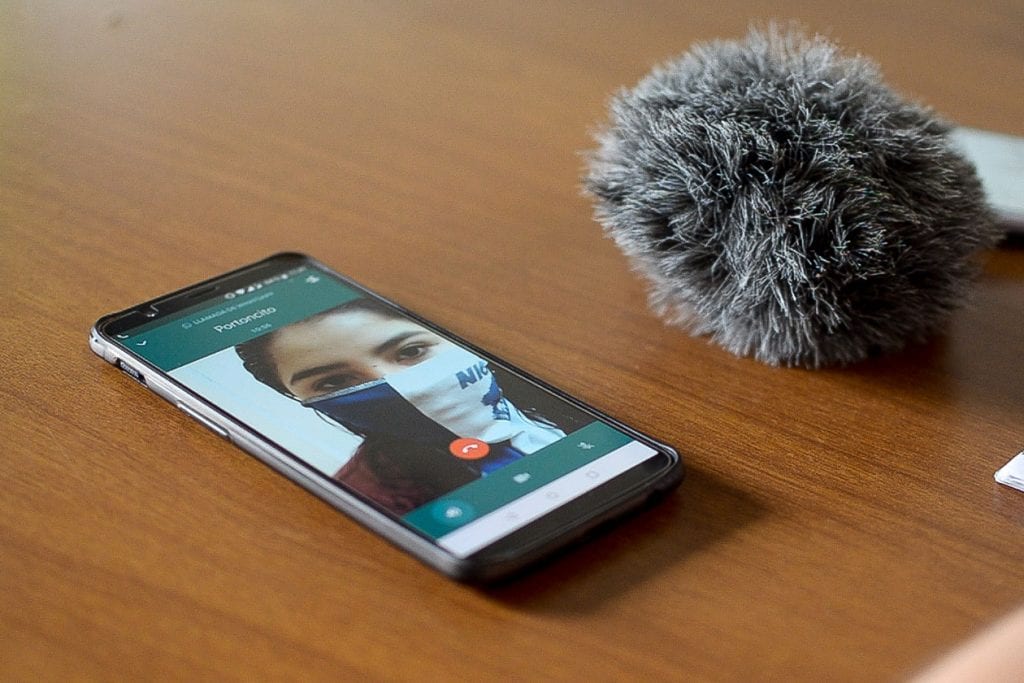 "Now I have nothing. From one day to the next you are no longer a student, you are no longer in your country, you are no longer with your family, nor do you have the same economic possibilities," she says via telephone.
On August 25th, Portoncito cut her hair, prepared her bags and began her journey up north. Some relatives received her in Chiapas, where she began to process her refugee status. She hopes with this procedure to resume her studies that she abandoned in Nicaragua. But, there are wounds that do not heal easily and the extreme conditions to which she has been exposed have repercussions, even in exile.
"When I left UNAN, the nightmares occurred every night. I woke up in the mornings and my mother used to say that I always mentioned the names of Gerald or Jonathan (two young men killed in the attacks). I always said: "I don't want to die."
But, on one occasion, Portoncito felt that she was going to die. It was on July 13th. That afternoon a shrapnel hit her leg. She could not run, but was assisted by a companion that took her to a pick-up truck that would take her to shelter in the Divine Mercy Church. There she remembers how the bullets sounded when they hit the cobblestone barricades: a sound that she will never forget and that is difficult to describe to those who have not hear it.
What has happened since then?
"I have not overcome it. There are moments when I remember talking with Gerald (Vasquez) or with Jonathan (Morazan). Maybe I did not know them all my life, but I can assure you that all those people we met in those conditions became an important part of our lives. They never abandoned us, we were a family, we were united."
Now Portoncito feels safe, but not at peace. Young people her age are accused of being terrorists by the regime, other flee and most remain in hiding. What started as a struggle for university autonomy, ended up demanding the resignation of Daniel Ortega, who prescribed bullets, death and repression to students.
The traumas left by the repression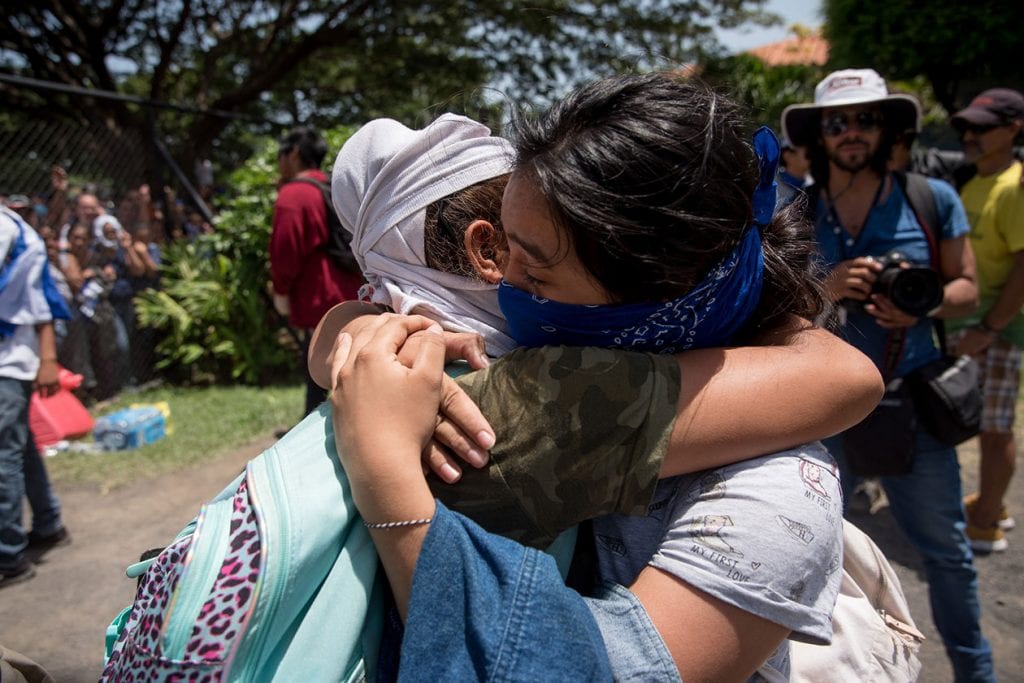 Jenny has given therapy to victims of repression. For her safety and that of her patients, she asked us to remain anonymous. She is a psychologist and admits that she should not hide her identity, but she is afraid of a regime that has proven to be cruel, even against those that provide humanitarian assistance. Her work is clandestine.
What are the traumas and sequels to which these young people, such as those who were in the occupations, are exposed? I asked.
"Being exposed to combat without any possibility to defend yourself exposes you to various traumas, including acute anxiety, long-term stress disorders, adjustment disorders and depression. The main symptoms are seen in sleep, eating, and even sexually. That is because there is a complete alteration of everyday life."
Jenny explains that in the long term these episodes have a "generational" effect, that is to say, the traumas can "encapsulate" and transmitted to another generation. Nicaragua has already experience something similar; the emotional damage caused by armed conflicts of the last century are still unhealed wounds. For this specialist, the history of the country has been plagued by a culture of silence, impunity and forgetfulness, sociopolitical defects that must be addressed as well as the democratic changes demanded by the movements opposed to the regime.
"The scenario for mental health becomes more acute during these moments because the repression has not stopped," added Jenny. "Those who had taken part in the occupations are still in danger and their physical integrity is not guaranteed by the State. What happens afterwards is the vital part. Social reparation is very important for justice, but historical memory is also important. This will allow us to not repeat our mistakes. Reconstruction and pardon without justice cannot be simulated, without recognizing these stories of pain," she concludes.