Nicaraguan Feminists in Exile: "While Ortega Remains in Power, Nobody will be Safe."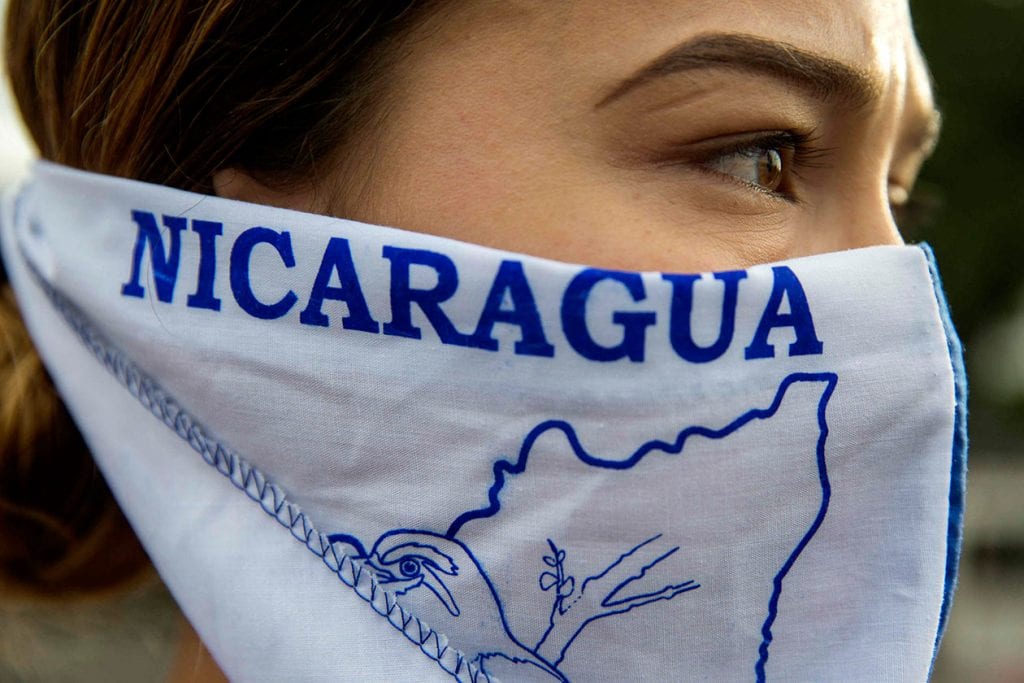 Feminists have been part of the civic rebellion. Some have had to go into exile, and they face their own difficulties. Still, they remain in the struggle for a free country they can return to.
By Cindy Regidor (Confidencial)

HAVANA TIMES – In Managua, Matagalpa, Leon, and different cities around the country, the civic protest has counted on a strong women's participation. Among them, the feminists stand out. For more than ten years, they have maintained a position critical of the regime of Daniel Ortega and Rosario Murillo.
Claudia Tenorio and Imara Zamora are two feminist leaders who added their muscle to the demonstrations against the repression. Today, they're in exile in Costa Rica.
"As activists, we already knew the situation and the problematic scenario in Nicaragua, and we knew that this was going to happen, or perhaps we sensed it," affirms Claudia Tenorio, a sociologist, environmentalist and feminist.
Imara Zamora, originally from Managua, explains that she joined in with the demonstrations in April, during the first days of protest. "Everything became more intense after the first death, and I said: "I need to go out on the street and yell for those who can't."
They were part of the citizens who rose up in protest nearly a year ago. First, because of the State's negligence in combatting a forest fire that was raging in the Indio Maiz biological preserve; later for the attempted reforms to Social Security; and finally, for the violent repression unleashed by the government.
From behind the barricades
I helped with the medical brigades. I know first aid, and seeing that they were closing off our access to the Matagalpa hospital, and attacking at the same time, I felt committed in that sense. I had to help my people, I had to help the kids, and I remained there, helping them, supporting them in every way. I stayed at the barricades too, remaining day and night in what we called the trenches," Tenorio recounts.
In Managua, Zamora supported the protests by bringing humanitarian aid to the Managua Cathedral, and to the Nicaraguan National Autonomous University (UNAN) in Managua. However, as the repression intensified and the danger level increased, her family decided that she should move to Costa Rica.
Exile the only option
Today, they're both refugees in San Jose. Going into exile was their only option for escaping the constant threats and possibility of reprisals for their participation in the civic rebellion. Tenorio received threats immediately after participating in the initial protests over the Indio Maiz fire. "The harassed us on social media, and over the phone. The motorcycle gangs came to my neighborhood to stalk me at home, and they came and threw rocks at my house," she recalls.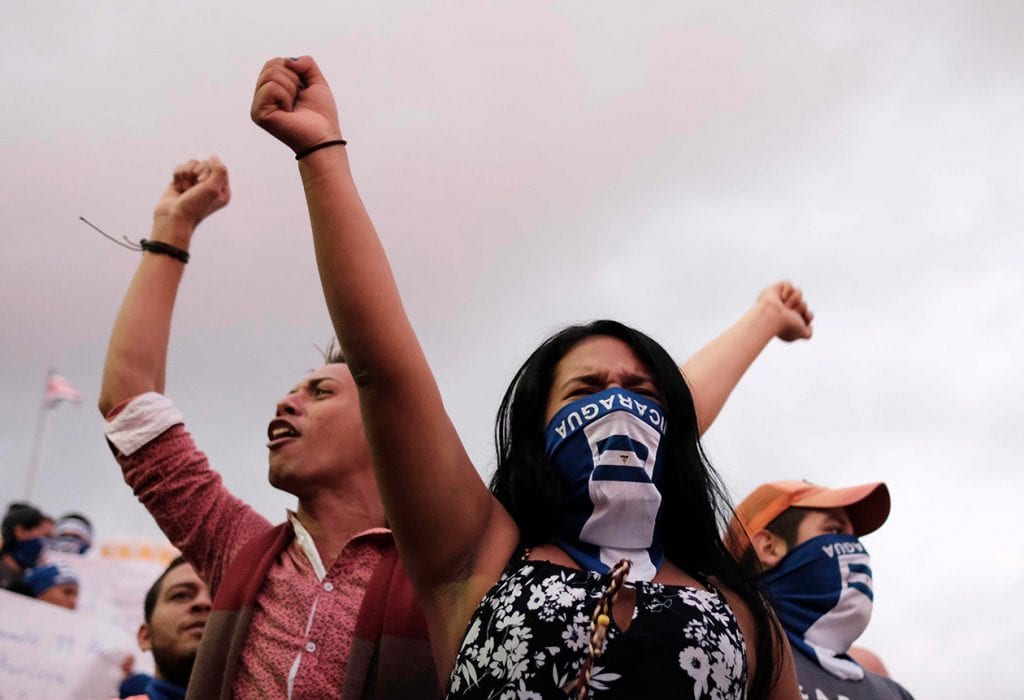 The hardest part of their exile is having to be far away from their families, and being forced to begin a new life in a new country with no economic support.
"We came here with nothing to speak of, and I didn't know anybody…everything was uncertain. When we came into the country, a family took us in. They took us to their home and had us there for some days. Later, we were left with nothing. We had to sleep in the street, in the bad weather. Nevertheless, someone got work for me cleaning floors, cleaning houses, and, well, I did it with a lot of dignity and pride," Tenorio recalls.
"I've left my family and my friends behind and, it's painful, because I really miss them," says Zamora with tears in her eyes.
Still under siege in exile
Even in Costa Rica, they've face harassment and persecution from people sent by the Ortega government.
"I'm still being threatened and persecuted here. In fact, I identified a paramilitary here, and I denounced him. I'm not afraid. I know that by denouncing him my life is at greater risk, but I was a direct eyewitness to how that person came to stalk us during the protests, how he came to shoot at us, how he attacked us (in Nicaragua). I looked directly at him, and so when I saw him here and recognized him, I couldn't stay silent," Tenorio tells us.
The three feminists have also suffered sizable psychological damage, with consequences that can't be erased. Tenorio suffered a miscarriage as the result of her emotional state.
"A short time ago, I was pregnant. A week after finding out that I was, I was filled with emotion and I began to take care of myself and to love it, with many illusions. But on February 25, I received a threatening phone call from the chauffer of the Matagalpa mayor [Sadrach Zeledon]. He told me that he was headed directly to this country to kill me, to shoot me in the head, that he was going to cut me into little pieces, he was going to do nasty things to me, atrocities, he said…
"In the moment that I heard him, I was filled with anger and impotence, and also frightened, because I'm a human being. Then I felt a wave of sadness, and began to feel a severe headache, chills, nausea, dizziness, and I felt my blood pressure drop. Suddenly, I began to bleed heavily. Really, they killed my baby," she recounts.
"Not only have they wounded me, harmed me, but they also killed my child, because if it hadn't been for that call, my baby would still be in my womb today. I know that I'm not the only one who's had these experiences. Many women in this country have had them, our sisters who are political prisoners have had them. The psychological torture and the psychological harassment that they've inflicted on us is horrible," Tenorio reflects.
A feminist group in exile
The women's personal experiences have led them to start an initiative to help other women in this country, the Feminist Articulation in Exile. "Our objective, our vision, our mission is to support the women who are in exile, help with what we can, establish a Women's House and initiate self-support projects to provide work for those women who are suffering xenophobia, suffering mistreatment," Zamora explains.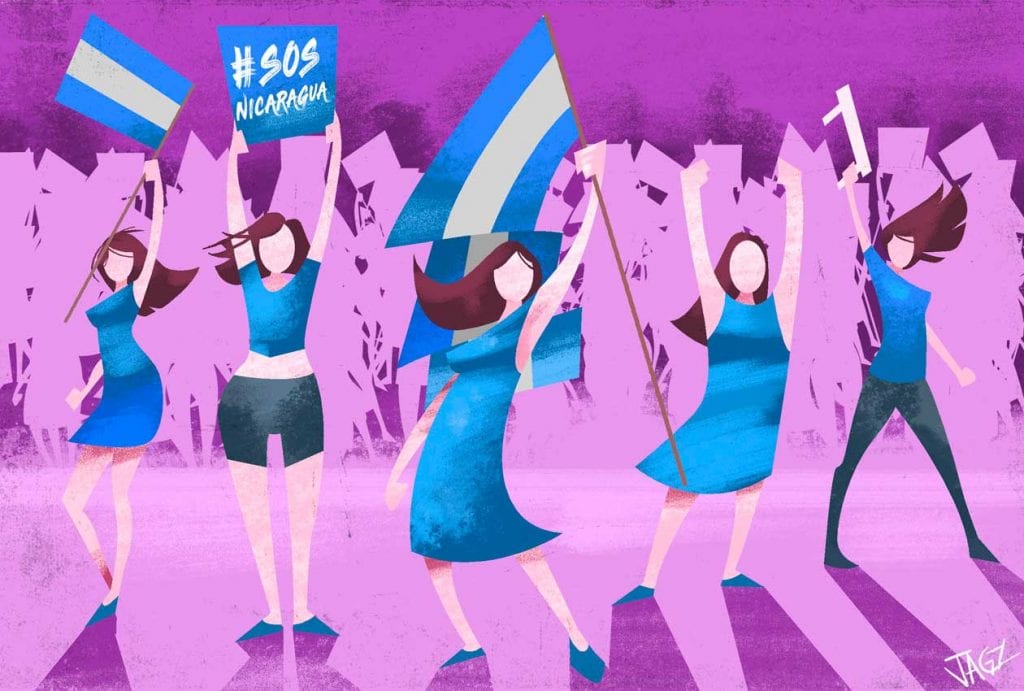 Like many refugees, they all yearn to return to Nicaragua. "I'd love to. If you told me that tomorrow Nicaragua would be fine, tomorrow I'd be leaving. I miss my country, my family, my friends. This Is the harshest experience I've ever lived through. And you know, a person has their goals, their purpose, their life, and for me, all that got left behind in Nicaragua," one of them comments.
They've paid a high price for exercising their right to protest, but Tenorio doesn't regret it. "It's something I'd do again if it fell to me to do it, because I do it for my Nicaragua, for my life, for my family. If these are the consequences we have to face for merely hoisting our flag, defending the blue and white colors, for raising our voices, for defending our rights, then as an environmentalist, as an independent feminist, as a professional, as a person, and as a woman, it was my duty. I couldn't remain with my arms crossed after seeing so much injustice, so much killing and so much persecution unleashed against us," she affirms.
There's still no set date, however, for that return they long for. "While Daniel Ortega is in power, no citizen is going to be safe," they conclude.