Nicaraguan Journalists Persecuted by the Ortega Regime Continue Reporting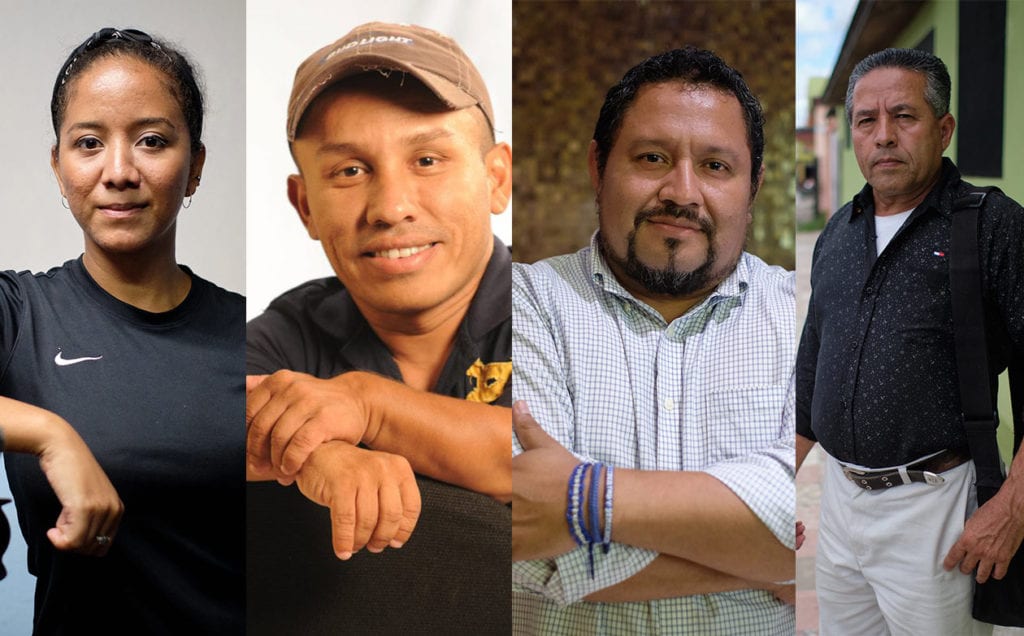 In Nicaragua, independent journalists work in the shadows and suffer the consequences of reporting that which the regime would prefer to keep hidden.
By Keyling T. Romero (Confidencial)
HAVANA TIMES – William Aragon's countenance changes when he begins to speak about his life as a journalist, and with no wonder. Over the course of the last year, he was arrested and detained for a several hours, received death threats and even had to end his marriage to avoid endangering his family. His story is not unique.
For more than a year, journalists in Nicaragua who aren't members of Daniel Ortega's Sandinista Front have been harassed, labeled as liars and arrested. As a result, dozens are now in exile; and those who remain suffer the consequences of reporting on that which the regime would prefer to keep hidden.
We spoke with four journalists: a journalist from Managua, two from the country's north and one international journalist. They told us how their lives changed overnight beginning in April 2018.
The Dawning of Public Protests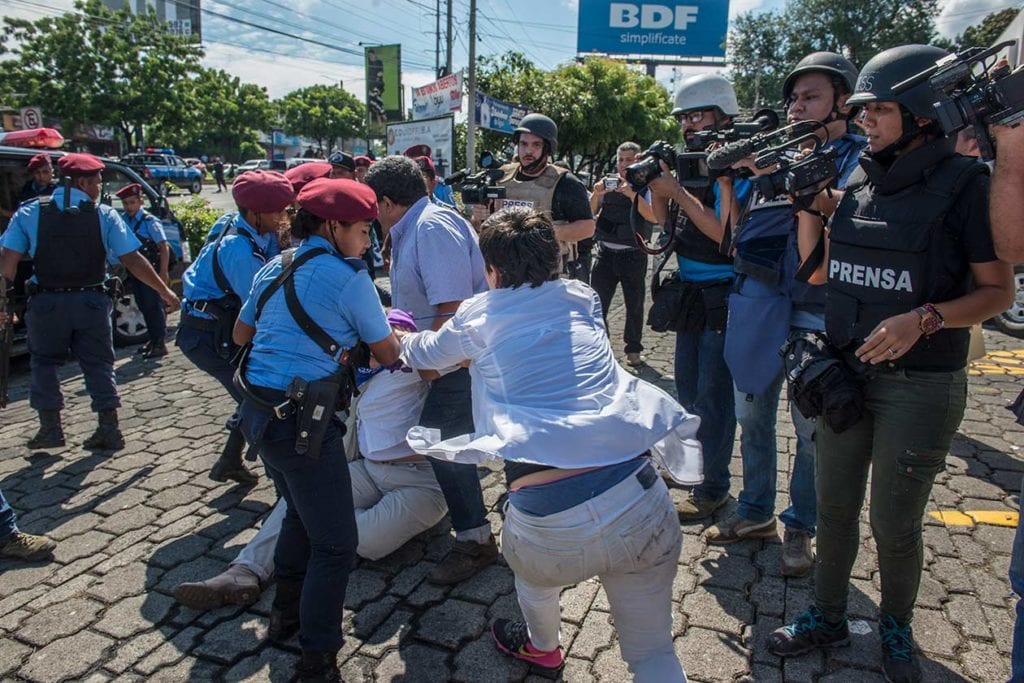 Reneé Lucía Ramos, 27 years old. Journalist with the international news agency EFE.
I'm the only journalist in my family. I remember that when I told them I was going to study journalism, my grandmother got upset. She said that it was too dangerous. My mother did the same. My father's only option was to support my decision. I always thought that journalism was dangerous, here or anywhere in the world. But I never imagined it would be criminalized in this way. It's just that one doesn't really take it seriously until things happen.
I began working for EFE six years ago. I was an intern at first, and then I joined the writing team. I'm a television journalist. Throughout the last year, my mother told me on various occasions that I should quit, that this career is too dangerous; but it never occurred to me to do so.
Journalism changed completely since over a year ago. I remember that before, as a journalist with an international agency, we could cover some of the governmental events. Now our access is completely denied, and there is more discrimination against the media and journalists outside of the government.
I have been defamed on social media. They've said that I'm a liar, that I'm paid by a certain country to the north and that if people see me on the street, they should run. Some also say that if they see me, they're going to assault me; but I prefer not to respond because, in the end, I'm doing my job as a journalist and they are doing theirs, in defaming me.
My life changed completely during the crisis. I had to change my routes from home to work. I learned how to run from bullets and to protect myself from the National Police. Last year, on May 28th, I became trapped alongside the agency's photographer, Jorge Torres, among anti-riot squads on University Avenue. We had to throw ourselves beneath a car to avoid the bullets, and he (Jorge Torres) had to shout, "We're press, we're press," so they'd let us go. For a moment, I thought perhaps it was all a mistake, but when you see a woman and a man with a professional camera in his hands, it's hard to be confused.
During the worst months, from Abril through July, I cried every night. What was being seen in the streets was horrible. I felt a heaviness in my chest, and I remember hugging my mom and telling her, "What's happening is horrible. I can't take it." She would hug me and tell me, "Quit!" And then I would say to her, "How can I quit? How will the people know what's happening if I stay home? Everything that's happening is so painful for me and I can't just let it be."
For me, being a journalist is a way to help Nicaragua, by telling the outside world everything that's happening, as a witness. No one has to tell me what's happening – I've been there, at all the demonstrations, both in favor of the government, and against. The people must be informed about what's happening, in a balanced way.
Terror in the North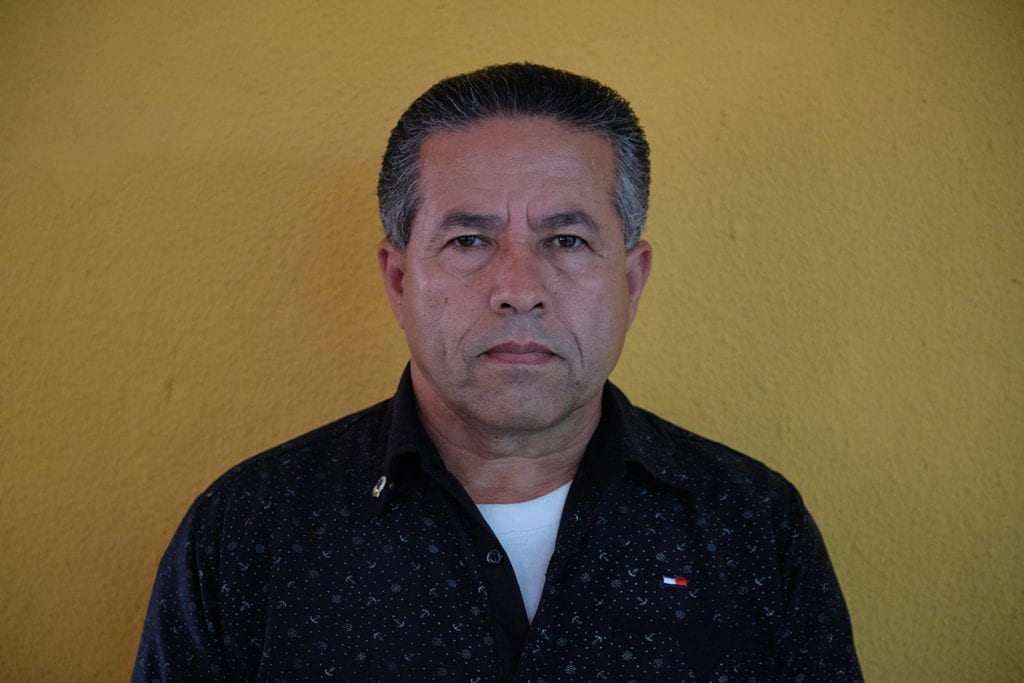 William Aragón, 50 years old. Correspondent for La Prensa in Nicaragua's northern region.
I began working in journalism at the end of the 1980s and produced my first radio programs. But then I went to Germany, returning when Violeta Barrios de Chamorro won the presidency. I spent the Contra war years in the military, and I think those times were more difficult because I walked around carrying a weapon. Now my only weapons are a recorder, a notebook and a pen.
I've been working as a correspondent for La Prensa for 15 years. At first, I wrote about (the department of) Madriz, and now I also write about Estelí and Nueva Segovia. One risks one's life being a journalist in this region. There are a higher number of paramilitary forces here because, according to the government, this is the bastion of the extinct counterrevolutionary forces.
So, we journalists try to be almost invisible here in the north. I must move about only with people I trust, and not let myself be seen too much. If they see you, they'll steal your equipment, attack you, intimidate you and even try to kill you.
In this region, one can't even interview market vendors because they've been threatened with having their market stalls taken away from them. The population is now terrified of giving statements. No one wants to be recorded or photographed. And they want to be identified even less when they denounce something.
I don't doubt that something bad may happen to me. A few people have said that they want to kill me. Carlos Maldonado, who is a city councilman, and a paramilitary, once pulled a gun on me and pointed it at my head when I was covering a protest at the Yalagüina, Madriz junction.
Another example is when they came to shoot at my house one year ago, on June 26th. I found out that one of those who came was Nelson Sánchez, a Sandinista who was once a representative in the National Assembly, as well as my neighbor. He recently threatened my life during a soccer game.
Also last year I was detained for five hours (by government forces). On November 2nd, I was with my two young daughters on a bus to leave flowers on my deceased loved-one's graves. Some police officers came on board and took the three of us to the police station because I didn't have my national ID card with me. They said they couldn't identify me, even when I showed them my identification as a journalist and my social security card.
I was questioned by about 7 officials that day. Finally, they let me go because my situation had gone viral. I left the station with my girls feeling disoriented and went and sat down for a while in the park, trying to understand what had happened. The only thing I could think about while being held prisoner was my daughters.
Because of the crisis, my marriage ended because my wife felt that being with me was exposing her to danger. I don't blame her. But I also don't want to abandon journalism. My family tells me I should leave the country, but I've decided to stay because, if the man in the presidency says he is wants to stay, then I want to stay as well.
This, however, comes at a cost. Now I can hardly sleep, my wife is far away and I feel that the trauma caused by all that I have gone through is not something I've been able to overcome. I probably won't overcome it until this situation is over, until there are no more paramilitaries and until Daniel is gone.
Resisting Threats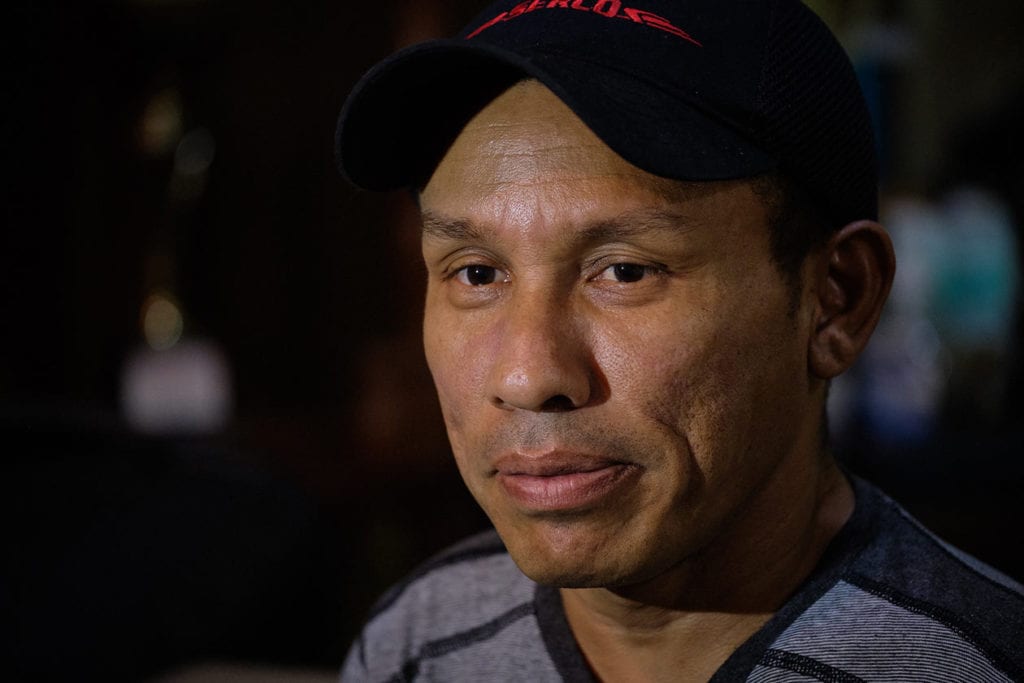 Roberto Mora, 41 years old. Journalist with Radio ABC Stereo.
For me, journalism is a passion. It's a dream come true. It cost me a lot to become a journalist, with five years of studies in the Central American University (UCA), and all the considerable difficulties I had to face in order to get here. So, I can't quit. I've had the opportunity to leave, but in the end, I stay.
Our salaries aren't great, and we live with sizeable economic difficulties. Yet my greatest satisfaction is having a close relationship with society, being able to inform others, and to exercise my profession. I was a correspondent with La Prensa in Estelí for 12 years; and in December of last year I was let go because of the crisis and its effect on the newspaper. Now I live only on the salary I receive from my job as a journalist with Radio ABC Stereo. It's more difficult, but I continue to inform others.
This might be the worst period for journalism. I've seen so many hard working and well-prepared colleagues leave. Many of us who have stayed face harassment and death threats. I've heard about Nicaragua's previous Catacomb Journalism*, and although we aren't doing exactly the same thing now, we have to do our jobs as though we were criminals, as though we were doing something illegal.
The Estelí Chief of Police threatened me. He ordered the confiscation of my car while I was interviewing youths arrested during the protests. He said I had weapons in my vehicle, and when I started to record him, he said I was threatening him. At that point, he let me go.
That was followed by threats I received on social networks. Here in the north, it's harder to be a journalist because there are so few of us. It's easier for them to identify us and try to intimidate us. In Managua, the journalists are more numerous; and I've seen how they move together in groups and are therefore more protected when covering news events.
I think what bothers the government and its supporters is that, despite everything, we continue to practice journalism. The government wanted to hide what was happening at first, but it didn't work. We reported the facts, we reported because we had the evidence, and that's what we made public. That's why, now, more than ever, Nicaragua needs journalism, but real journalism.
Boletín Ecológico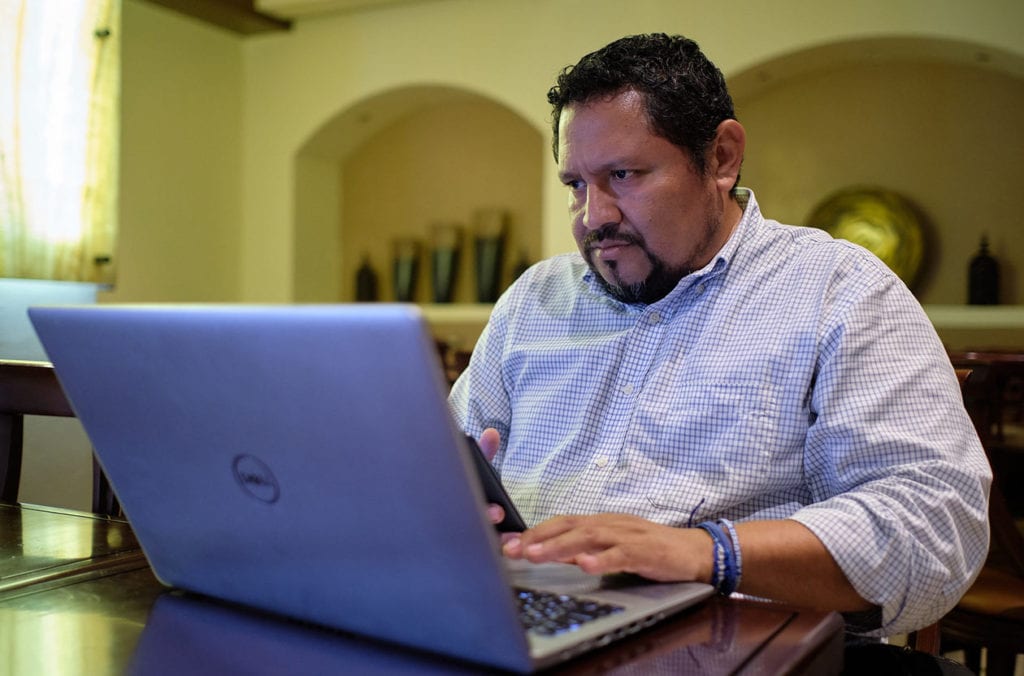 David Quintana, 52 years old. Journalist with Boletín Ecológico.
I began my journalism career reporting on the environment. That's the field in which I decided to concentrate when I left the university. I began working with the Boletín Ecológico 14 years ago, and until April 18, 2019, I didn't see myself writing about anything else. What happened on that date was, for me, a radical change.
I remember that on that day I was coming from my office when I saw what was happening in the Camino de Oriente (commercial section of Managua). That's when I got out of the car and began recording everything. I didn't get robbed that day, but the next day I didn't have the same luck.
After that, and after seeing that there were few television channels transmitting the news, I decided to change my format. I had learned journalistic techniques before, but I knew nothing about what we would all come to learn during this last year – protecting ourselves from bullets, running, defending ourselves from paramilitaries.
Before the crisis, those who sent threats to the Boletín Ecológico were loggers, or some public officials, when we found instances of corruption. But as of a year ago, the threats have been coming daily. They tell us to cool it, that they know where we live; and they lay traps for us by saying that a family member is in trouble at a certain site, so that we'll go there.
I honestly never thought that a career in journalism would reach these extremes, and I don't think we were prepared. We of the younger generation have been more focused on studying for postgraduate degrees, on research…but we were never prepared to go to war zone. That's what we were experiencing – war battles in which we had to run for our lives. And those journalists who had been covering the wars (in the 1970s and 80's) are no longer working in the profession.
My life isn't the same. I hardly sleep. I don't go out to have fun. And since this all began, I've only taken one day off, and it was the day that they released some political prisoners; and I admit that I felt really bad. Now I sleep in different places and my wife and I grew apart because she left the country. Likewise, some family members even tell me not to visit them because I would be exposing them to danger. That hit me hard, but I'm determined not to give up being a journalist.
Now, David Quintana is journalist, driver, cameraman, just about everything, at the Boletín Ecológico. I do my job because I know that the pictures I'm able to obtain will be used by my colleagues who are unable to go to the sites, or those who are reporting while in exile. The only way I'm going to leave this struggle is if I get sick. That's all.
—–
*Periodismo de Catacumbas: Journalism which informed Nicaragua's citizens through private and semi-private, often clandestine efforts, in spite of intense repression by the Somoza dictatorship during early 1978.