Not Black or Mulatto or White, Just Cuban
Osmel Almaguer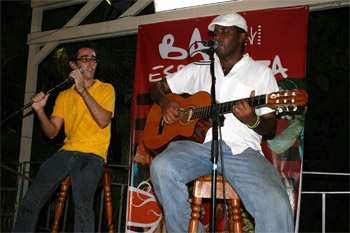 HAVANA TIMES, October 18 — Cuban troubadour Fernando Becquer (Havana, 1970), began to perform in the late 1980s.  Since then his performances have been marked by his own style, one that defines him and has marked his artistry.
"Fernando's musical approach covers various genres of popular Cuban music.  It's a kind of conversational song that many classify as a unique troubadour sound.  Throughout his career, his charisma and interaction with the audience have facilitated his participating on radio and television programs.  Now his work is known throughout the country," said poet, journalist, and researcher Antonio Lopez Sanchez, who added, "Fernando Becquer is like his songs and his songs are like life."
HT:  Fernando, I suggest starting with the most reoccurring question of all.  The one that I'm sure you've had to answer numbers of time.  Tell me about your beginnings in music and how you decided to dedicate yourself entirely to it.
Fernando Becquer:  Man…I started in the late '80s eighties, between '88 and '89.  Earlier, in 1987, I set out to write songs.  I still didn't know how to play the guitar.  A song came to me as well as a melody, and things just started to fit together.  I created a lot of songs that way.
At that time, for me a song was the best way to say "I love you."   I set out to learn to play the guitar (or at least fumble around with it), and I almost succeeded.  I went to every park in Havana with a borrowed guitar, overcoming my shyness and flirting with the first girl who would crack a smile.
In that situation I started coming up with lots of songs.  Soon I was hooked for good in the horribly beautiful world of trova, and I don't regret it.
HT:  What musical sources have you nourished yourself on to get here, and which ones do you prefer for your own enjoyment?
FB: Many people associate me with Bola de Nieve and El Guayabero (which is an honor).  Personally, I feel I have the influences of all the different types of Cuban music that I know, though there are still ones with which I have to become familiar.  That being the case, I want to stress that Cuban Nueva Trova is what marks me.  And when I say Nueva Trova I'm covering from its founding until today.
Los Van Van, Irakere and the Filin (Feeling) movement owe much to Nueva Trova.  As for me, without making an effort I heard it over and over again thanks to my grandfather, Evaristo, who was a friend — or "cumbila" (buddy), as he would say — of all of the styles.  But Nueva Trova is a style that I love.
I also got involved in Anglo music, in a word, "Yuma" music: Michael Jackson, Lionel Ritchie, Stevie Wonder, Kool and the Gang.  I was also a halfway "friki" (rock follower), being a fan of the Beatles, Led Zeppelin and Rolling Stone.  I used to collect their photos.  In short, what madness.
After I began to take music seriously, I went to the roots: Maria Teresa Vera, Matamoros, Sindo Garay, Manuel Corona.  I would sneak into the peñas (performances) that were given at the "Casa de la Trova" in Centro Habana.  I was hoping to get lucky and hear señora Hilda Santana, who according to experts was the best second voice of all the Cuban singers.
Thanks to my mother, who was working at the Cuban Artists Agency, in the department of festivals and competitions, I was often able to attend the concerts of Joan Manuel Serrat Alberto Cortes, who both influenced me – particularly with how I deal with the stage.
I can't conclude without talking about the music of Brazil.  There was one Fernando Becquer before hearing the music of Tom Jobim, and another one after I heard him.  There are many names to mention in that South American giant, and I'll conclude this response with four of them: Caetano Veloso, D'Javan, Chico Buarque and Roberto Carlos.  Brazil is very much Brazil.
HT: The lyrics of your songs put you in that area defined as being between the troubadour and the comedian, a feature that saves you from the problem of overly simplified classifications.  But I suppose this also creates some conflicts in your profession.  What are the advantages and disadvantages of creating music the way you do?
FB: Every song is an expression of a mood, and mine are no exception.  Sometimes I say things that make people laugh.  Likewise, I say things that make them cry.  Of course with me the audience wants and expects to laugh, especially when the performance is short.  If you attend my concerts that are more than an hour and a half long, you'll see that there's everything and something for everyone.
Some say I'm a comedian, which is something I like, but I still don't think I am.  Others say I'm a poet, but I don't agree with that either.  Some say this, others say that and many say something other, but I still keep on keepin' on with my guitar on my shoulder and my voice in my throat, furnishing life to my refrigerator.
HT:  You use a whole system of popular elements (voices, situations, witticisms, comical situations), ones that you use to appeal to a wide audience.  Where would you set the boundary between high culture and popular culture?  And where is the line between popular culture and chabacano (vulgarity or street culture)?  And within which realm do you prefer to root yourself?
FB: There doesn't exist high, popular or chabacano culture.  What exists is good music and bad music, according to the taste of the listener.  And the troubadour who "roots" themself lacks inspiration.
HT: You maintain a good relationship with your "brother" Adrian Berazain.  How much do you think this closeness has benefited the two of you, both personally and professionally?
FB: I've known "Adriancito" since before he got started.  In part, I feel a little responsible for his decision to become a troubadour.  He says he's learned a lot from me, but I think we both learned a lot from each other.
"Berita" as some people affectionately call him, is currently the one who gives me my feedback.  I constantly land my ship on his practical reality in moments of spiritual flight, and at the same time I try intensely to raise the intellectual level, though it seems it's the other way around.  The best thing about this occasional union is that it's not planned.  We're victims of a spontaneous camaraderie.
HT: To what extent do you feel like a "committed chronicler" and, if it's possible to say, what are your causes?
FB: I feel like I'm a chronicler, it's that simple, but for now I don't have any plans to commit myself.  When I do I'll let you know and invite you to the "wedding."
HT:  How do you define Cuban trova movement in its two times (the past and present) and a how do you see its future?
FB:  Trova is one single entity and it has never ceased having either good health or a good future.
HT: What do you think about Havana vis-à-vis the provinces in terms of talent and the dissemination of it?
FB: The relationship doesn't have to be one of the capital in relation to the provinces.  The relationship is between creators, and that has never ceased to exist.  It all depends on the personal commitment of each person.  If you want them to put you on the radio or on television, you have to work on the basis of that.  You have to get up early, pick your CD and take it on up to the program directors.  In the end, the one who perseveres succeeds.
You have to analyze which television program fits your musical style and tell the people who produce the program that you want to be on it.  You give them your music and that's it.  Some of them will tell you no, or maybe tomorrow or next month.  But you can't let fatigue get the better of you.  If you keep insisting someone will give you a chance, and that's when you prove who you are.
There are TV shows that I would like to be on.  Their directors tell me they'll give me a call, but then they don't.  And well, they're within their rights.  In your house you allow those who you want to come in.  In contrast, other television programs open their doors to me, even their hearts.
In conclusion, whether it's in Pinar, Santa Clara, in Guaimaro or Guaso, the important thing is to make songs – and that the public listens to them and dreams with them.
HT: What's lacking with the new generation of Cuban musicians?
FB: Time.
HT: Cuba is one of those countries in which today's ethnic-racial debate is the fiercest.  The first song I ever heard of you play you touched on that theme.  If you could send a message that contributed a little peace to humanity in this sense, what would it be?
FB: Everyone enjoys the things they like, and everything has a different flavor.  I'm not black or mulatto or white or nothin' – just Cuban.
HT: You're a songwriter who has achieved some success.  What "things" do you still have to do?
FB:  A lot.
Related post about Fernando Becquer and his music.  Fernando Becquer's "Afro"