Paco, a Fighting Champion
By Ivett de las Mercedes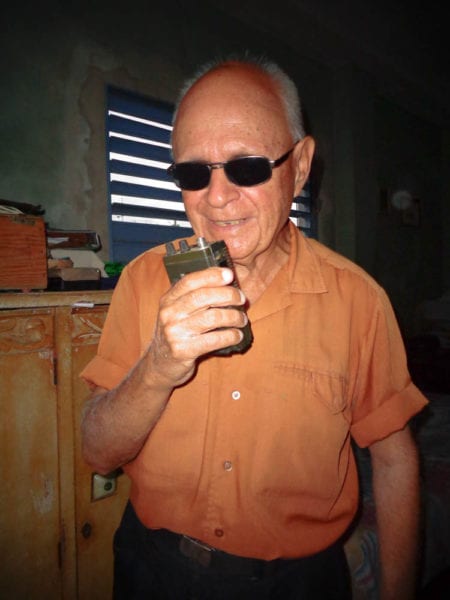 HAVANA TIMES — Here in Cuba, the ANCI (Cuba's National Association of the Blind and Visually Impaired) has existed ever since 1975 and it's main aim is to incorporate the blind into civic society. Francisco Vila Flores (Paco) is 73 years old, he is one of the founders of the association and he feels fulfilled with his work as the editor of Braille reading books.
HT: Braille is a tactile reading and writing system. Was it difficult to learn?
Francisco Vila: It's very easy although it does require practice. It's based on a representation system that uses cells with six raised dots. It's universal, it can be applied to the alphabet and numbers. I've known it since I was four years old. I began to work in a cooperative that sold lottery tickets, which allowed me to move from one place to another. When the lottery disappeared in Cuba, I began working as an editor at a printers. I have always been interested in literature in general and I've had the opportunity to read a lot and also listen to books in audio.
HT: How did the Braille book come about? Is there a before and after new technology?
FV: Before, books were handmade; there were many different titles but not many copies. Thanks to new printers, we have been taking part at Havana's Book Fair for a few years now, where we have been well-received by the blind community, by really young readers too. Candelaria's municipal library is one of the most varied and complete in the country when it comes to Braille books. We also have a large quantity of books that are used by (blind) readers when a member needs to consult them and a computer room that all of the association's members can use, where we can do research, get information, record mp3s and Cds and consult and copy audiobooks.
HT: How have new technologies helped?
FV: It's been very useful to us because now we can copy the books we're interested in onto USB drives, mobile phones and external hard drives. Many years ago, the only way we could read was with a printed book: bulky and hard to transport, even more so for children, although it is still the most used option as not everybody has access to these new devices yet.
HT: Do you consider yourself an avid reader?
FV: I have read many books, including some by Gabriel Garcia Marquez such as Chronicle of a Death Foretold, No One Writes to the Colonel, In Evil Hour, Love in the Time of Cholera; he's my favorite author. By Vargas Llosa: The Notebooks of Don Rigoberto, and a lot of poetry by Jose Angel Buesa and Amado Nervo. I enjoy reading although I don't have very much time to dedicate to it, my job at the printers doesn't let me, I also work as a radio ham. I get in touch with other radio hams from other countries, I have a license which authorizes me to have a transmitter. When there is a hurricane, these transmitters run on batteries. We talk about a lot of things in this way: art, our customs, Christmas.
HT: Have you been blind ever since you were born?
FV: I have been blind from the time I was four onward. We used to live in Santa Clara and my father liked to go out hunting with his friends and I loved collecting the shells. I was a very restless child, I couldn't sit still anywhere. On the day of the accident, my father's rifle was stuck, he shot the floor and didn't realize that I had bent down, the bullet went in through my temple and came out through a tear duct; it affected all of my vision. I was taken to different hospitals to see if I could be cured by some kind of operation, but it was impossible.
HT: Did you go to some kind of learning school?
FV: Yes, they taught me to get dressed, to go down stairs, I am very skilled at doing up laces, putting on matching clothes, I know some colors because I knew them when I was a child. Everything is organized and in its place in my room, that is one of the main disciplines you have to have, change disorientates me.
HT: Are you well looked after at the ANCI?
FV: Yes, we have a lot of activities: reading groups which guest writers and artists attend, walks on the weekend, domino games, quizzes. We take part in theater plays, we have traveled to present these plays in other provinces. I have made screenplays in Braille and I have won some competitions. We also visit the Infanta movie theater, the only one of its kind in Cuba with audio description. At the end of the year, we have many activities. We have gone to churches to present Christmas-related works sometimes and you can't forget our end of year party.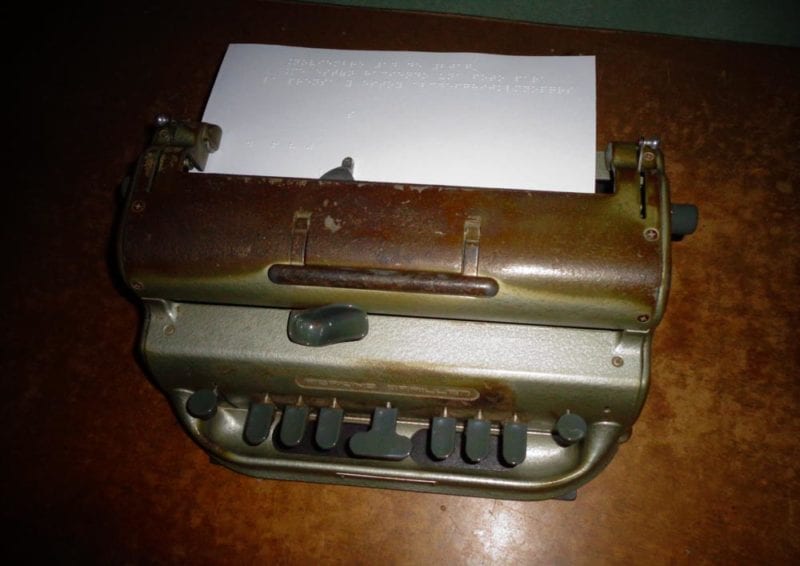 HT: When you go out and need to buy something, what do you do about money?
FV: Before leaving the house, I turn to my family for help, I place money in every compartment of my wallet, I have a good memory for these kinds of details. When I get change back, well that depends on the person's conscience, although there are almost always witnesses and they help me. There are a lot of people who reject us just like what happens with people who have physical disabilities. The majority of the blind people I know live alone, it's hard to find a partner. There are very few blind people who are married.
HT: What do you think about Cuba's architectural barriers?
FV: In Cuba, this is a big problem… They have made pedestrian crossings but they haven't thought about blind people, they could put up a traffic light with audible signals. Streets and pavements are broken here and a lot of us have had accidents.
HT: Have you ever felt neglected by society at some point?
FV: A lot of my companions and I have the solidarity of many people, there is always a friendly hand that helps us cross the street, that helps us get onto the bus, there are even lots of people who offer to help us with our errands; but there are also unsympathetic people and to them, we are a burden.