Pepe Gavilondo: "What More Could I Ask for Than to Compose Ballets"
The young Cuban musician ventures, for the second year running, as the Mexico City Ballet's composer, a new contemporary ballet company founded in this Latin American city.
By Maya Quiroga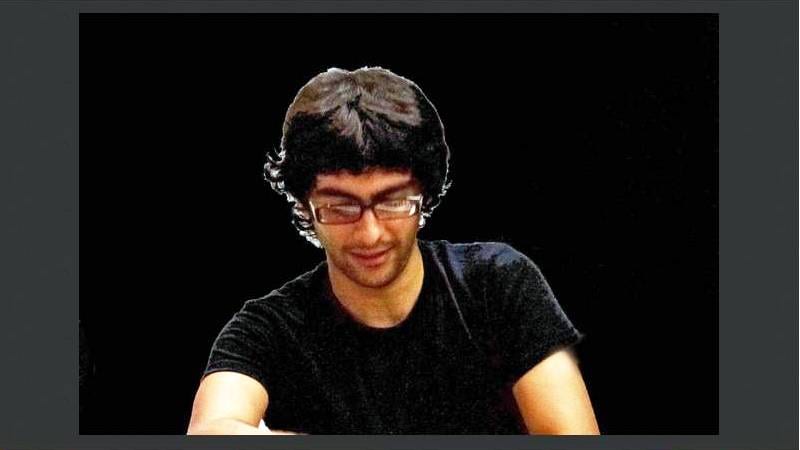 HAVANA TIMES — Jose Victor Gavilondo Peon has art running through his veins. His mother is Clotilde Peon, who worked at the Cuban National Ballet for over four decades, first as a ballerina and first soloist and then in her last years as a maitre, not only for this company but also at the Lizt Alfonso Dance Cuba and most recently at Acosta Danza.
"My mother has been a very important person in my life because I grew up watching ballerinas and going to ballet performances. Even though I never step onto the stage, I also have this art form in my blood," claims the young composer and pianist Pepe Gavilondo.
His father, Jorge Gavilondo is one of the most renowned in the field of digital photography in Cuba. He has published books, given conferences and taught workshops.
"I've explored this art form a lot since I was a teenager. I wouldn't say I'm a professional photographer but I've put on personal exhibitions in Cuba and abroad since I was 15 years old and I've taken part in collective exhibitions as well.
"On the other hand, I've always had the world of design and illustration at my fingertips as well because my brother Jorge Gustavo Gavilondo graduated from the Advanced Institute of Industrial Design. He worked a lot with the Chameleon group, with Raupa and with Nelson Ponce. He was the editor of the La Jiribilla magazine, alongside Victor Junco. I have a lot of art around me and that's helped me to develop and strengthen my creative side," Gavilondo tells us.
HT: Even though you have marked your way in the art world, the path you took wasn't the one your parents nor your brother took. How did you come to study music and composition then?   
Jose Gavilondo: I owe that to my grandmother Marta Sanchez. I wanted to be a painter but she took me lean to towards music. The first thing I did was study piano at the beginners level at the Manuel Saumell Conservatory. In 2003, I graduated in this specialization but, to tell you the truth, piano was never my forte. I liked it a lot but I didn't have the patience to study it.
Afterwards, I went to the Amadeo Roldan school to study music theory at the intermediate level. That was the only choice I had at the time and it was really very good for me because I continued to study complementary piano lessons with teacher Hortencia Buchman, an instructor who is held in very high esteem by all the young pianists in this country. I learned a lot there.
In the middle of this process, I began to compose. I met maestro Juan Pinera, a well-renowned figure in Cuba, the Chair in Composition at the Superior Art University (ISA). I began working with him and in 2008, I enrolled at ISA specializing in composition. I graduated with a BA in 2014.
HT: What have you learned throughout your years studying at the University?
JG: I have a background in piano which has helped me defend myself as a keyboard player as well as a background in music research and theory, which I believe is very important to have. This has opened up my mind to composing which is what I have definitely poured my heart and soul into and I can't imagine myself doing anything else today.
In this respect, I think that music theory classes should be compulsory for everyone. There is a great lack of conceptual and theoretical knowledge, especially in the so-called "technical degrees" (which aren't musicology, orchestration or orchestra and choral courses).
HT: Your work as a keyboard player for the band Sintesis, your work as the Head of Classical Music at the Fabrica de Arte Cubano and as the director and musician of Havana's Interactivo Ensemble has kept you very busy over the last two years. Are you working on any new projects at this time?
JG: Yes, the newest chapter of my life is called the Mexico City Ballet. It's a contemporary ballet company which has just started up in Mexico City and is directed by Jasmany Hernandez, a Cuban dancer who has been living in Mexico for many years now. He was once a dancer at the Cuban National Ballet and is a very close family friend.
Six years ago, I had the opportunity to meet him and his wife Yasmin Barragan, a Mexican choreographer. I began to work with them. What more could I ask for than to compose ballets, if I'm a composer and I have ballet in my blood.
In 2015, we performed a gala in Mexico City called Prisma. That was the title of my first work, a ballet to a solo piano which I played live throughout the company's performance. We won the Lunas del Auditorio award in the contemporary dance category, which is a very important prize over there in Mexico.
Now, we are currently preparing the 2016 gala which will take place in July. I have composed another work entitled Pulso. It's also for a solo piano and this time Ana Gabriela Fernandez will be the one to play its debut, a very virtuoso and amazing Cuban pianist who also lives in Mexico. The gala will also feature other electronic music compositions of mine.
Being able to work with dancers from this company is a great opportunity for me because my mother was also born in Mexico. I have a lot of family there still. We are very excited about this new project. To create a new company and launch it in Mexico City is a difficult task. Let's wait and see what happens at the gala performance this year.