Pilot, Painter and Taxi Driver
By PILAR MONTES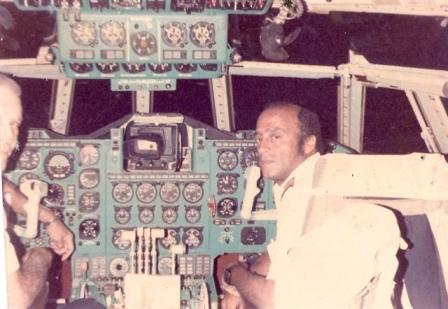 HAVANA TIMES, February 10 -Thirty-five years as a commercial pilot gave Gaston Sariol Hernandez the flying hours necessary to develop his artistic imagination. He is a naïve-style artist, specializing in depicting landscapes seen from the heights.
When retirement came suddenly after a heart condition in 1999, family and friends thought he would not resist being a pensioner away from the sky. Soon enough, however, Gaston proved his resourceful nature and dispelled all worries.
"With the same passion I flew the big Soviet IL-62 and US made MacDonnell Douglas DC-10s, I retook my love of painting, planted in me by my father who was a professor of fine arts in Manzanillo (in eastern Cuban province of Granma), where I was raised."
"However, in these hard times, a retiree's income is not enough to buy brushes, paints, canvases and pay the bills. So I applied for a taxi license, using my own car. I get up early, work for about six hours and after doing the home errands, like paying phone and electricity bills and buying food for the family, I dedicate most of my evenings to painting."
Both these activities have appeased my nostalgia for flying, says Gaston, who on the other hand boasts having met the most interesting people while driving them around the city.

"I like to say that I take the temperature of the city; see its most brilliant lights and darkest shadows, under a scorching sun or a flooding rain. I observe a sea that's like a shining plate or during a storm, when threatening waves crash against the seawall drive.
"I suffer when I see damage done by human action and negligent authorities against the beauty of one of the oldest cities in Latin America. I like to consider myself a watchdog of Havana's patrimony. I support the work done by city historian Eusebio Leal and his unwavering drive to protect the old city's most valuable heritage, its architecture and historic sites, as well as its people."

At the age of 65 years, Gaston or Sariol as he is called by many of his friends, feels fulfilled, though not satisfied. He is always looking for the theme of a new exhibition, an anniversary to commemorate related with aviation history.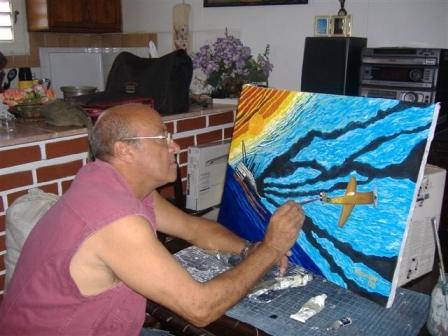 Gaston has taken part in more than a dozen exhibitions, both collective and personal, and his works are already part of private collections in Cuba, Brazil, France and Spain. His research on the lives of Spanish pilots Mariano Barberan and Joaquin Collar, who made the first transatlantic flight between Spain and Cuba in 1933 was commended by both Spanish and Cuban authorities.
Asked how he has been able to cope with his new activities, knowing his flying days are over, he says: "Every time I take the wheel of my Lada car or grab a brush and slide over a canvas, I feel I am flying again."
He invites readers to look up his website: www.sariolhernandez.blogspot.com where they can find images of most of his paintings and comments, as well as a brief profile. He welcomes e-mails at [email protected]
*Photos supplied by Gaston Sariol Hernandez