Spanish Singer Paskual Kantero in Cuba
Helson Hernandez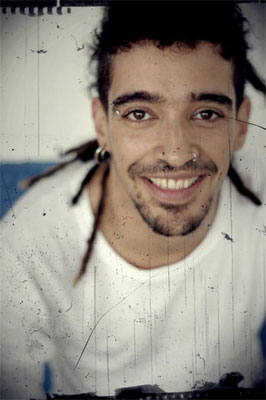 HAVANA TIMES — Young Spanish singer Paskual Kantero arrived in Cuba — to sing and love — belonging to the latest generation of  trova artists who has also received the support of his well-recognized countryman – singer Luis Eduardo Aute.
HT: Concerts in Cuba?
Paskual Kantero:  In this second trip to Cuba (the first was in April, 2012), I presented my work in the theater of the National Museum of Fine Arts in Havana, the International School of Film and Television of San Antonio de Los Baños, and at the always fun and mythical facility "El Mejunje," in Santa Clara.
On those occasions I was accompanied by Cuban and guest musicians, which greatly enriched the result and personally enriched me and my music. I went around presenting my first CD Flores entre el acero (Flowers among Steel) and the response from both the public and the media was excellent. So I was happy and grateful.
HT: Your impression after having visited the island?
PK: This country fascinates me. Though the way its system functions often causes mixed emotions and culture shock in me, the human quality of the men and women I've found here, the country's flavor, its rhythms, its hectic cultural life, make me want to return soon. This place occupies an irreplaceable place in my life and my heart. I feel part of it and it feels like a part of me.
HT: Kantero's musical training?
PK: When I was seven I began taking lessons in music theory, piano and harmony at the Municipal School of Music of Murcia, my hometown. Eight years later I ceased my formal education but continued my learning on my own. That's when I happened upon the guitar and started writing songs that I played and sang.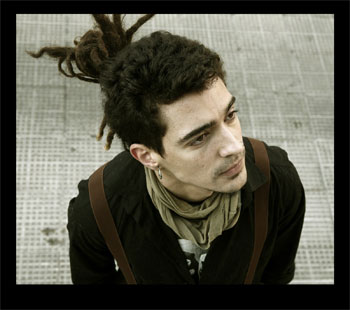 HT:  What nourishes your music?
PK:  It's nourished by all the music I listen to, everything I read or watch, and ultimately by all my experiences. Musically I'm pretty eclectic. What especially interests me are creations containing components that are ancestral, folkloric, earthbound – what we call "roots music." It's also known in some areas as "fusion" or "mixed" music. Some of my current artistic references include Jorge Drexler, Manu Chao, Lila Down, Carmen Paris, Kevin Johansson and Lisandro Aristimuño.
HT: "Muerdo" (I bite)?
PK:  It's a statement of intentions…a warning…one way of being in the world. It's biting, tasting, swallowing, digesting and spitting out my thoughts once again as songs for anyone who wants to listen to them. It's a name like any other, without too special a story behind it. It's a question.
HT: The renowned songwriter Luis Eduardo Aute in your musical career?
PK: Eduardo participated on my first album Flores entre el acero, giving me his song "Prefiero amar" and singing a duet with me; it's the last cut on the disc. What's more, we sang together live several times and shared some events. His participation in this album helped me to launch it, which was important for attracting the media's attention in my country. In addition to being an undeniable musical reference, Aute has provided important support in this adventure, and now I have the luxury of having him among my friends.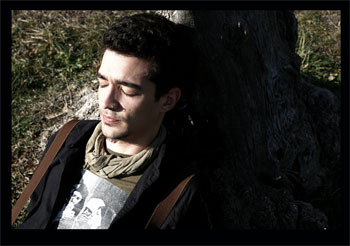 HT: How's your 2013 musical schedule going?
PK: In September I released my second CD, produced by Amparo Sanchez (Amparanoia) and featuring guest vocals from Pedro Guerra (Spain), Perota Chingo (Argentina) and the Amparo hmself. It's a CD recorded with love, warmth, a mellow sound and with many influences of Cuban music. Before that recording, I concluded the promotion of this first album with concerts in Spain and Colombia.
HT: Loving a man in Cuba and Spain?
PK: Doing it in one place or another in the world makes no difference in the act of loving. Luckily love is outside boundaries, political systems and geographic locations.
The peculiarities of each country emerge when it comes to displaying love in a socially visible manner. Obviously this is the case depending on whether there's legal support for such unions. Spain is one of the world's most advanced countries in this regard. Gay couples have the same rights as any heterosexual couple. I hope that Cubans will soon have the same possibility. It would be truly revolutionary and encouraging to all Cubans living on the island. Working for the visibility of these unions is the only way they can become seen as normal.
HT: Between chords and poetry, how do you define Paskual Kantero?
PK: I see myself as a human being with the capacity and desire to be better and more human every day…as a creator in a continual process of improvement and learning, through constant work and attentive sensibilities.