The "Colmenita" of Santiago de Cuba
"Children Restore Your Faith"
By Dariela Aquique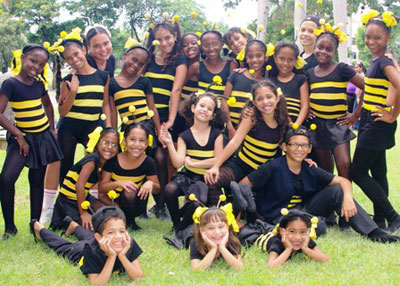 HAVANA TIMES — "La Colmenita" children's theater group, directed by Carlos Alberto Cremata is without a doubt the most outstanding troupe of its kind in the country. Founded 19 years ago, it was such an inspiration that a few years after it was born, similar groups with the same name were organized across the island.
"La Colmenita Santiago" is one of these troupes. The members of its current directing team — consisting of Daneyis Corona (assistant director), Ibis Machado (producer) and Daniel Medina (artistic director) — were kind enough to give this interview.
HT: The success of Cremata's original Colmenita group produced a tremendous demand for other groups, therefore other Colmenitas emerged in several provinces. Was this the reason a group was born here in Santiago de Cuba?

Ibis Machado: Yes. The local Santiago government and the Provincial Department of Culture — like in all other provinces —were interested in organizing a local Colmenita. In 2010 the auditions kicked off for the forming of the company. It started with a cast that was too large, with more than 200 children. I think the initial size was excessive, but within the collective there were sub-groups of youth specializing in theater, music and dancing.
Right now it's not like that. Now we look for children who are more versatile, so the number of members is much smaller.
HT: When and who created the group?

IM: It was founded in 2010. The first director of the company was the composer Eddy Ochoa and some other teachers. The first performance was on December 28 of that year, when the group participated as guest artists in a show at the Teatro Marti. In the beginning it devoted itself only to the creation of music. It didn't dabble in theater.
HT: Why did you choose to work with and for children?

Daneyis Corona: I'm a cultural promoter, and I started working with a community project. I have to confess though, that I wasn't initially drawn to working with children. Nevertheless the first things I did were with my son and some other little girls. After that I began writing scripts and doing different activities in the children's pavilion of the annual book fair, so I was always surrounded by children. This went on until Daniel invited me to join the Colmenita. I've remained passionate about it and now I feel like I'm just another one of the kids.
Daniel Medina: The chance to work with and for children came to me by chance. The project was presented to the Dramatic Arts Council and the Council of the Casas de Cultura, where I worked. Back then, they didn't have an art director, so I was assigned to that position. At first I didn't know much about what they were doing, but later I could see that the creators were excellent, just as the audience was appreciative and receptive. As a result, I ended up being fascinated with this work, which I've been doing for a year now.
HT: What works and performances have been staged?

IM: The first year there were small musical variety shows and children's songs, since the first director was a composer for that style of entertainment. The performances were in recreation centers and other public venues – we even went on television.
There was a second and shorter stage with another director in which we didn't give shows. Instead, this was a period of workshops.
With the arrival of Daniel we began venturing into theater and later we staged the Fabula de un pais de cera, a work by Joel Cano. We consider this our most important work, and it's really been successful. We also put on a variety show called Por el mar de las Antillas.
HT: Do your shows include only ordinary children and adolescents or are there also youth with special educational needs?

DM: Actually there was a stage when we had some members who were children with problems at home or with dysfunctional families, though they weren't children with special educational needs per se. Right now those youth aren't in our collective, but this was because of the decisions of their own parents.
HT: What's the current composition of the group?
IM: We currently have 40 children whose ages range from 5 to 14.
HT: What institutional support does this project receive?

DM: The Provincial Department of Culture — which has supported us a lot — has shown great willingness to help make the project a reality so that the children's company can be representative of this city. Therefore there's been a certain amount of resources provided for this purpose. Every province has now created its own Cremata-inspired Colmenita (literally "beehive"). Each of them have their own bee costumes, which are different from troupe to troupe, though only in a few details or attributes – such as type of antennae or number of yellow bands on the children's outfits.
We now have new uniforms and sound equipment. The institutions for which we perform basically handle the issues of transportation, food and such.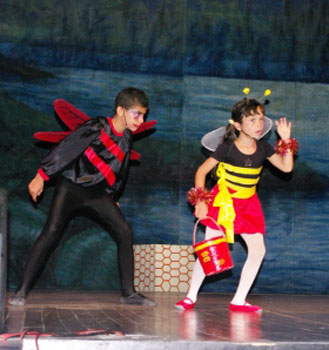 IM: We can't complain about any lack of institutional support, because it is indeed provided. However we think that certain things are still lacking, like having our own locale for our rehearsals or for storing the costumes, props and uniforms. We're a group funded in part by the Ministry of Culture, but there isn't an allocation to pay the directors. Instead, we're paid for our designs, original music and each script.
HT: Do you think you've learned from the children?

DM: Children are an endless source of interest, sensitivity and sincerity, and that nourishes us. It's like they restore your faith in things that you had stopped believing in. They revitalize you. That's how I feel working with them.
HT: What are the company's upcoming performances?

DC: Se busca un sueño. It's a tribute to all the work of songwriter Liuba Maria Hevia. The story takes place on a farm. All the characters are animals, so it's another fable. All of the music is by Liuba María. It's aim is to conduct an excursion into our musical roots, our campesino folklore. We have musical styles that include "controversias," "decimas," and "seguidillas." We expect to have the premiere in August.
HT: Thank you for your time and congratulations on this beautiful work you do.