Yusimí Rodríguez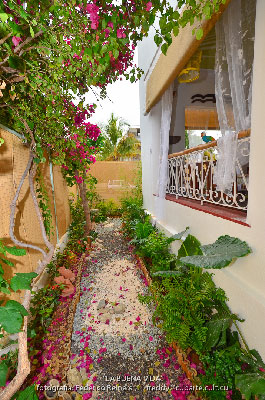 HAVANA TIMES — Brought together by their desire to create something that would be different and new to Havana, Ana Maria Padron de Paula, Inger Ponce de Leon Rego and Patricia Gonzalez Rodriguez* opened the gourmet vegetarian restaurant La Buena Vida ("The Good Life") in June of 2012. Located on 46 St., between the intersections of 9 and 11 streets, in Playa, Havana, the restaurant also offers a seafood menu.
An establishment whose menu does not include red meat, pork or its derivatives or any kind of poultry seems like a crazy idea in a country where eating meat is almost a cultural idiosyncrasy. What are the people behind this idea aiming for, and how likely are they to succeed?
Ana (visual artist): We wanted to become involved in a life-project that would afford us some financial stability and give us the opportunity to do something different in the city.
Inger (architect and interior designer): I got the idea when I went to El Romero, a restaurant at the Las Terrazas resort. There wasn't a single vegetarian restaurant in Havana at the time. The idea was to create an establishment respectful of animals, serving organic food grown without the use of [chemical] fertilizers. In terms of design, we wanted to play with the concept of "recycling" the city, using the best things we have inherited from it, from our grandparents. The sugar bowls are talcum containers, and the oil and vinegar jars are perfume bottles. The restaurant's entire décor was designed by us.
Daniel Reyes (chef): I've been preparing vegetarian dishes for many years. I have a degree in Food Sciences. I also graduated from the Hotel Services and Tourism School in Havana's Sevilla Hotel. I've completed several advanced courses on haute cuisine. I worked at El Romero, next to Tito Nuñez, who awakened an interest in this cuisine in me and taught me a lot.
Inger: It's called "La Buena Vida" because, for many Cubans, the good life is eating beef and pork and drinking beer. This is our interpretation of what the good life should be.
HT: Are you vegetarians?
Ana: I am not a vegetarian, though I've always eaten a lot of vegetables. I'm always learning new things from the many cook books we've acquired.
Inger: I am not a vegetarian either, but I like to eat healthy.
Daniel: I am not strictly a vegetarian, but my diet is based on eggs, dairy products and vegetables. Some waiters tell me they've tried making some of the dishes at home and that their families have liked them. People are starting to enjoy this cuisine.
HT: What challenges have you faced?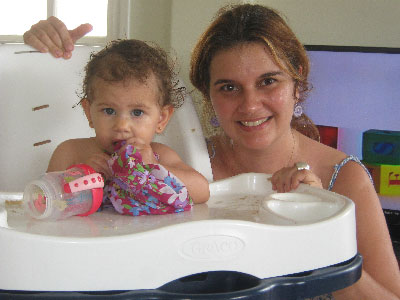 Ana: We have some problems with supplies. There are things we can't get, chiefly because of the weather. Supplies are more limited during the summer.
At one point, we starting losing customers, because they would come as a group and some of them weren't vegetarian. We had to include a seafood menu, though the main idea is to promote vegetarian food.
Daniel: People here mistakenly think that vegetarian or vegan food is insipid, that everything is boiled. Here, we try to make our food both healthy and tasty, with different combinations of textures and exotic tastes.
This is a relatively new cuisine, there isn't much information available here, you have to be very creative. Sometimes, we put together international dishes, replacing the meat with vegetables or fruit, trying to preserve the original textures and balance of flavors.
HT: What risks are involved?
Daniel: Those of any new business, plus the fact that people aren't used to eating this kind of food in Cuba. Someone told us recently that this restaurant is ahead of its time. Though most don't get it, many people value what we're doing. You know, us Cubans have other eating habits. The foreigners who come to the restaurant are always very pleased, though.
HT: The prices don't seem to be aimed at Cubans.
Daniel: We use high-quality products, many of which are imported, like cardamom, turmeric and other Hindu spices. We offer a range of vegetables that aren't normally sold in the regular market, such as cherry tomatoes, baby carrots and certain types of lettuces. They are organic products, grown specifically for the restaurant at an organic farm. We even serve fresh, natural asparagus. This makes prices go up.
But ours isn't among the most expensive restaurants, we're somewhere in the middle. To our surprise, we've gotten a lot of Cuban customers and many go for a completely vegetarian menu. We thought the seafood would be more popular among Cubans, but this hasn't been the case, a sign that more and more people are taking a liking to this kind of food.
HT: And that there is a prosperous sector of society that can afford it. What do you do during the low seasons?
Anita: We had to let people go.
Inger: We also organize shows every Friday. We invite Cuban artists to perform. People can enjoy a live performance while eating. We don't charge a cover.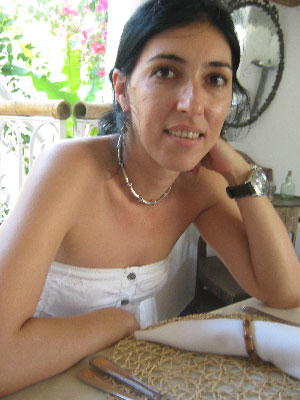 Daniel:. Including red meat or poultry in the menu to attract customers is out of the question, however.
HT: A whole series of State-run vegetarian restaurants flourished between 2001 and 2006, approximately, but they were ultimately closed down. Why do you think this initiative failed?
Daniel: They weren't innovative enough. The vegetables would rot in the heat. We cook things on order here. The vegetables are cooked just before serving them. That way, we preserve their texture, color and nutritional properties.
Though the restaurant isn't located near Havana's city center, "La Buena Vida" has welcomed some rather distinguished guests, such as the chef of Chez Panisse, a well-known restaurant in California, and Andrew Weil, both of whom approved of the menu. The establishment's mixed cuisine dish received the first Habana Gourmet Award in 2012. The cheese flan with guava sauce and the mint sugar and egg-yolk sweet dipped in chocolate sauce were on the cover of Excelencias Gourmet magazine. It is Havana's number two restaurant in Trip Advisor.
The owners are currently putting together the documents needed to apply for membership at Slow Food.
HT: "La Buena Vida" is part of a project that includes Estudio Cleo, a design and decoration studio located on I St., between 23 and 25 streets, in Havana's neighborhood of Vedado.
Ana: When the possibility of opening different businesses came up, we saw an opportunity to promote our work. At the studio, you can buy different products, design your home interior and repair damaged furniture. We do gardening work, photography and decoration for interiors and exteriors.
Inger: Though it opened officially after "La Buena Vida", in October of 2012, Estudio Cleo was responsible for designing all of the décor in the restaurant. It's named Cleo after my dog, which was my baby before I had my child.
Heidi (who holds a degree in Pharmacological Sciences, artisan, public relations person for Estudio Cleo and La Buena Vida): Estudio Cleo is a family project. My sister is in charge of design, my father is responsible for buying materials and I deal with commercial matters. The three of us are artists. We make lit-up signs and crafts of every sort. We use a distinctive technique known as decoupage, but also sell paintings and photographs taken by my brother-in-law, which we can print on practically any medium: cases, lamps, pillows, etc.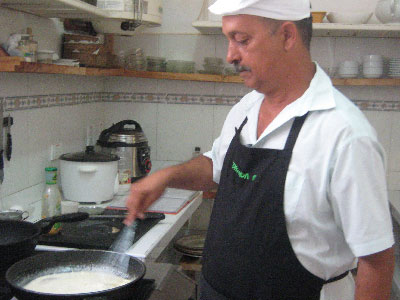 We import some incenses and pillboxes. We also import cases made and sold by women in Peru to finance a day care center there. We buy these to help them.
We try to produce everything we sell ourselves, and to use recyclable materials wherever we can.
It's not just about the money
Ana: We want to destine part of our earnings to tree-planting initiatives around the city, and to help sick children.
Inger: And for animal relief. Estudio Cleo is a place you can take your pets to.
Heidi: We want to have a two-day ceramics and crafts workshop for children during the summer, free of charge. They'll spend the whole day learning, making their own crafts. All crafts will be made using recycled materials.
Damián: We also want to start educating children to prepare and consume healthy foods.
Inger: We're doing all of these things for the benefit of the city.
—–
*Patricia Gonzalez was traveling outside of Cuba when this interview was held.

Click on the thumbnails below to view all the photos in this gallery. On your PC or laptop, you can use the directional arrows on the keyboard to move within the gallery. On cell phones use the keys on the screen.