Victoria Obando: "We Won't Stop Until Ortega is Gone"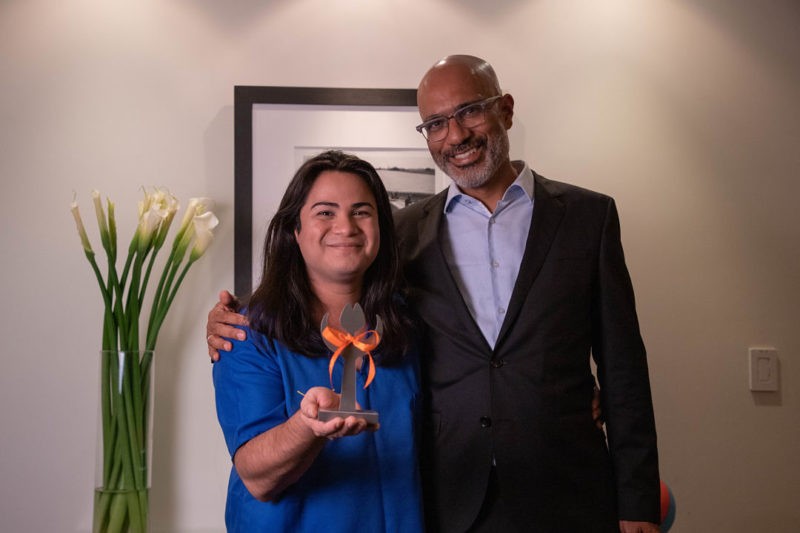 The Bluefields native, university student, transgender activist and released political prisoner maintains her demand that Daniel Ortega must go so that Nicaragua can be rebuilt.
By Cindy Regidor (Confidencial)
HAVANA TIMES – Victoria Obando, 28, was confined to the cells of the men's jail known as La Modelo for nine months and ten days, together with dozens of people that Daniel Ortega's regime arrested for political reasons during the citizen protests that broke out in April 2018.
Although the regime later released a number of them, including Victoria Obando, as part of the political negotiations with the Civic Alliance for Justice and Democracy, there are still 160 political prisoners locked up.
Among them are some who were never freed, some who were rearrested, and new detainees. This puts the regime in noncompliance with the accords reached in that negotiation, which the regime suspended in August 2018.
On Thursday, December 5th, Victoria was presented with a special award from Peter Derrek Hof, Ambassador to Central America from the Netherlands. The award, in the form of a statuette of a tulip, the national flower of the Netherlands, is given annually on both a local and an international level. Last year, the international recipient of that prize was Zeid Ra'ad Al Hussein, the former United Nations High Commissioner for Human Rights. The ceremony took place in San Jose, Costa Rica.
Obando's dress for the ceremony was unique: she'd given advance notice that there'd be "Zero heels, zero glamour," and she attended the ceremony wearing the blue prison scrubs that Nicaragua prisoners wear. The Nicaraguan population has seen this attire in photos and videos, worn by various opposition leaders who've been imprisoned and accused of terrorism by the current regime. That was what Obando wore for nine months and ten days.
"As ambassador to Central America, I know that those who advocate for human rights often run a great personal risk. I'm convinced that these very people have an incredible power to generate change and better the lives of other people," Hof stated. For Obando, the risk and the price of her activism was jail, but she emerged more convinced than ever of her objective: to generate a change in Nicaragua, transforming it into a society where human rights and justice flourish.
What were you doing before, and why did you get involved in the April rebellion?
Previous to April 2018, I was an activist with non-governmental organizations that promote the human rights of all Nicaraguans, with special emphasis on the LGBTI population. I was also studying and working as a chef in a restaurant.
[When the April rebellion broke out] I felt the call. I felt the need to participate actively, in support of the struggle of the Nicaraguan people who demanded that they stop repressing our demonstrations. I felt the pain of the first murdered student. I identified so closely that I didn't stop. At every one of the marches I attended, I yelled; I painted telephone poles blue and white; we ordered stickers made and we stuck them inside the buses. I couldn't stop until the government decided to stop me by sending me to jail.
Why do you think the government sent you to jail?
Maybe because they see us as their enemies. They see us as dangerous, because we motivate other Nicaraguans to get involved, because we deluge Nicaraguans with the information they need, about why we're clamoring, and who should be held account…(about) the Nicaraguan laws and the Constitution. They don't want us to have a rebellious society that complains and demands.
When you learned you'd be going to a men's prison, what was your reaction as an activist and a Transgender woman?
Total horror. From the time of my capture and the sickening fondling of my back by the paramilitaries, I thought that I was going to suffer what others had suffered – a direct violation of my physical and corporal integrity. Thank God, that didn't happen. I thought that it could happen in the jail, and from the moment that we were transferred to La Modelo, we all wondered: Will we be together? Are they going to divide us up? Are they going to put us in cells with criminals or murderers? Thank God it wasn't that way.
We all ended up in Gallery 16, where the other brothers in struggle were. Over time, we grew to have great affection for each other and there was a lot of mutual respect and support.
Did the guards treat you differently for being a trans woman in a men's prison?
They have created a profile on how to make life impossible for each political prisoner in La Modelo.
In my case, it was very particular. They knew that I'd been undergoing a process of gender transition. I was Victor before, and I'm not ashamed to say it. The Nicaraguan government still recognizes me as Victor, because they don't respect our identity, they don't respect our human rights, and we're engaged in this process and fighting for it. So, in my special case, they didn't let me receive shaving supplies. Over time, I could confirm that [this was only in my case] because during the nine months and ten days that I was imprisoned, I had to trade with others to get shavers, swapping out other things I had, because the others did receive them.
What do you think was your main contribution, at that time, to the citizen struggle that continues seeking a change today?
My greatest contribution, I believe, has been to invest body and soul in this, like many students, feminists, members of civil society, small farmers, business owners… We're not going to stop until we succeed in what we first came out to demand on April 18, 2018: Ortega's departure and the construction of a better social system in Nicaragua, one based on law, a democratic system, a just system, a system full of liberties for Nicaraguans.
I thought I was going to die… The day that they killed don [Eddy] Montes, and we felt death… when the guards were shooting directly and we were enveloped in tear gas, I said to myself: "I think I've done enough, and if I haven't done enough, when I die others will follow."
What's it like to be an activist, a Trans woman and a released political prisoner in a country such as Nicaragua?
It's a triple commitment… in the process of construction, as an activist, and as an advocate. We've gone through intense strengthening processes, in order to deal with multiple responsibilities and also to deal with societies as complex and violent as the Nicaraguan one. That question is like asking me: "How do you feel about being Trans, poor and black?" It's a triple discrimination, and you have to deal with that every day: fighting against the system from the educational centers, from the social bases, cultivating a way to change that culture, that hegemony of violence…
Have you continued with your activism after being freed? Are you being harassed, like many others who've been released?
Following the arrest of Roberto Bushting and Wendy Juarez (part of the 13 who were arrested when they attempted to bring water to the family members on a hunger strike in the San Miguel Archangel church in Masaya) who are students that belong to the University Coordinator for Democracy and Justice, the Ortega police investigated and extracted all of the information from Roberto's phone.
We're organized as students, we continue shaping ourselves, we continue making proposals, we continue working on behalf of the Nicaragua we want. So, when they took that information and our data, the government then unleashed a personalized repression aimed at every one of the members of that student platform. We've once again been obligated to leave our homes and seek safe houses – although nothing in Nicaragua is safe – in order to continue with our activism.
What's the situation of your companions and other political prisoners who continue in jail?
They're going to want to utilize them as exchange pieces in negotiations. For example, when the moment comes for reforming the Electoral Law, he [Daniel Ortega] is going to say: "Don't press for this reform here. I have [these prisoners] and if you demand that I make this reform, I won't give them to you."
In the case of Amaya [Coppens, a rearrested political prisoner] who suffers from high blood pressure, they're not passing her medication to her. Also, a little while ago the police grabbed her by the neck and beat her. They didn't do that to us. So, it means that the violence is growing worse against those they're arresting and re-arresting.
A year ago you were in prison, and today you're here, receiving this prize. What goes through your mind when you review all that you've lived through in these nearly two years?
What comes to mind is the incredible trajectory and the richness of the process of building: constructing this path from my own morale, from the foundation I was given in my family to become a good citizen, from the responsibility that they cultivate in you in the university, of how you have to involve yourself in all the social processes… all of this goes through my mind.
Also, memories come to mind of the multiple discrimination that we've experienced as individuals – those of the LGBTI population, especially those of us who are trans, and also the feminist and LGBTI collectives, because we've been denied so much but we don't stop making proposals, we don't stop demanding.
What's your frame of mind as you receive this prize? How did you feel when you found out you were being awarded it?
I got very excited, and I can tell you, I still can't believe it. Perhaps it makes me think of the level of work and commitment that it represents. It's one more task among all those that I have to complete.
What's your main demand today? Is it the same?
Our principal demand is the same one as that of most Nicaraguans: Ortega's resignation. He must go, or at least have the dignity to submit to free and transparent elections so that he finds out that the people give the orders; and the people detest him, they reject him, they hate him.
Now more than ever, the demand is of myself to give more, because the work ahead for us is enormous. To build a country, deconstruct a violent and corrupt system and construct a new one.
In these days, Human Rights Day is being commemorated. What do you believe are the debts that the Nicaraguan State holds with all of its citizens, and in particular with its transgender citizens?
It's an enormous debt, especially since April 2018, when many Nicaraguans were assassinated… It begins with transitional justice. We're not going to stop until the government recognizes that there were, in fact, crimes against humanity. They're still carrying out selective assassinations. There's still increased suffering. There's still constant repression that they're trying to normalize. However, we're going to keep our voices raised to shout: "In Nicaragua, nothing is normal!" The debt is so great that we demand jail for them.
We demand that part of the just solution for Nicaraguans in general, is that they pay for all the atrocities with jail time …
For us, the transgender citizens, they owe us the recognition that, as human beings, we have elemental rights, universal human rights, and a right to identity and they must respect it. We have equal capacities, equal abilities, equal skills, we live under equal human conditions. We too are made of flesh and blood; we're also thinking beings; we're also Nicaraguans. When we speak of a just, free and democratic Nicaragua, it has to be for all of us, including trans women.
That's why I feel proud at this time, to be the face projecting the scope of the problem, the one demanding. But not only myself, we're many. I feel proud to be tied in with the general struggle of all Nicaraguans and also, specifically, to my own, and to tell you that we're not going to stop. All of the organized groups, all the collectives are united [behind] Ortega's departure and the construction of a better system for Nicaragua, one of human rights.