We Meet Alberto, One of Havana's Living Statues
by Ivett de las Mercedes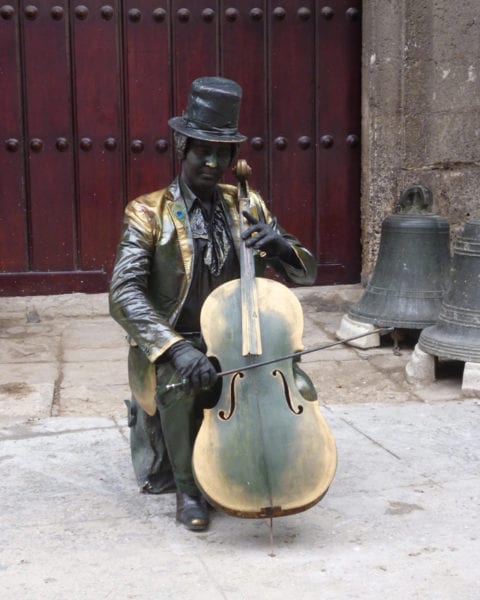 HAVANA TIMES — It's commonplace to find lots of living statues, stilt walkers followed by congas and clowns, as well as people enjoying them, along Old Havana's streets. Alberto Sanchez, who is 39 years old, told us a little bit about his work.
HT: How long has it been since you decided to work for an audience on the street?
Alberto Sanchez: I have been working as a living statue, which is a field within street art, for four years now. I have been a street artist for 17 years, I am an empiricist, I studied dance, but one day I was walking through Old Havana and I liked the art of stilt walking so I became a street artist.
HT: How do you get a hold of the make-up you need for your character?
AL: It's difficult, we can't use any toxic paints because we get sick and we're polluting the environment. Sometimes, a friend of mine brings it from another country for me, sometimes I buy them and sometimes people give them to me. I have a place near here where I can do my make-up, sometimes I do it really well, other times not so much. I frequently get allergic conjunctivitis to the make-up because of sweat and paint going into my eyes. The paint is 100% organic, you have to wash it off with shower gel, if you rub it off with water, it just gets stuck and it's very uncomfortable.
HT: Is it hard to stand in the same position for so long?
AL: I have read lots of information about the subject and I have trained and sought knowledge in order to practice this profession. Of course, my work is the result of the discipline I have on my body. I have chosen the street and it's the worst stage for me, because I work for a very diverse audience, not everyone is familiar with this art form. I have had good and bad experiences. There are people who have even made me cry, but I also have some very funny anecdotes. Since I started working as a living statue, I have been kissed on the lips seven times, other people have cried with joy, emotion, one lady even wet herself from laughing so hard. I try to keep calm and to remain composed because living statues don't speak. I have met lots of people here who have left me their cards and I have thanked them.
When I need to go to the bathroom, I keep my theatrical ethics just like if I want to have some water; the important thing is that people keep a hold of this illusion, because I am an image illusionist and I make people believe for a few minutes. With Giganteria, I have visited hospitals where there are sick children. We also went to Haiti when the earthquake struck and helped spread joy with our work to those people who had lost everything.
HT: Are you self-employed workers?
AL: Everyone in the Giganteria group has worked for the Havana Historian's Office for 16 years without being paid, but we have contributed in another way: doing community work. The Office gave us the option of becoming self-employed, we have never prepared for a pension, but our problem is that we are artists and we don't like to be called "the self-employed", we don't want to lose the title of artist within the ONAT's (tax office) new trend. We will continue to do our work because we enjoy it and I know that we bring joy to society.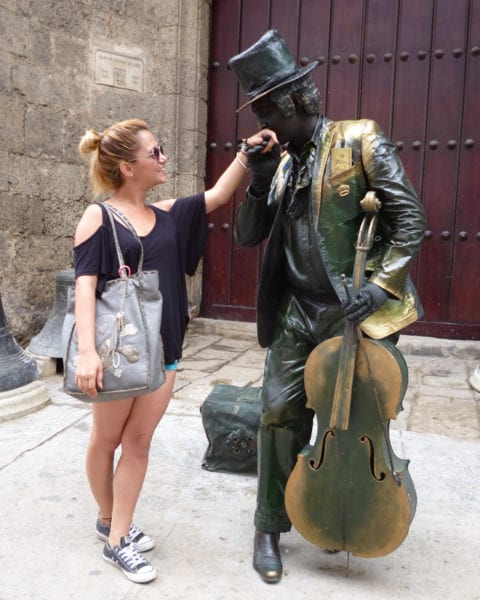 HT: Do you collect money with this job?
AL: The money I'm given is like a loan, I use it to create other characters or to fix up a costume, that helps raise my self-esteem. Plus, to go to an event which doesn't have a budget. But, I also use it for the basic things at home, especially food. This is a job which if you leave it for a while, it's hard to get back into it, plus my soul doesn't let me.
HT: How many characters do you have?
AL: I have several characters, and I'm adding little details to each of them all the time. It depends on the time of year. I have the Martian, he's silver because he's a fantasy character, children really like him. The Levitator who has his place along the Malecon. Another character I have is the Cigar Seller, but it's hard to do this one on the street, there are a lot of children and the message I'm sending out isn't very educational. A very popular character I have is the Beheaded Man, which came to life at a Halloween party. I was afraid that people would get scared on the street but the response I received was the complete opposite, because people want to know where the head is.
HT: Where do you get your ideas from?
AL: I make them up myself. The internet gives me most of my information; I have to study for hours. I don't have a director, we used to have one but now that we are self-employed artists, I'm independent. There were 20 of us in the Giganteria theater group, but when we separated we took on the freedom to create, I'm free.
HT: Do you have any children?
AL: Yes, I have a daughter and she has seen me working at different places in Havana. She has won awards for her street art, she isn't working as a living statue yet, but I hope she does one day because she has talent.
HT: Where can we find you right now?
AL: I started off as a living statue on Obispo street. Over the last few months, I've been dressed up as a cello player and I work in the San Francisco de Assis Convent's surroundings, where the Camerata Romeu is rehearsing and performing, as well as other well-known musicians. Here, I have the advantage of having this stage and when the Convent's doors open, I have the string instruments playing behind me. I always try to respect the history and the space, when there are concerts, I move out of the way so that people can pass by.
There are many people who understand our work, but others don't. At least personally-speaking, it really gets to me when I hear people say: throw a coin so he moves. We aren't machines, when that happens, I move less because the hard thing about our job is to keep up the projection of being a character and enjoying what we are, living statues.