What I like Most Is Jazz…
By Irina Echarry, photo: Caridad
HAVANA TIMES, Nov 28 – In the previous Havana JoJazz festival-competition, I heard the sound of his trumpet for the first time.  It was wonderful to listen to the quality of his music and to see that he was so young.  But nothing is surprising in an event designed so that the youngest can display their talent.
From JoJazz have emerged such figures as Abel Marcel Calderon and Michel Herrera, who now -overflowing with confidence and musical wisdom- regularly appear in jazz settings.  It will be good to learn more about Kali, and what's sure is that people will soon be talking about him.
You're look pretty young. Exactly how old are you?
I turned 17 on Saturday, November 28.
Last year we saw you in JoJazz; have you participated in others?
No, never.  Last year I played with friends, but now I'm participating in the teen category, in interpretation.  By the way, my birthday was on the same day.
What are you going to play?
I'm going to do three numbers: One by Jorge Luis Pacheco (who took first prize in 2007 in the adult category), it's called "La feria" (The fair); then there's a tune written by Miles Davis or Wayne Shorter (I'm not completely sure, sometimes it comes out as being written by one of them, and other times as by the other), but it's titled "I Speak," and finally a Duke Ellington standard.
Where do you study?
I'm at the Amadeo Roldan Conservatory, in my third year of trumpet.  I still have a year and a half before graduating.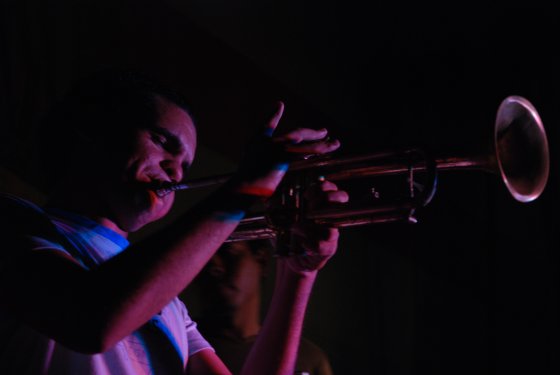 Is there a certain Cuban musician who is guiding your career or who you like a lot?
Yeah, of course, there are lots of them. Some of them that I know help me out; then there are many who I like a lot, including some who don't live here in Cuba, such as Paquito de Rivera; Arturo Sandoval, who is the first point of reference for anyone studying trumpet in Cuba; Mario Felix Hernandez, the Indian who played with Irakere; Chucho Valdez, of course, Gonzalo Rubalcaba and Emiliano Salvador.
Those who I know personally and have helped me are Bobby Carcasses, Yasek Manzano, Michel Herrera, and everyone in general.  We jazz musicians are like a family.  We're always helping each other out, sharing information…studying each other.
In these times of reggaeton, why jazz?
It's a history that goes a little way back. People generally begin listening to jazz at 14 or 15. But it wasn't like that in my case.  The first time I listened to jazz I was in the fifth grade, when I was beginning music school. I was 10.
A friend from school (Joaquin Martinez, who is also a JoJazz prize-winner and now plays in the Joaquin Betancourt Big Band) played me one of Arturo's CDs. Joaquin is older than me but I found the work to be brilliant.  I began listening to all the jazz I could get my hands on.
The study of harmony and some more challenging songs I didn't start studying until I was around 14.  When I came to the Amadeo, I realized that the atmosphere there would make it possible to get closer to that genre; there are a lot of people studying it.  From there I began to seriously introduce myself to that world.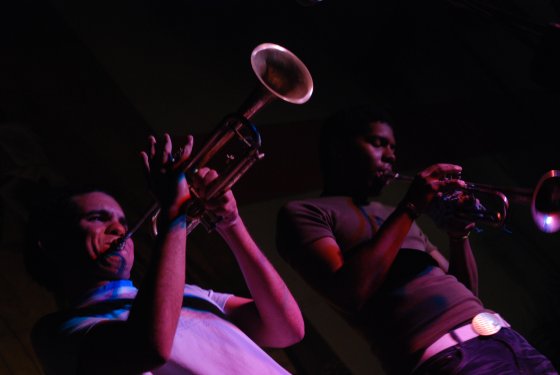 So, do plan to dedicate yourself exclusively to jazz?
Yes, I love it.  As a musician one should be integral, embracing everything that is within your reach, but you always identify better with a certain something.  What I like most is jazz, although there's also Cuban, Brazilian and classical music.  Everything contributes, even music from different cultures: European, Latin American, Asian… it's the information that one acquires.  In fact, interesting things can be made from fusing different cultures.
Do you also compose?
Yes, I've written a little. What happens though is generally I don't feel satisfied with what I write.  There are those who tell me that I'm too young, that later on I'll be better prepared, because I still don't have enough maturity to create something really solid.  But they say that if I like it, I'll keep trying.
What expectations do you have for this competition?
I don't know, I swear, I'm just studying in school… I don't look at things from the competitive point of view.  It's true that it's a competition, but it's also a chance to get to know yourself, to feel good about yourself. But it's especially an opportunity to show off your approach and see how it's received.
Yeah, sure. But if, in addition to all that, you were to win, wouldn't it be a great step forward. 
Of course, I'd feel very happy.
—
For the passion that pervades his melodies, and the quality and freshness that he contributes in his interpretations, Kali could conceivably win the 2009 JoJazz festival.  But if that doesn't happen, it won't matter; nothing will change his fascination and love for this music.  Because when jazz becomes implanted within the soul, it's difficult for it to go away.