Angela Davis: Now That Obama Has a Second Term, No More "Subordination to Presidential Agendas"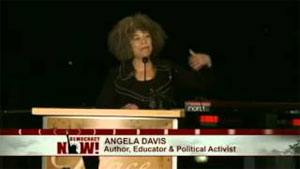 HAVANA TIMES – Addressing the Peace Ball in Washington, D.C., on Sunday, the renowned author, educator and political activist Angela Davis urges those content with President Obama's re-election to continue pushing him for social change. "This time around we cannot subordinate our aspirations and our hopes to presidential agendas," Davis says. "Our passionate support for President Barack Obama … should also be expressed in our determination to raise issues that have been largely ignored or not appropriately addressed by the administration."
AMY GOODMAN: Sweet Honey in the Rock performing at the Peace Ball last night "Ella's Song." This is Democracy Now!, democracynow.org, The War and Peace Report. I'm Amy Goodman. Yes, we are broadcasting from Washington, D.C., bringing you special coverage of today's inauguration as hundreds of thousands gather here in the capital. As many as 800,000 people are expected to attend the celebration, smaller than nearly two million people who crammed into Washington to witness the 2009 inauguration but still the largest second inauguration in history. The first, by the way, four years ago, was the largest event ever to take place in Washington, D.C.
After our regular program ends, we'll continue to bring you coverage until 1 p.m. Eastern time, including the swearing-in ceremony. This year the inauguration also comes on January 21st, the federal holiday in honor of Dr. Martin Luther King Jr. Later in our special coverage, we'll air excerpts of some of Dr. King's less-often-heard speeches, but now we return to some of the voices from the Peace Ball last night, Voices of Hope and Resistance, at the Arena Stage of the Mead Center for American Theater, a cultural center here in Washington. This is renowned author, educator, political activist Angela Davis, who spoke last night, founder of the group Critical Resistance, a grassroots effort to end the prison-industrial complex. Davis voiced her support for President Obama but said much work needs to be done.
ANGELA DAVIS: Let me say that this time around we cannot subordinate our aspirations and our hopes to presidential agendas. Our passionate support for President Barack Obama—and it's wonderful that we can say for the second time, "President Barack Obama," and we support him, and we are passionate about that support, but that support should also be expressed in our determination to raise issues that have been largely ignored or not appropriately addressed by the administration.
And let me say that we are aware that we should be celebrating, critically celebrating, the 150th anniversary of the Emancipation Proclamation. There should be massive celebrations this year. What has happened other than the film Lincoln? And, of course, with two-and-a-half million people behind bars today, the prison system, the immigrant detention system are terrible remainders and reminders of slavery. Mass incarceration has devastated our communities. It is a false solution to problems that have persisted since the era of slavery.
We should be addressing the state of our schools, the continuing crisis of overincarceration, over-punishment. We should be addressing the part played by private prison corporations in pushing for repressive legislation designed to incarcerate ever-increasing numbers of immigrants. Last year, some 500,000, a half a million, immigrants were detained. And that, of course, is the largest number ever.
The past still haunts us. Its ghosts ride the echoes of our lives. To overcome poverty, to overcome racism, we must also overcome xenophobia, homophobia. Justice for African Americans is organically linked to justice for Palestinians. The struggle goes on. A luta continua. And as June Jordan said, we are the ones we have been waiting for. Thank you.

(*) See this program on Democracy Now.