Journalists Find 12-Year-Old Girls Making Old Navy Jeans for Gap in Bangladeshi Factory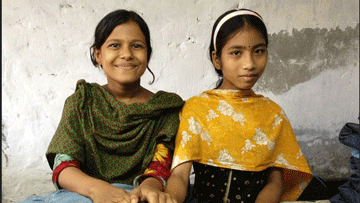 HAVANA TIMES – Al Jazeera's Anjali Kamat discusses her recent investigation into the state of Bangladeshi sweatshops following the November 2012 fire at the Tazreen factory that killed at least 112 people. Al Jazeera uncovered factories where Old Navy pants are being worked on by children as young as 12.
AMY GOODMAN: This is Democracy Now!, democracynow.org, The War and Peace Report. Our guest is Anjali Kamat, now a correspondent for Al Jazeera Fault Lines, a weekly investigative news program on Al Jazeera English and Al Jazeera America, which launched in the United States and is on cable channels across the United States.
Anjali, the first piece that you did, before Egypt, was Bangladesh, Made in Bangladesh. We watched you in this documentary as you sifted through the fire looking for U.S. labels. Can you talk about what happened there in Tazreen?
ANJALI KAMAT: Yeah, so, you know, there have been a series of disasters in garment factories in Bangladesh over the past several years, but there's been a lot of attention to it in the past year. We went to Bangladesh in June to look at what was happening with Wal-Mart's supply chain in Bangladesh. And we were interested in a pair of shorts, part of Wal-Mart's Faded Glory line, that had been found in the ruins of Tazreen, which was a factory that burned down last November, killing at least 112 workers. So we spoke to workers. We spoke to activists. We also spoke to different people along the supply chain.
And one of the things we found, very clearly, was that it is very convenient for large corporations and large retailers like Wal-Mart to not know very much about their supply chain and to remain in the dark about that, because it gives them plausible deniability when there's an accident. And this is something that an auditor who used to work for Wal-Mart told us. It's something that advocates in the U.S., like Scott Nova from the Worker Rights Consortium, told us. And it was played out by what we saw in the supply chain in Bangladesh. I mean, at the very bottom of the supply chain, what we found is that there's very little oversight, and you have factories that are basically in people's backyards, in their apartments. And large corporations pretend to know nothing about these operations. But this is where—this is the building blocks of the garments that we all buy. And it's not just Wal-Mart.
What we found is we ended up in a small finishing house, where garments are finished. They're sort of trimmed, and the buttons are put on, the elastic band is put on. It's the final step before the garments are shipped out. And we found this small finishing house with, you know, one small window, bars on the windows, no fire extinguisher, just a thatched roof, about 25 young girls and boys working there on Old Navy jeans. And we found children as young as 12 putting in elastic bands into Old Navy jeans. When we took our findings to Gap Inc., they denied—
AMY GOODMAN: Which owns Old Navy.
ANJALI KAMAT: Which owns Old Navy. They denied any connection to this finishing house, said they didn't know about it, and claimed that the products were either counterfeit or had been improperly acquired. But we collected tags, Old Navy tags, at the finishing house, and we matched the barcodes from these tags to products that were being sold at Old Navy stores in the U.S. So, you know, Gap's claim that these are counterfeit are really—should be called into question.
JUAN GONZÁLEZ: And what about the attempts, or the publicized attempts, especially by European manufacturers, to institute new standards for the factories in Bangladesh? What were you able to see in terms of whether there's any real progress or change in the way that the manufacturing end of this worldwide garment industry, so much of it centered in countries like Bangladesh—what's happening there?
ANJALI KAMAT: Right. I mean, so the garment industry is a backbone of the economy in Bangladesh, and, you know, everybody wants a job in the garment industry. And, you know, that's something that needs to be said.
With respect to the brands, I mean, you've got two different safety accords now. The Europeans, European retailers, signed onto one safety accord. Wal-Mart, Gap and other American retailers refused to sign onto that and came up with their own accord saying that this was the best guarantee of worker safety and building safety in Bangladesh and that they're going to begin all these inspections of factories in Bangladesh.
Now, just earlier this month, there was another fire at a unit that had clothes linked to Wal-Mart, and 10 people—at least 10 people were killed in this factory fire. And Wal-Mart claimed that this particular unit—I think it was a dying unit—wouldn't fall under their inspections. So there's a lot of gaps that are still, you know, not being—not going to be included in these new safety accords. And they don't really say very much about paying workers more, about treating workers with more respect.
You know, I think it's important to remember that it's been almost a year since the Tazreen factory fire. At least 112 workers were killed. Wal-Mart shorts were found in the rubble of the factory. There's been no compensation paid by Wal-Mart to any of the survivors, to any of the victims' families. And they're still living in the shadow of this factory.
AMY GOODMAN: Anjali Kamat, we want to thank you very much for being with us, as you continue to do your investigations. And you can check out Fault Lines at Al Jazeera America on your local cable company, as it broadcasts now all over the country on the former channel of Current, which Al Jazeera bought.
(*) Watch this program on Democracy Now.