Maduro Sworn in as Interim President
Nestor Rojas Mavares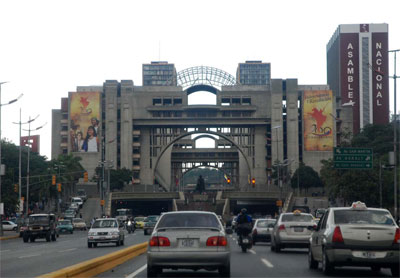 HAVANA TIMES — Venezuelan vice president Nicolas Maduro was sworn in yesterday as interim president before the National Assembly (Congress), the same day as the funeral of President Hugo Chavez, who died after a nearly two-year fight against cancer.
Maduro then asked the board of elections to call a new presidential election, which they did on Saturday, setting the date for April 14, 2013.
In his first act as the head of government he appointed as his vice president, Jorge Arreaza, Chavez's son-in-law, who had held the post of deputy minister of Science and Technology, noted dpa news.
Regarding the upcoming elections Maduro said "We're ready and already in the streets continuing to build the strength to continue the people's socialist revolution."
"I'm not here out of personal ambition. I am assuming the presidential sash to protect the people, to defend and continue the commitment to the revolution and advance our independence and Bolivarian socialism," he said.
The inauguration took place amid criticism, since the opposition rejected the ruling of the Supreme Court of Justice (TSJ) endorsing the inauguration and saying Maduro can be a candidate in the presidential election without leaving office.
The event, held at the headquarters of the National Assembly, had as guests the president of Ecuador, Rafael Correa, former Paraguayan president Fernando Lugo, and former Honduran president Manuel Zelaya.
The special legislative session was chaired by National Assembly chair Diosdado Cabello.
Maduro swore on behalf of the "children, soldiers, campesinos and indigenous peoples" and with "absolute loyalty to Commander Chavez" that he would serve the Constitution with the "iron fist of a people who have decided to be free."
Later the former labor leader, who received ideological training in Cuba, received the presidential tricolor sash. At that moment, speaking in a broken voice and tears, he said, "This is the sash of Chavez."
Maduro had been endorsed by Chavez as his possible successor a few months before he died, on December 8, before leaving for Cuba to be operated on. He asked his supporters to vote for the then vice president should he be unable to resume command.
"Chavez told me to lead the country to free elections…peacefully. I never aspired to any office, much less the presidency because I was satisfied with the leader we had had and who was in our hearts until his last breath" he added.
Earlier, opposition leader Henrique Capriles alleged that Maduro's investiture as interim president was a "constitutional fraud" and suggested it was a line dictated from Cuba.
"We know where they´re headed. The Cuban government is not going to rule in Venezuela. Here, the US government is not going to rule, but Cuba neither. It seems that for some people it's impossible to reach (the presidency) without abusing power," said Capriles at a news conference.
Hundreds of government supporters gathered around the parliament chanting "Be careful imperialists, all of Latin America will become socialist" and "With Nicolas Maduro, the people are safe."