Palestine Review for Feb 18-24
By International Middle East Media Center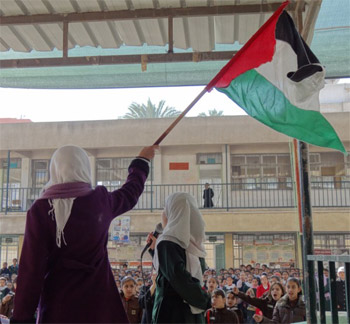 HAVANA TIMES, Feb 25 — While Israel escalates settlement activity all over the west Bank this week rival Palestinian groups Fatah and Hamas continued efforts to reach a final national conciliation, these stories and more, coming up, stay tuned.
The Nonviolence Report
Let's begin our weekly report with the nonviolent activities in the West Bank. As is the case every week Israeli troops used tear gas and rubber coated steel bullets to suppress anti wall protests organized in a number of West Bank communities. IMEMC's Vika Awad Reports:
In central West Bank, the villages of Bil'in, Nil'in and al Nabi Saleh organized their weekly protests against the Israeli wall and settlements built on their lands. Israeli and international supporters joined villagers after the midday prayers at all three locations.
In Bil'in and Nil'in, Israeli soldiers attacked protesters as soon as they reached the wall with tear gas. Many were treated for the effects of tear gas inhalation at both locations.
In the nearby village of al Nabi Saleh troops did not allow people to leave the village then invaded residents homes and searched three of them, no arrests were made.
Elsewhere in northern West Bank, villagers of Kufer Kadom along with their Israeli and international protested the Israeli wall on Friday. Soldiers attacked protesters with tear gas and rubber-coated steel.
In southern West Bank also on Friday Israeli soldiers attacked protesters at the old city of Hebron. Palestinian residents along with international and Israeli supporters were demanding the opening of Suhada Street Israeli authorities closed 10 years ago. Soldiers used tear gas to suppress protesters and arrested three locals.
While at the village of Al Ma'ssara, also in southern West Bank, The protest started after midday prayers. Israeli soldiers stopped protesters at the village entrance before they reached lands owned by local farmers that Israel is building the wall on. Later troops forced people back into the village using rifle buts. No injuries were reported.
For IMEMC News this is Vika Awad.
Political Report
As representatives from rival factions, Fatah and Hamas meet this week in an attempt of implementing the Doha conciliation deal. The meeting is the first of its type since Hamas has taken over Gaza in 2007. IMEMC's Rami al Meghari has more:
A spokesperson for the Hamas-led government, Taher Alnouno, says in a statement, emailed to press, that the meeting was quite warm and those representatives of both parties discussed ways to facilitate implementation of the Doha deal.
PA's president Abbas along with PA's spokesperson Nabil Abu Rodaina and PA's top negotiator, Saeb Eriqat attended the meeting along with some other representatives of the Hamas party, including Ezzat Alresh and Mohammad Sakher.
Meanwhile, meetings between other representatives of both Hamas and Fatah and some other factional leaders, continued meetings for the PLO issue and the elections.
Reports from Cairo, where the parties are meetings, suggested that those involved emphasized on the significance to reach an agreement before May2012, date for presidential and parliamentary elections.
In the meantime, Israel agreed this week to release prisoner Khader Adnan , who remained fasting for 66 days in an Israeli jail. Israeli prosecution announced that Adnan will be released by April17, in return for stopping the hunger strike.
Many Palestinians view the Israeli decision as a victory for Adnan and all other 7,000 Palestinian prisoners, who Israel holds in its prisons. Hundreds of these prisoners are held without trial or charges, like Khader Adnan.
For IMEMC.Org, I am Rami Almeghari in Gaza
West Bank and Gaza report
Palestinian prisoner ends the longest hunger strike and another starts an open-ended hunger strike protesting her administrative detention, meanwhile more than 20 civilians were wounded during Israeli military incursions in the West Bank and the Gaza Strip. IMEMC's George Rishmawi with details
In a latest development, four Palestinian youth were injured Friday, one of them seriously, during clashes with Israeli troops near the Qalandia checkpoint south of Ramallah. The clashes started when Israeli troops opened fire and tear gas to stop a demonstration organized to protest the recent frequent invasion of Israeli settlers to the Aqsa Mosque in Jerusalem.
Tal'at Ramia was hit with a live bullet to the chest. He was taken to the hospital and is being operated on as of the time of writing the report.
Earlier this week, Palestinian Prisoner Khader Adnan ended a 66-day long hunger strike after a deal with the Israeli military to release him on April 17.
Adnan started a hunger strike to protest his administrative detention one day after he was kidnapped from his house on December 17, 2011. He received a military order putting him under administrative detention for four months. Administrative detentions are sometimes renewed by a military judge based on recommendations from the security service.
According to the deal with Adnan, Israeli military will not renew his detention and will be released if no hard evidence is found against him. One day after the deal, the Israeli military announced that there is no indicting evidence against Adnan and that he will be released on April 17.
Palestinian leaders described the deal as a victory to Palestinian prisoners and started a campaign to boycott Israeli courts of administrative detention to challenge the legality of these courts. All 320 Palestinians currently under administrative detention declared they would boycott the Israeli courts immediately.
Few days before Adnan ended his strike, female prisoner Hana' Shalabi declared an open-ended hunger strike to protest her six-month administrative detention on February 16.
Shalabi was released in the last prisoner swap deal between Hamas and Israel in which over 1000 Palestinian prisoners were released in exchange of the captured Israeli soldier Gilad Shalit. Shalabi spent 2 years in jail after her six-month administrative detention was renewed 4 times.
In the meantime, the Israeli prisons' administration transferred approximately 120 prisoners from Negev Desert Prison to an unknown location.
A press statement issued by the prisoners published by the Palestinian Prisoners' Society, said that 120 prisoners were transferred without allowing them to take their belongings after two special military forces broke into the prison and attacked the prisoners with weapons and dogs.
They also said that the prisons' administration informed them that it would cancel all previous agreements with them, and that it would escalate the procedures against them.
In other news two Palestinian teens were released after spending three months in an Israeli jail on suspicion of throwing a firebomb at Israeli troops. The two were released because the border policemen who incriminated them turned out to have submitted false reports.
The bomb was allegedly thrown at a Jerusalem checkpoint on October 21. According to Israeli Police records, there were no firebomb attacks on that day. Moreover, an Israeli officer who testified that he had witnessed the incident was not at the checkpoint that day.
In the Gaza Strip, Israeli soldiers kidnapped three Palestinians who approached the border fence area, east of the southern Rafah city. Eyewitnesses identified the three as Ashraf As-Sufi, Mohammad Abu Ghadra, and Saddam Abu Ghadra; all from Rafah.
Israel enforces a no-man zone in areas that are close to the border, an issue that prevents hundreds of residents from entering their own farmlands. Several casualties were reported when Israeli troops opened fire, and even fired shells, at residents who approached the "no-man" zone.
Ismail Haniyya, head of the Hamas-led Palestinian government in the Gaza Strip, stated that the electricity crisis in the Gaza Strip will be resolved soon, and that certain mechanisms to resolve the issue will be implemented soon, in direct agreement and cooperation with Egypt.
Egyptian Minister of Electricity and Energy, Hasan Younis, stated this week that Egypt will be providing Gaza nearly 22 megawatts by the beginning of next week. This, however, will ease the problem in the southern part of the Gaza Strip only.
The Gaza's only power station that provides 1/3 of the Gaza Strip with electricity had to shut down, again, on February 14, due to fuel shortage. Hundreds of patients are at a great risk as many of the hospitals are running out of fuel that is used as backup during a power blackout.
For IMEMC News, this is George Rishmawi
Conclusion
That was just some of the news from This Week in Palestine, for more updates; please visit our website at www.imemc.org. Thank you for joining us from occupied Bethlehem, This report has been brought to you by Husam Qassis and me Ghassan Bannoura