This Week in Palestine Week (Feb. 22-28)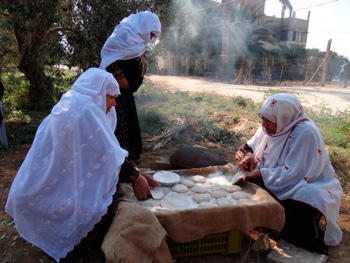 HAVANA TIMES — Welcome to this Week in Palestine, a service of the International Middle East Media Center, www.imemc.org, for February 22nd to the 28th, 2014.
As the Palestinian leadership showed dissatisfaction with the US proposed peace plan this week, three Palestinian civilians were killed by the Israeli army.
The Nonviolence Report
Let's begin our weekly report as usual with the nonviolent activities organized in the West Bank. At least a dozen civilians were injured and many others were treated for the effects of tear gas inhalation on Friday when Israeli soldiers attacked anti wall nonviolent protests organized in West Bank village using tear gas and rubber-coated steel bullets.
Protests were organized on Friday in the village of Qarout in northern West Bank, the villages of al Nabi Saleh, Bil'in, Nil'in, central West Bank, and Al Ma'ssara village in southern west Bank.
At least 10 civilians were injured due to Israeli troops attack against a protest organized by the villagers of Qarout. Residents tried to reach lands outside the village to plant olive trees when they were attacked by soldiers, local sources reported.
Elsewhere on Friday, Israeli soldiers used tear gas and sound bombs as well as chemical water to attack the weekly anti wall and settlements protests at villages of Bil'in and Ni'lin, and the nearby al Nabi Saleh.
In Bil'in and Ni'lin, Israeli soldiers attacked the protesters as soon as they reached the gate of the wall that separates local farmers from their lands. four civilians were lightly wounded in Bil'in village by the army attack. Moreover many were treated for the effects of tear gas inhalation in both villages .
At the same time in the nearby al Nabi Saleh village, troops attacked the unarmed protesters before even leaving the village. Later soldiers stormed the village and fired tear gas into residents' homes causing damage.
Meanwhile Israeli troops attacked the villagers of al Ma'ssara and their supporters at village entrance then forced them back using rifle buts and batons, no injuries were reported.
The Political Report
This week Palestinian President, Mahmoud Abbas threatened to torpedo US-proposed framework agreement, almost couple of months before deadline for negotiations with Israel is due. Abbas' threat came after US Secretary of State, Jhon Kerry, suggested that a part of East Jerusalem can be capital for future Palestinian state.
US's proposal that Palestinians accept Beit Hanina neighborhood, to the north of East Jerusalem and located near the West Bank city of Ramallah, has been met by fury of Palestinian President, Mahmoud Abbas.
A part of the proposal is that Palestinians recognize Israel as a Jewish state and that the Jordan Valley will not be part of future Palestinian state. During their last meeting, Palestinian President , Mahmoud Abbas left US Secretary of State, Jhon Kerry, furious.
A deadline for Palestinian-Israeli talks , mediated by the US, will be due in April and Palestinians have hinted at the possibility to stop negotiations unless US brings about concrete progress.
Meanwhile, US media reports said that US President , Barak Obama, is about to personally intervene in current efforts. Obama is expected to pressure Israel during an upcoming meeting with Israeli Prime Minister, Benjamin Netanyahu in Washington.
Kerry's framework agreement also suggests a possibility for land swap between Palestinians and Israelis once a final status agreement is reached. US might pressure Palestinians to extend talks with Israel towards the final status goal, according to media reports.
At the internal Palestinian level, the ruling Islamist Hamas party in Gaza downplayed this week a planned visit to Gaza by Fatah party's representative to national unity talks, Azzam Alahmad. Alahmad was reporting as saying he would finalize an agreement with Hamas.
Hamas considers the remarks as a new maneuver by Fatah.
Fatah and Hamas have been split since 2007, when Hamas took over Gaza and ousted Fatah-loyal forces from the territory. Since then, US-backed Palestinian President and leader of Fatah party, Mahmous Abbas, has outlawed Hamas.
Hamas won parliamentary elections in 2006, yet it was shunned by Washington and many international players, unless it recognizes Israel, accepts past-signed peace agreements and renounces violence.
The West Bank and Gaza Report
The Israeli army escalated its attacks targeting Palestinians this week. An old lady died in Gaza at a military crossing and in the West Bank soldiers killed a young man. Moreover, the Israeli army conducted at least 80 invasions into Palestinians communities in the West Bank and Gaza. Troops kidnapped more than 40 civilians from West Bank communities this week.
On Thursday, Muatazz Washaha, 24, was killed after Israeli troops invaded the town of Birzeit near the central West Bank city of Ramallah and surrounded his home. Witnesses said that troops demolished the house of Washaha's family and fired live rounds into the house killing Muatazz. Later Israeli soldiers clashed with residents who gathered near the site and fired several tear gas bombs at them causing dozens to choke from the tear gas inhalation.
Meanwhile two young men, one of them the cousin of Muatazz, were taken by the troops to an unknown location. With the death of Washaha the number of Palestinians killed by the Israeli military since the resumption of the Palestinian-Israeli peace talks in August 2013 has reached 43.
Earlier in the Week, a Palestinian prisoner from the occupied East Jerusalem died on Tuesday in an Israeli hospital, of injuries sustained nearly two weeks ago in prison. Jihad at-Tawil, 47, was held in the Dekel section of the Beersheba Israeli prison when Israeli soldiers violently attacked him with batons, and sprayed him with gas. At-Tawil lost consciousness, after the soldiers' attack, and went into coma until he was pronounced dead. At-Tawil was in jail serving a three-month term for driving without a permit in an Israeli controlled area.
Also in Jerusalem on Tuesday at least twenty Palestinians have been wounded, when undercover soldiers of the Israeli army invaded the yards of Al-Aqsa Mosque, triggering clashes with the local worshippers in the old city.
On Monday a Palestinian civilian was injured by Israeli troops' gunfire, during clashes that erupted between invading troops and the villagers of Tiqua, east of the southern West Bank city of Bethlehem. Khalaf Abu Mfarreh, 31, was shot in the foot with a live bullet during the clashes that erupted in the vicinity of the local school.
In the Gaza strip this week, a Palestinian woman, with heart illness, died Wednesday morning on Eretz crossing, in the northern Gaza Strip. Wedad Deeb, 71, died on the Israeli side of the terminal waiting an Israeli permission to cross to a West Bank hospital for treatment.
Also on Wednesday, unknown gunmen detonated an explosive device in the yard of a local Christian church in Gaza City, and wrote racist anti-Christian graffiti. Local sources said a loud explosion was heard in the yard of the Latin Church, and the Latin Patriarchate School, located in the Zeitoun neighborhood, east of Gaza city. The Palestinian police arrived at the scene, and opened an investigation into the incident.
Conclusion
And that's all for today from This Week in Palestine. This was the Weekly report for February 22nd to the 28th 2014 from the Occupied Palestinian Territories. For more news and updates please visit our website at www.imemc.org. This week's report has been brought to you by Samer Jaber, and Ghassan Bannoura.