US & Venezuela Agree to Work for More "Constructive" Relations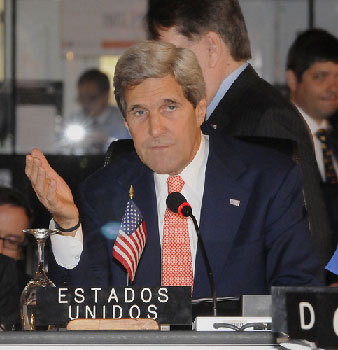 HAVANA TIMES — Following a meeting with his Venezuelan counterpart Elias Jaua, US Secretary of State John  Kerry announced this week that the United States and Venezuela have agreed to take steps towards establishing a "constructive" relationship between the two countries that will "soon" allow for the normalization of diplomatic relations, DPA reported.
Kerry and Jaua held a 40-minute meeting in the Guatemalan city of Antigua, where the General Assembly of the Organization of American States (OAS) was underway from June 4-6.
During the gathering, the United States thanked Venezuela for the release of US documentary filmmaker Timothy Tracy, recently accused of espionage. According to Venezuela's Minister of the Interior Miguel Rodriguez Torres, Tracy was "expelled" from the country.
At a press conference held in Antigua, Kerry declared that the fact Tracy "has been released" and is back in the United States "is a very positive development."
"I want to thank the Foreign Minister and I want to thank President Maduro for taking the step to meet here on the sidelines of this conference," Kerry said.
The head of the US diplomatic delegation also applauded the fact that, on April 23, Calixto Ortega was appointed Venezuela's charge d'affaires in Washington.
In Washington, Kerry's spokesperson, Jen Psaki, said that the release of Tracy was possible thanks to the "fine work of Ortega" and the US Embassy in Caracas.
Relations between Caracas and Washington have been at the charge d'affaires level since 2010, when the late President Hugo Chavez refused to recognize Larry Palmer as US Ambassador to Venezuela.
"We agreed today, both of us, Venezuela and the United States, that we would like to see our countries find a new way forward, establish a more constructive and positive relationship, and find the ways to do that," Kerry stated.
According to Kerry, "there will be an ongoing, continuing dialogue at a high level between the State Department and the Foreign Ministry, that we will try to set out an agenda by which we agree on things we can work on together."
"We are now off and into the process of laying out the specific agenda and the specific steps that would be taken from this day forward," he stated.